Customers are taking advantage of driverless vehicles, according to a report that that says sex in San Francisco robotaxis is on the rise.
The San Francisco Standard said they spoke to four separate riders in recent months who admitted to having sex or hooking up in the back seat of the autonomous vehicles (AVs), which have become increasingly popular in San Francisco.
"I mean, there's no one to tell you, 'You can't do that,'" one man told The Standard. "It gets to the point where you're more and more and more comfortable, and if you're with someone, like a more serious partner, it can escalate to other activities."
The man, whom The Standard named Alex to protect the real individual's identity, said he has performed at least six separate sex acts in robotaxis, ranging from impromptu make-out sessions to "full-on [sex], no boundaries activities" a total of three times in a Cruise car.
MAJOR SAN FRAN RETAILER CONDEMNS CITY, STATE LEADERS IN FULL-PAGE AD: 'ABJECT DISREGARD FOR CIVILIZED CONDUCT'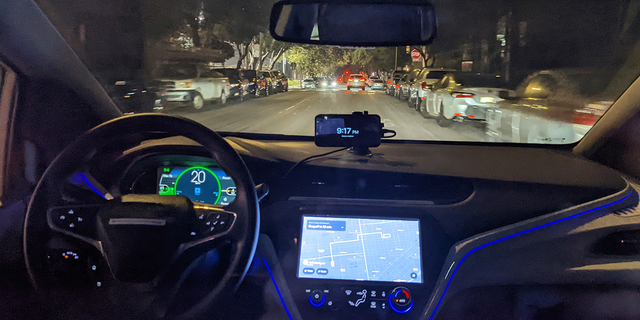 The empty driver's seat is shown in a driverless Chevy Bolt car named Peaches carrying Associated Press reporter Michael Liedtke during a ride in San Francisco.
The Standard noted that rumblings of covert robocar hookups might have some basis in science, citing a little-known 2018 study predicted that more AVs would mean more sex on the road – and potentially other unseemly behaviors you likely wouldn't want your Uber or taxi driver to bear witness to.
"It seems like I'm a trailblazer," Alex said. "It's also fun to realize that this is like the first place you can do this in the country – the first [autonomous vehicles] that exist."
Neither Waymo nor Cruise said sex in their automated vehicles is directly forbidden, but it's certainly not encouraged. 
Two of the more popular AV brands, Cruise and Waymo, both claim to have expansive security camera capabilities inside and outside the cars.
"We record video inside of the car for added safety and support," Cruise states on its website. "If something happened during your ride, we might review the recording to better understand what happened. We only record audio during active support calls."
SAN FRANCISCO HAS THE WORST PANDEMIC RECOVERY IN THE NATION AS CITY IS MIRED IN CRIME, HOMELESSNESS: STUDY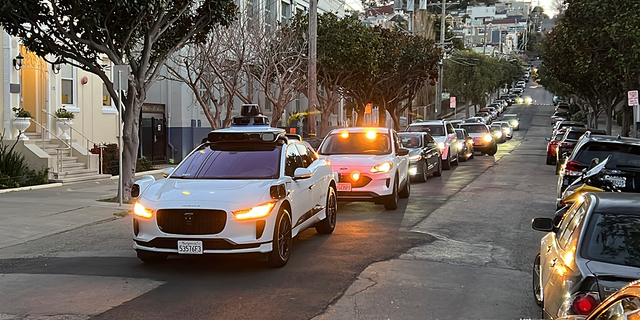 A Waymo driverless taxi stops on a street in San Francisco for several minutes because the back door was not completely shut, while traffic backs up behind it, on Feb. 15, 2023.
A Waymo spokesperson told The Standard that its team might review recordings if there are concerns about cleanliness, safety, crashes or missing items. Yet these surveillance tactics have been met with resistance, particularly from those concerned about how the private companies will use footage collected from previous rides, The Standard noted.
In San Francisco, police have already made requests for driverless car footage from Waymo and Cruise to help solve crimes, according to Bloomberg reporting.
"I definitely have had anxiety post-situation the next day being like, 'Oh that wasn't the best idea,'" Alex said. "There's a concern you might receive an email or contact from [Cruise]" banning users from the system, Alex told The Standard.
Neither company said sex in their automated vehicles is directly forbidden, but it's certainly not encouraged.
Cruise pleads with riders to not do anything in an AV that would "potentially make others uncomfortable" and to avoid activity that could be classified as "threatening, confrontational, discriminatory, harassing, disrespectful, offensive or inappropriate toward others," according to its terms of service.
Whatever happens on the inside of a robotaxi is generally visible on the outside to bystanders and other motorists, The Standard notes of the AV's "fishbowl-like" design.
SAN FRANCISCO PROFESSOR COMPLAINS ABOUT 'PSYCHOLOGICAL COST' OF STORES LOCKING ITEMS TO PREVENT THEFT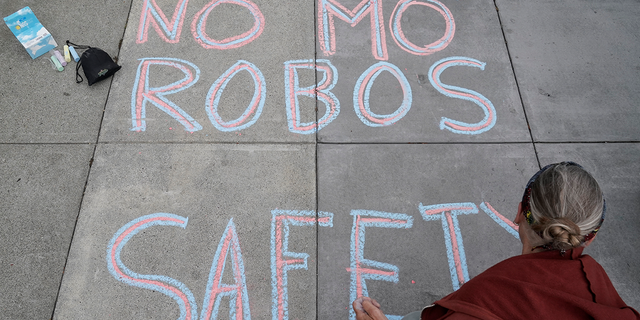 Martha Hubert writes a message opposing a proposed robotaxi expansion on Thursday, Aug. 10, 2023, in San Francisco. (AP Photo/Godofredo A. Vásquez)
"But where there's a will, there's a way," The Standard said, noting the 2018 study about sex in AVs notes that even as self-driving vehicle companies scale up their surveillance tactics, the truly savvy will always find a way around it – especially in privately owned cars.
"While [autonomous vehicles] will likely be monitored to deter passengers having sex or using drugs in them, and to prevent violence, such surveillance may be rapidly overcome, disabled or removed," the study said. "Private [autonomous vehicles] may also be put to commercial use, as it is just a small leap to imagine Amsterdam's Red Light District 'on the move.'"
CLICK HERE TO GET THE FOX NEWS APP
Just last week, California's Public Utilities Commission voted to approve rival services from Cruise and Waymo to operate around-the-clock service. It will make San Francisco the first major U.S. city with two fleets of driverless vehicles competing for passengers against ride-hailing and taxi services dependent on humans to operate the cars, Fox 11 reported.