Tim McGraw is known for country songs like "I Like It, I Love It" and "Live Like You Were Dying," and he's not changing his tunes anytime soon.
As songs like Jason Aldean's "Try That in a Small Town" and Oliver Anthony's "Rich Men North of Richmond" have taken over the charts, McGraw says that he has no interest in releasing similarly topical music or in getting involved in the heated conversations surrounding these kinds of songs.
In an interview with USA Today, the singer was asked about the culture wars currently taking place in country music, and he responded, "I only pay attention to the kind of music I make. I let the songs I record speak for themselves."
TIM MCGRAW AND FAITH HILL FACED CHALLENGES IN 27-YEAR MARRIAGE BUT THIS PROMISE KEPT THEM TOGETHER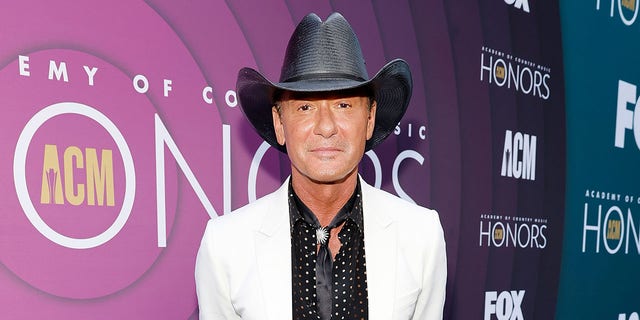 Tim McGraw's new album "Standing Room Only" comes out Friday. (Jason Kempin/Getty Images for ACM)
"I stand for what I stand for and that's all out there."
He said that he wasn't sure what the apparent trend of these politically charged songs mean for country music going forward, but he did make it clear that he's not getting involved.
"I just try to stay consistent in what I do," he stated.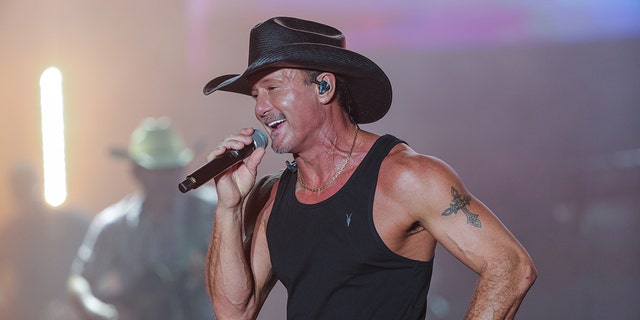 Tim McGraw doesn't plan on taking a page out of Jason Aldean's book when it comes to his music. (Michael Hickey/Getty Images)
While McGraw has never been hugely vocal about his beliefs, he has been open about them. In 2008, he referred to himself as a "blue-dog Democrat" in an interview with People and announced that he and his wife, Faith Hill, were Obama supporters.
TIM MCGRAW REVEALS THE ONE THING HE WON'T DO AT CONCERTS: 'I'M SCARED TO DEATH'
He's also been critical of Donald Trump at times, and he's expressed his stance on gun control, telling Billboard in 2017, "There is some common sense that's necessary when it comes to gun control. They want to make it about the Second Amendment every time it's brought up. It's not about the Second Amendment . . . Military weapons should not be in the hands of civilians."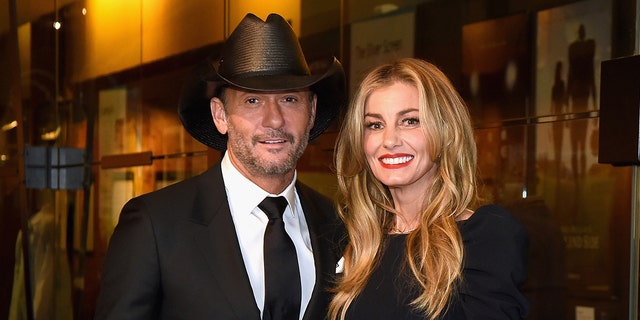 Faith and Tim have been married for 27 years and are still going strong. (Rick Diamond)
While fans won't hear anything similar to "Try That in a Small Town" on McGraw's new album, called "Standing Room Only," they can expect to hear a heartfelt song about his daughter Gracie and her move across the country.
"Nashville CA/L.A. Tennessee" is the name of a song on the album that he co-wrote with Bob Minner, his guitar player, and Lori McKenna, a singer-songwriter who also added vocals to the track.
CLICK HERE TO SIGN UP FOR THE ENTERTAINMENT NEWSLETTER
He told the story of how he drove Gracie to Los Angeles, helped her move her things into her new home and then hesitated to leave.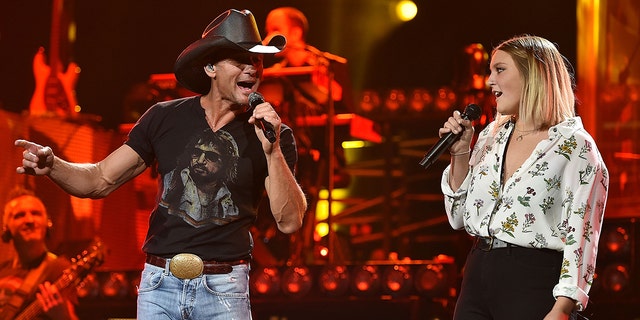 In 2015, Gracie McGraw joined her father Tim McGraw on stage in Nashville. (John Shearer/Getty Images for Big Machine Records)
"She puts both hands on my shoulders and says, 'Dad, I've got this,'" he said emotionally. "She gave me a big hug and I said I love her and when I was driving back by myself I called Bob and we were swapping stories about our kids growing up, and he called Lori and we started working on the song. It's not really spot on, but the inspiration came from moving my daughter."
Elsewhere in the interview, he said, "Throughout my career, my records have gravitated toward those kinds of songs. Stories about life. We all fail. We all have our terrible moments. And we're going to have moments and we're going to do the wrong thing, say the wrong thing, be politically incorrect from time to time."
CLICK HERE TO GET THE FOX NEWS APP
"But all you can do is get up the next morning and try to do the next best thing. I'm always looking for songs that are life-affirming because they're therapeutic to me and remind me of how much of a better person I need to be."