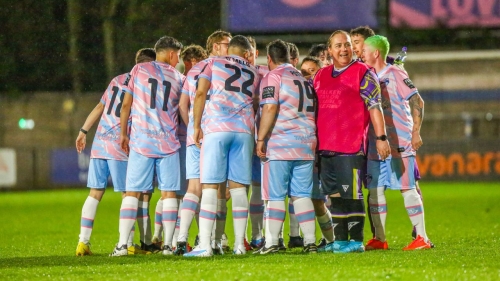 TRUK United FC, pictured here fielding a team of all trans masculine players, while TRUK manager Lucy Clark drums up support.
Lucy Copsey

CNN
—
Arthur Webber made history this year. On the rainy evening of March 31, 2023, he captained what he says is the first ever all trans masculine soccer team in Europe in a match. Players stepped out onto the pitch in blue and pink patterned kits – the same colors that adorn the trans pride flag.
Trans masculine is a term used for people that were assigned female at birth and whose gender identity or expression (or both) is masculine. The umbrella definition includes trans men, non-binary and gender-fluid people.
The game was played in front of 500 supporters, fittingly, on Transgender Visibility Day and for the 25-year-old Webber – as someone who gave up football at the age of 13 and only started playing again in 2022 – it was a night he couldn't have dreamt of as a teenager.
"I was quite nervous before the match," Webber told CNN. "I've never been captain before, so it was a responsibility I wasn't used to. I also knew it was likely that the eyes of transphobes online would be on us when we walked out.
"I wanted to make sure we got a decent result and that the guys playing had fun – especially because lots of them hadn't played football since school. I had to explain the offside rule to a few of them in the changing rooms!"
Webber himself didn't play soccer for 11 years. When he came out as trans as a teenager, he gave the sport up – although he never stopped loving the game.
"Once we walked onto the pitch, there was a real sense of pride that we were there and we were doing something special."
The team that played that historic match are part of a club called TRUK United FC – which was formed in January 2021 with the initial goal of raising money for their namesake, Trans Radio UK. They now also aim to make soccer a more inclusive sport and connect the trans community.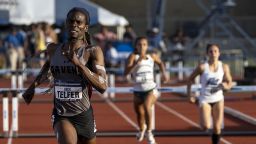 KINGSVILLE, TX – MAY 25: CeCe Telfer of Franklin Pierce wins the 400 meter hurdles during the Division II Men's and Women's Outdoor Track & Field Championships held at Javelina Stadium on May 25, 2019 in Kingsville, Texas. (Photo by Rudy Gonzalez/NCAA Photos via Getty Images)
Rudy Gonzalez/NCAA Photos/Getty Images
After a regulation change for transgender athletes, CeCé Telfer is determined to 'keep pursuing her dreams'
The manager is Lucy Clark – who the Football Association (FA) says became English soccer's first trans referee in 2018 – and organized the first ever all trans feminine team in the world, also for TRUK, in 2022.
Clark, as manager, has overseen the history-making feats of TRUK United and Webber says it was her that encouraged him to captain the all trans masculine team last month.
Trans feminine is an umbrella term that refers to people that were assigned male at birth but identify with femininity. The term includes trans women, non-binary and gender-fluid people.
"After the all trans feminine team played their game and once I'd played with the all-gender team, she took me aside and said she'd been thinking about what we could do next and asked if I'd be interested in captaining an all trans masc team," Webber said.
"I thought it was a great idea because in the all-gender team, I was the only trans masc player in that side and there was a need for greater representation for trans men."
'Hurt too much'

Webber put out a call on social media, namely on Twitter, for trans men who want to play soccer and was delighted by the response.
Soon, a full 11-a-side team had assembled and it even included a British TV star – Ash Palmisciano plays the first trans character in the long-running soap opera "Emmerdale" and even drove down from Leeds to London just to play the match.
The match and the positive reception to it has given Webber hope for the future of trans representation in soccer – at grassroots levels and beyond. Right now though, Webber doesn't think the sport is doing enough.
At the moment, Webber says, soccer is not trans inclusive. "Even in amateur LGBTQ leagues, the teams are mostly made up of cisgender gay men – there is a lack of trans people. I can count on one hand the number of trans people I know that play in LGBTQ clubs," he said.
Webber says consideration for trans people can often be an afterthought in soccer.
"For example, sometimes clubs will book venues where there are only two changing rooms – one for each team that's playing but if you have people of multiple genders on one team, [such as on mixed gender soccer teams] they might not want to get changed in the same room as everyone else in the squad," explained Webber.
He feels that grassroots soccer, including LGBTQ clubs, still has a lot to learn, and so do the top clubs – such as those in the Premier League.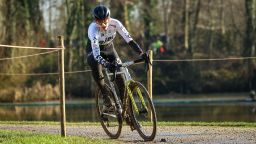 Mandatory Credit: Photo by Shutterstock (13729167br)
American Austin Killips pictured in action during the women's elite race of the 'Kasteelcross' cyclocross cycling event, race 7/8 in the 'Exact Cross' competition, Saturday 21 January 2023 in Zonnebeke.
Cyclocross Kasteelcross Zonnebeke, Zonnebeke, Belgium – 21 Jan 2023
Shutterstock
Cycling governing body defends transgender policy after Austin Killips wins Tour of the Gila
When Webber stopped playing soccer after coming out as trans, he also stopped following the sport – which meant, for many years, he did not keep up with his beloved Arsenal. He said it simply "hurt too much" to watch soccer while he felt like he couldn't play.
Now, he is involved with the North London club's LGBTQ fan group – Gay Gooners – and attends games at the Emirates stadium. But he stresses that there is still more to be done by top clubs for their trans supporters:
"They are trying. I've done a lot of work with Arsenal over the years and the big clubs have come some way in including their trans fans," Webber said to CNN.
"But what we really need is trans people in the rooms where decisions are made. There has to be someone there that's actually affected by these issues to tell you what's needed."
A statement on Arsenal's website reads: "Over the years, Arsenal in the Community has taken an active role in providing LGBTQ+ education and tackling homophobia. Our community team are trained by Stonewall to deliver LGBTQ+ awareness sessions to staff and community groups."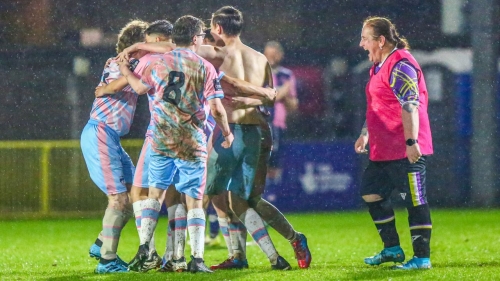 TRUK United FC's trans masculine team celebrate a goal in their match against Dulwich Supporters
Lucy Copsey
Challenging times for trans people in sport

The historic all trans masc match that took place on March 31st came at a particularly difficult time for trans athletes.
World Athletics recently banned some trans women from competing in female track and field events, pending a new review of their rules. In June 2022, the global governing body for rugby league banned transgender women from playing in women's international matches.
In the same month, the International Swimming Federation (FINA) voted to approve a new policy that restricts most transgender athletes from competing in elite women's aquatics competitions.
In April 2022, British Cycling banned trans and non-binary riders from competition.
Many trans people feel excluded from sport at the moment.
In a recent exclusive interview with CNN, trans runner CeCe Telfer said she felt "devastation" for herself and "for many around the world" when World Athletics made its announcement in March. But Telfer made clear that she wouldn't be deterred from running.
"There's a place for each and every one of us and I know where I belong," Telfer told CNN's Amanda Davies. "I just want the world to know that."
And as things are getting tougher for trans athletes around the world, daily life, too, is getting harder for trans people – especially in the UK.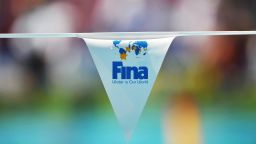 The logo of the Swimming governing body FINA is displayed on a flag at the main swimming pool on July 26, 2009 at the 13th FINA World Swimming Championships in Rome.
Martin Bureau/AFP/Getty Images
Will swimming's transgender ruling lead to wider change in sports?
In January, the UK government blocked a new law passed by the devolved Scottish Parliament and intended to allow trans people in Scotland to change their legal gender without a medical diagnosis.
The then First Minister of Scotland, Nicola Sturgeon, subsequently called the intervention "a full-frontal attack on our democratically elected Scottish Parliament and its ability to make its own decisions on devolved matters," in a post on Twitter.
During the race for the Conservative Party leadership, now-Prime Minister Rishi Sunak pledged to protect "women's rights," in a Twitter post, and attached a link to an article in which an unnamed Sunak ally was quoted as saying the lawmaker was "critical of recent trends to erase women via the use of clumsy, gender-neutral language," in reference to language that is meant to be inclusive of trans and non-binary people in addition to cisgender women.
Just weeks ago, Sunak pledged to publish new government guidance on whether teachers should inform parents when a child questions their own gender identity.
In April, the Guardian and Dazed reported that Equalities Minister Kemi Badenoch is considering amending the 2010 UK Equality Act to redefine "sex" to refer specifically to a person's sex assigned at birth – a move that would make it legal to ban transgender people from "single-sex" spaces that match a trans person's gender identity.
In a letter to Badenoch, the Equalities and Human Rights Commission (EHRC) said the UK government should "consider the potential implications of this change" and recommended detailed policy and legal analysis be undertaken "in compliance with the Public Sector Equality Duty and with due regard to any possible disadvantages for trans men and trans women."
When it comes to trans representation in English soccer, Webber hopes that the FA won't follow suit with other sport governing bodies and ban trans people from competing: "I hope the FA won't cave to pressure from internet trolls and transphobes. I just hope they do what's right."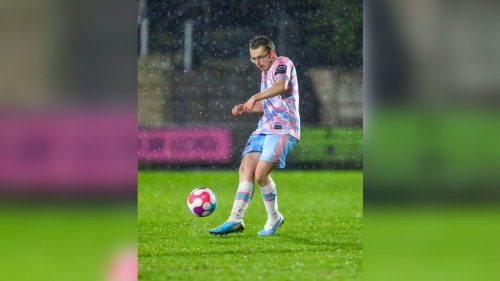 Arthur Webber, captain of the first ever football team of all transmasculine players in Europe, TRUK United FC
Lucy Copsey
In a statement, the FA told CNN: "Our transgender policy has enabled many positive outcomes for people who wish to enjoy and play football either in their affirmed gender or in a safe and inclusive environment.
"This important subject is complex and is constantly evolving, and as a result, like many other national governing bodies in sport, we are currently reviewing our transgender policy for English football."
What Webber hopes the future of soccer holds is a space for visible trans players. Whether that's in the National League, League One, the Championship or even the Premier League.
"I hope that young trans people playing football right now know there's a place for them in the sport and, so, they won't give it up," he said. "And maybe in the next generation, there will be a trans player at the top level. Maybe, in ten years or so, we'll get there and that would be just amazing to see."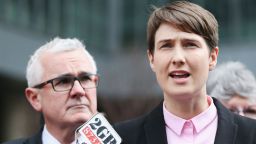 MELBOURNE, AUSTRALIA – SEPTEMBER 07: Marriage equality advocate and Human Rights Lawyer Anna Brown speaks to media after the High Court delivered their in favour of having a same sex marriage postal vote on September 7, 2017 in Melbourne, Australia.
Michael Dodge/Getty Images
World Athletics regulations on transgender women athletes risk human rights violations, rights groups say
Webber thinks his young self would have barely been able to believe the achievement TRUK made just last month: "To play in an all trans masc team, in a match against a team of cisgender people, that just wouldn't have been conceivable to me at 13."
"I am becoming the visibility I didn't have when I was a kid."
Webber knows it is going to take time for soccer to be completely trans inclusive and expressed his admiration for TRUK manager Lucy Clark for being a visible driving force in trans representation in the game.
"She puts her head above the parapet time and time again," he said. "And that is incredibly brave. It really sucks that, in order to push for greater trans inclusivity in sport, someone has to make themselves visible to everyone and know that they might face abuse because of that. But she is willing to take that risk just to ensure trans people are being considered in football."
Webber, above all, is determined to ensure that no one feels excluded from soccer: "I want trans people who've never played football to know that this is a sport for them."
"This is just the start," he said. "One day, there'll be hundreds of trans people playing football all over the country at all levels."