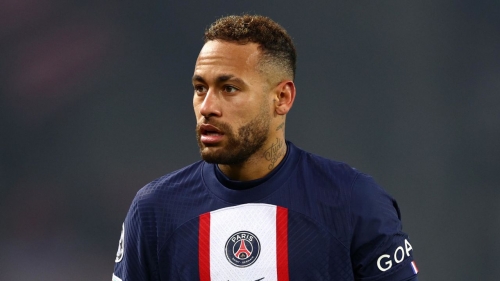 Neymar looks on during the Champions League round of 16 first leg between Paris Saint-Germain and Bayern Munich at Parc des Princes on February 14, 2023.
Clive Rose/Getty Images

CNN
—
Paris Saint-Germain has built a squad of star-studded players – notably Lionel Messi, Neymar Jr. and Kylian Mbappé – but amid recent discord at the Parisian club, two of that attacking triumvirate have found themselves being targeted by a section of fans.
"Paris Saint-Germain most strongly condemns the intolerable and insulting actions of a small group of individuals that took place on Wednesday," the Parisian club said in a statement after videos emerged on social media showing a group of fans gathered outside the Brazilian international's house chanting: "Neymar, get out! Neymar, get out!"
Videos on social media also showed fans gathered outside the PSG headquarters directing less than flattering chants towards World Cup winner Messi.
On Wednesday, PSG suspended Messi for two weeks after the Argentinian's unauthorized trip away from the team to conduct personal business, according to a club source.
The source said Messi missed Monday's training session to attend promotional events outside of France. Messi's trip was to Saudi Arabia, according to multiple reports.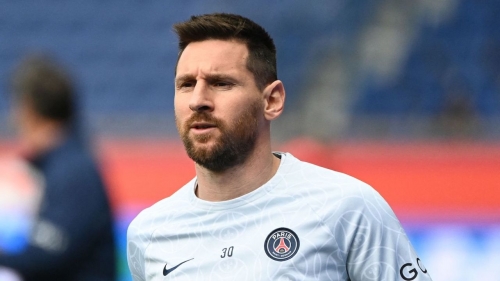 Messi warms up prior to the Ligue 1 match between PSG and Lorient.
Alain Jocard/AFP/Getty Images
Messi's contract with PSG expires on June 30, 2023, and his reported trip to Saudi Arabia comes amid multiple reports that the 35-year-old won't stay at the Parisian club.
"Whatever the differences of opinion, nothing justifies such actions," added PSG in a statement. "The Club gives its full support to its players, its staff and all those targeted by such shameful behavior."
Neymar has played just 20 times for PSG in the French league this season, scoring 13 times, before being ruled out for the rest of the season in March with an ankle injury.
The 31-year-old suffered further frustration with the Brazil national team, losing to Croatia in the quarterfinals of the 2022 World Cup. Meanwhile Messi, would go on and beat his other teammate, Mbappé, in the final as Argentina overcame France.
During Neymar's spell in Paris and since Messi's arrival, PSG has routinely won Ligue 1 and are likely to do again this season, but the club's main ambition – the Champions League – has remained out of reach, with the team suffering numerous calamitous exits from Europe's premier competition.