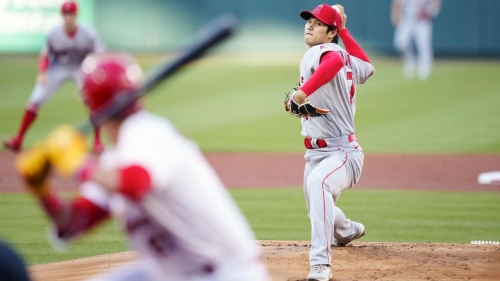 Shohei Ohtani joined an exclusive club after notching his 500th career strikeout.
Kyodo News/Getty Images

CNN
—
When it comes to baseball records, there is no better company to be alongside than the great Babe Ruth and, after notching his 500th MLB strikeout on Wednesday, Shohei Ohtani joined a prestigious club.
In the Los Angeles Angels' 6-4 win against the St. Louis Cardinals, Ohtani recorded 13 K's across five innings pitched taking him to the 500 strikeout mark.
This means that the 28-year-old has now joined Hall of Famer Ruth as one of two players in MLB history to total 100+ home runs and 500 or more strikeouts.
At just 28, Ohtani has plenty of time to keep notching strikeouts and homers, but it will take a heroic effort to get anywhere near Ruth's hitting success.
The baseball legend hit a staggering 714 home runs during his time in the game – ranking him third on the all-time leaders list behind Barry Bonds and Hank Aaron.
To match his homers, Ruth threw 501 strikeouts in his career. Per MLB.com, the stats across various websites which have him down with 488 career K's are inaccurate with the Elias Sports Bureau's stat of 501 strikeouts the correct figure.
'Shotime' was not at his best though when reaching the feat during Wednesday's outing, giving away five hits and four runs during his time on the mound.
Yet despite this, Ohtani continued his frightening strikeout form this season, notching the magic number needed to reach 500.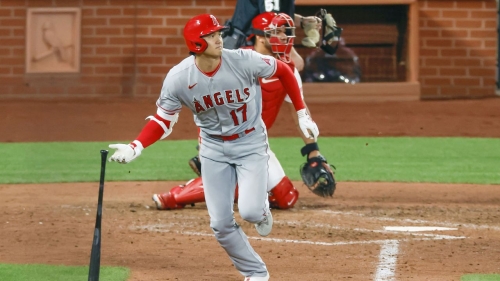 Ohtani has hit 100 homers to match his 500 strikeouts.
Kyodo News/Getty Images
Speaking to MLB after the game, the Japanese star maintained his incredibly high personal standards despite the win.
Through interpreter Ippei Mizuhara, Ohtani said: "I gave up a couple of homers and I wanted to get through six or seven innings, minimum.
"So more than the strikeouts, I'm just disappointed I couldn't pitch deeper in the game.
"I feel like they were sitting on certain pitches on certain counts," Ohtani continued. "They guessed right and got all of those extra-base hits. I just have to do a better job."
Despite Ohtani's self-criticism, Angels manager Phil Nevin was happy with the 2021 AL MVP's showing.
"Those are good hitters over there," Nevin explained. "[Nolan] Gorman jumped on that first-pitch heater in the first inning,and then in the [fourth], he hung a couple sliders over the plate. But he finished up strong and he had three hits. So it was a really nice performance by him."
Ohtani will have a chance to continue to add to his stats in today's series finale against the Cardinals.