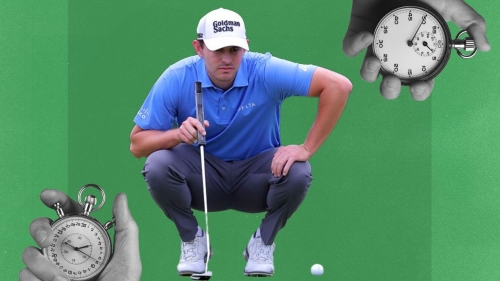 US golfer Patrick Cantlay has become the face of a debate around pace of play in professional golf.
CNN/Getty Images

CNN
—
There's a lot you can do in just under three minutes.
You can listen to "Speed of Life" by David Bowie, you can re-live Usain Bolt's 100m world record run 18 times, and, if you are an exceptionally talented Premier League footballer, you can even squeeze in a hat-trick.
Alternatively, you can watch a golfer hit a single ball.
That was the situation one fan found himself in at the RBC Heritage last month, as he fired up the stopwatch on his iPhone to time Patrick Cantlay lining up a shot during the final round of the PGA Tour event.
This is getting out of control @patrick_cantlay ⏰ pic.twitter.com/xUrRehTRGd

— Beer At The Turn 🏌🏼‍♂️⛳️ (@tap_it_in_golf) April 17, 2023
When the American eventually swung, the clock was ticking past two minutes and 50 seconds.
In Cantlay's defense, the video wasn't without caveats. It was an awkward looking lie, the ball lodged in the rough behind a tree, and – with the timer at 90 seconds when first shown – it is impossible to know exactly how long the world No. 4 spent over his shot.
Bathroom breaks

The problem for Cantlay, however, is that it was not an isolated incident – nor the most disgruntled reaction.
Footage of the golfer spending close to a minute standing over a four-foot putt that same day quickly found its way to the satirical side of the sport's Twitter community, which spliced the pictures with the closing scenes of the golf comedy classic "Happy Gilmore."
The titular character calculated and sunk his winning championship putt – one that bounced off the windshield of a car and careened leisurely around the debris of a collapsed tower – before Cantlay holed his effort, a tweet from parody account Tour Golf showed.
A week prior during the deciding round of The Masters, Cantlay had been playing ahead of the leading group, Brooks Koepka and soon-to-be champion Jon Rahm.
Koepka, whose frustrations with slow play lit the touchpaper of a fiery feud with rival Bryson DeChambeau in 2019, made no secret of his grievances.
"The group in front of us were brutally slow," Koepka told reporters.
"Jon went to the bathroom like seven times during the round, and we were still waiting."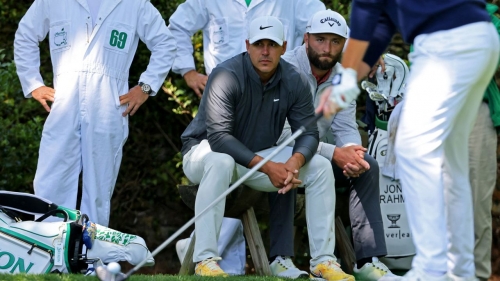 Koepka and Rahm wait by the 2nd tee during the final round of The Masters at Augusta National.
Mike Blake/Reuters
'It's like hitting your head against a brick wall'

Yet Koepka's comments paled in comparison to those made by one of Cantlay's playing partners during that decisive round at the RBC Heritage, Matt Fitzpatrick. The Englishman went on to lift the title, seeing off Jordan Spieth in a playoff, but did not leave Hilton Head fully satisfied.
For Fitzpatrick, regarded as one of the fastest players on the tour, a three-ball round should never take longer than four and a half hours. To get near that is a "disgrace," to go well past it is "truly appalling."
"The problem is this conversation has gone on for years and years and years, and no one has ever done anything, so I feel it's almost a waste of time talking about it," Fitzpatrick told Sky Sports.
"I have strong opinions, but no one's going to do anything about it. It's like hitting your head against a brick wall. No one ever gets penalized.
"I think it's a real issue, way more needs to be done. The thing is I really like referees over here, they are great people, but I did not see a single ref all day. There were a few shots we were waiting and I don't understand where they are all hiding. It does become frustrating when you are waiting so long."