Nicolas Cage is known for a host of iconic roles on the silver screen, but there's one direction he's yet to face after decades in the industry: heading out into the wild, wild west.
In his latest flick, Cage admitted he had no trouble tapping into his Western roots to play the "cold-blooded gunslinger turned respectable family man" Colton Briggs in "The Old Way."
"The Western genre is something I've always admired," Cage exclusively told Fox News Digital. "I grew up watching my favorite Western performance, Charles Bronson as Harmonica in "Once Upon a Time in the West."
"I grew up in California, used to watch these movies on my little TV, and I live in Nevada. I always felt like I would be a good match for a Western. They wouldn't be that much acting for me. I felt like I could fill those boots and wear that hat."
'NATIONAL TREASURE 3' WITH NICOLAS CAGE GETS MAJOR UPDATE FROM PRODUCER JERRY BRUCKHEIMER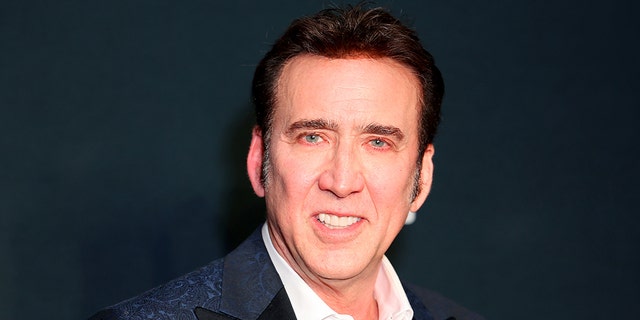 Nicolas Cage talks starring in his first traditional Western film, "The Old Way."
(Leon Bennett)
The "Moonstruck" star said he had "Bronson in the back of my mind" throughout filming the outlaw drama which focuses on a Briggs avenging the death of his wife with an unlikely partner, his 12-year-old daughter. Cage, 58, also recalled a few of his favorite roles through the years as he pondered being able to survive in the wilderness like his character.
"When the script came to me for the first time, a traditional Western script, I thought, 'Well, yeah, I'm going to do that,'" he said. "'You're going to pay me to put on … and dress the way I like to dress, and wear the cowboy hat and homage some of my favorite movie stars of all time and yell? I'm there."
He added, "My stomach rumbles like anybody else's. So it was absolutely I was in 'cause I'm not getting any younger, and I didn't know if I'd be invited again, so I had to do it."
NICOLAS CAGE HAD TO BE CONVINCED TO TAKE ON ROLE AS HIMSELF IN 'THE UNBEARABLE WEIGHT OF MASSIVE TALENT'
Cage stars alongside Ryan Kiera Armstrong, who plays his daughter Brooke, Shiloh Fernandez, and Clint Howard in the action-packed film from Brett Donowho, which was filmed in Montana in October 2021. At the time, the movie made headlines after "Rust" armorer Hannah Gutierrez-Reed was reportedly involved in an incident that led to Cage walking off set.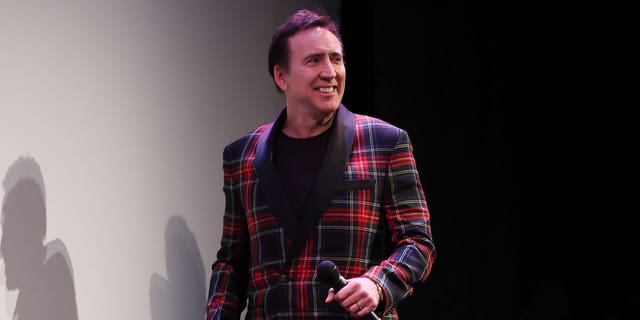 Nicolas Cage has starred in dozens of movies throughout his decades-long career
(Rich Fury)
Video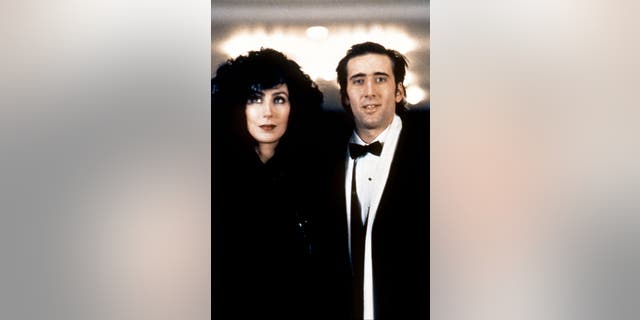 Cher and Nicolas Cage on the set of Moonstruck in 1987, directed and produced by Norman Jewison. 
(Sunset Boulevard)
When asked by Fox News Digital if he thinks he'd be able to survive the elements of the wild west, the "Con Air" actor admitted he really wasn't sure.
"There was no television. They were reading all the time. They're reading books. They were these were smart guys," he said while praising the "extremely intelligent" wranglers. "But the other thing is that they had a level of bravery to be able to get out to the west. To make it in those days, you know, the pioneers and all that, going cross-country … To get there in the first place, you had to have the 'true grit.' And I don't know. I really don't know.
"I wouldn't be able to tell you unless I found out. I'd like to think I'm someone that could survive, but that's a tough environment."
Of acting in his first Western, Cage said he "enjoyed the experience." "I was always thinking about Bronson in the back of my mind, not that I got close to it, but I had him there in my mind," he shared.
When it came to listing a few of his favorite characters he's had the opportunity to play, Cage paused only for a minute before reviewing his lengthy resume, which includes "Honeymoon in Vegas" with James Caan, "Valley Girl," "Peggy Sue Got Married," "Raising Arizona," "The Rock," and "City of Angels."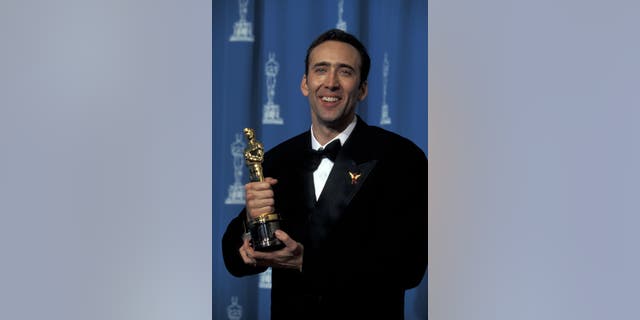 Nicolas Cage earned an Academy Award for his role in "Leaving Las Vegas."
(Jim Smeal/Ron Galella Collection)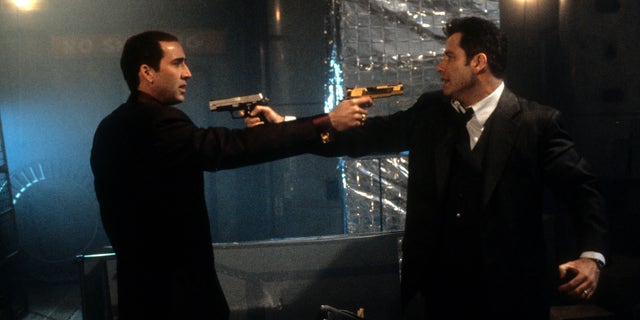 Nicolas Cage and John Travolta aiming guns at each other in a scene from "Face/Off."
(Touchstone)
"I loved Castor Troy in 'Face/Off.' That one really rings a bell. You know, that was a lot of fun," he said of the '97 sci-fi, action film with John Travolta. "And I'm sure Peter Lowe in 'Vampire's Kiss,' I think 'Joe,' the movie I did with David Gordon Green.
CLICK HERE TO SIGN UP FOR THE ENTERTAINMENT NEWSLETTER
"I love Rob in 'Pig.' I don't even know if I can watch that movie again because the last time I saw it, I was like, 'Who is this person? I don't know. Where did this guy come from? This is amazing. I don't know who I'm looking at. Who am I watching?'"
Fans may also be able to expect Cage back as Benjamin Franklin Gates for a third installment of the "National Treasure" series after producer Jerry Bruckheimer said another movie is in the works. The first film was released in 2004 and the follow-up, "National Treasure: Book of Secrets," came out in 2007.
"We said we'd like to make another 'National Treasure' and they said, 'Sure, let's come up with a new cast," the producer recently told E! News while discussing a spinoff series. Cage isn't in the TV series, but the movie is being developed with Cage back as the leading man.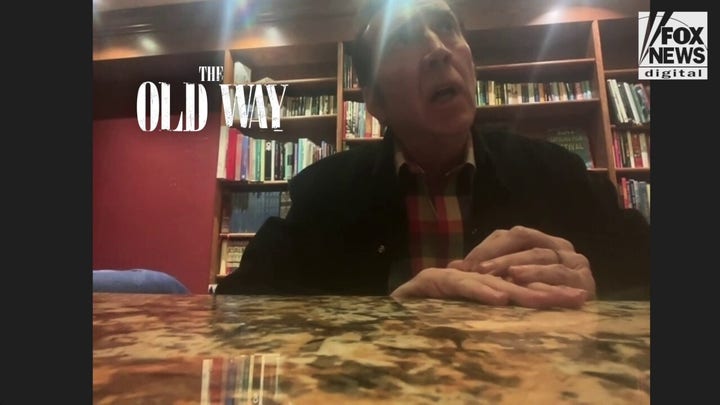 Video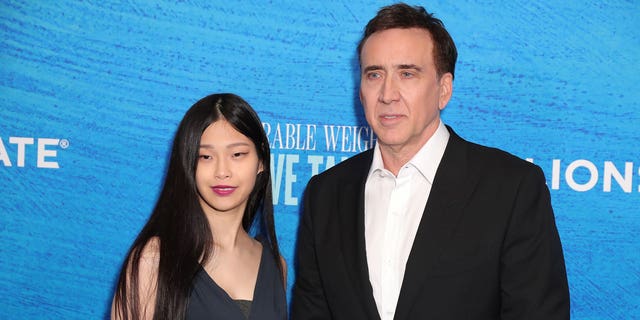 Nicolas Cage and wife Riko Shibata welcomed their first child together in September
(Leon Bennett)
"At the same time, we were developing 'National Treasure' for the theaters with Nicolas Cage, which we still are. So, that's ongoing," Bruckheimer said.
In the meantime, Cage is enjoying life in Nevada with his wife, Riko Shibata, and their four-month-old daughter, August Francesca Coppola. He also has two sons from previous relationships, Weston and Kal-El.
The "Fast Times at Ridgemont High" actor recalled one famous address from his past with an equally acclaimed owner.
"Starchild from KISS was my landlord. I lived at The Palms for a while," he reminisced. "Listen, Vegas has been good to me too. I have no complaints. It's been a good city for me, you know, It's not like everyone thinks it is. It's also a small town with some great culture."
He praised Las Vegas for its "easy living" and said, "I think people are going to start realizing that. It takes years off our lives."
CLICK HERE TO GET THE FOX NEWS APP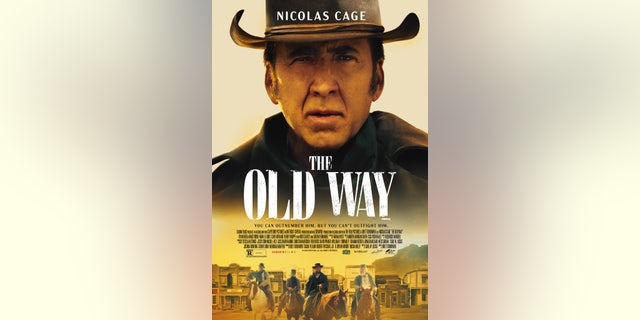 Nicolas Cage is on a vengeful quest in "The Old Way."
(Lionsgate)