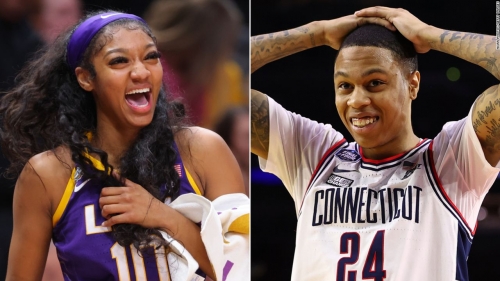 Angel Reese of LSU (left) and her cousin, Jordan Hawkins, of the Connecticut Huskies.
NCAA Photos/Getty Images

CNN
—
Jordan Hawkins is a national college basketball champion. But he won't be the only one with a new ring at his family's next get-together.
Hawkins, who scored 16 points in the University of Connecticut's 76-59 victory over San Diego State University in the NCAA men's college championship game on Monday, and his cousin LSU star Angel Reese, who had her own success when the Tigers won its first NCAA women's basketball national championship title on Sunday.
The pair both will receive commemorative rings to celebrate their respective title successes.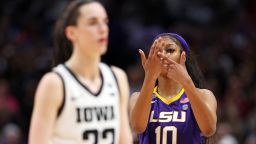 DALLAS, TEXAS – APRIL 02: Angel Reese #10 of the LSU Lady Tigers reacts towards Caitlin Clark #22 of the Iowa Hawkeyes during the fourth quarter during the 2023 NCAA Women's Basketball Tournament championship game at American Airlines Center on April 02, 2023 in Dallas, Texas. (Photo by Maddie Meyer/Getty Images)
Maddie Meyer/Getty Images
Angel Reese defends gesture directed towards Caitlin Clark after LSU national title win; calls out double standard after being 'unapologetically' her
Reese's hometown is Baltimore, Maryland, while Hawkins was born 42 miles away in Gaithersburg. Dawkins says that their title victories are the culmination of a long journey which the pair will celebrate in style in the weeks to come.
"This is for all the kids from Gaithersburg, Maryland, that didn't think they could do it. I did it. Now you can do it, man," Hawkins told game broadcaster CBS. "Me and Angel paved the way. We did it."
When asked if he'd had any contact with Reese over the weekend, Hawkins said: "I wished her luck. I'm going to see her in Maryland soon. The cookout gone be lit."
Hawkins expanded on the duo's journey in the media conference after UConn had won its fifth men's college basketball national title.
"It's absolutely amazing, showing that kids that were our age at the time, we were dreaming about the same thing and we saw that it's possible," the 20-year-old said.
"We saw that as amazing … that we both get this opportunity and I mean the family reunion is going to be great so that's all I know."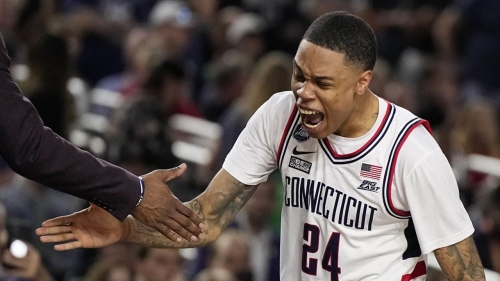 Hawkins celebrates during the second half of the men's national championship college basketball game against San Diego State.
Brynn Anderson/AP
'Keeping me calm and focused'

Hawkins and Reese weren't the only family duo to feature prominently in the NCAA finals
UConn head coach Dan Hurley masterminded the team's dominant run through March Madness – in which it won each of its six tournament games by at least 10 points – and on the team, with him every step of the way, was his son, Andrew.
Andrew, a junior guard, featured only sparingly during the team's progression through the tournament, but his dad says his son has a much more important role outside of his contribution's on the court, explaining to CNN Sport's Coy Wire that he is like his "therapist, always keeping me calm and focused."
Andrew himself says that he's just happy to play a part however he can. "I just try to contribute in any way I can and if that's one of them, then so be it," he told CNN. "It means a lot to be around him every day."
UConn entered rarefied air as only the sixth team to win five NCAA men's basketball championships, joining UCLA (11), Kentucky (eight), North Carolina (six), Duke (five) and Indiana (five). All of UConn's titles have come since 1999 with the most recent before Monday occurring in 2014.
The university's women's teams have won 11 basketball national titles.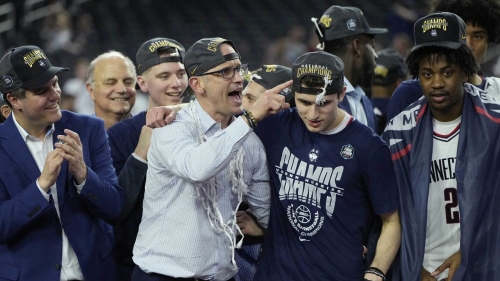 UConn head coach Dan Hurley (left) celebrates with his son Andrew after defeating the San Diego State Aztecs in the NCAA men's national championship game.
Bob Donnan/USA TODAYReuters
"You're so proud that you're able to deliver on the promise you made to the university that we can get the program back and the promises you made to the players that we can do something special like this together," said Hurley.
"I'm crazy. I'm a maniac just like our fanbase so I think that's why we're such a great fit for each other."