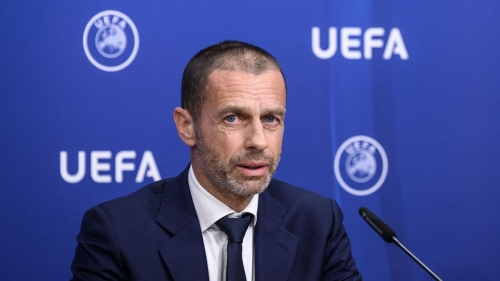 UEFA President Aleksander Čeferin said Barcelona's refereeing scandal is "extremely serious."
Fabrice Coffrini/AFP/Getty Images

Reuters
—
UEFA president Aleksander Čeferin said that Barcelona's refereeing scandal is one of the most serious incidents he has seen in football ever since he became involved with it.
UEFA opened a formal investigation into Barcelona last month for potential violation of the European soccer governing body's legal framework regarding payments made by the club to a company owned by a senior refereeing official.
"I cannot comment directly on this for two reasons," Čeferin told Slovenian newspaper Ekipe SN in an interview published on Monday.
"Firstly, because we have an independent disciplinary committee. And secondly, because I have not dealt with this matter in detail.
"However, I can say something. As far as I am informed, the situation is extremely serious. So serious that it is, in my opinion, one of the most serious [ones] in football since I have been involved in it."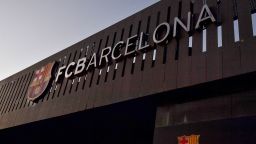 This photograph taken on August 5, 2021 shows the logo of FC Barcelona on the facade of the Camp Nou stadium in Barcelona. – Lionel Messi will end his 20-year career with Barcelona after the Argentine superstar failed to reach agreement on a new deal with the club, the Spanish giants announced on August 5, 2021. (Photo by Pau BARRENA / AFP) (Photo by PAU BARRENA/AFP via Getty Images)
Pau Barrena/AFP/Getty Images
FC Barcelona and former club presidents charged with 'continued corruption' relating to alleged improper payments
The alleged payments of 7.3 million euros ($7.96 million) were made by Barcelona from 2001 to 2018 to firms owned by José María Enríquez Negreira, then-vice president of the refereeing committee of the Spanish Football Association.
"At the level of the Spanish league, of course, the matter is out of date and cannot have competitive consequences, while the proceedings are ongoing at the level of the Spanish civil prosecutor's office," Čeferin added.
"The same applies to UEFA, nothing is time-barred here either."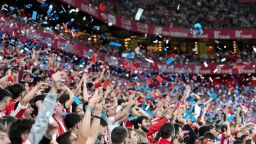 BILBAO, SPAIN – MARCH 12: Fans show their support during the LaLiga Santander match between Athletic Club and FC Barcelona at San Mames Stadium on March 12, 2023 in Bilbao, Spain. (Photo by Juan Manuel Serrano Arce/Getty Images)
Juan Manuel Serrano Arce/Getty Images
Athletic Bilbao fans protest improper payment allegations against Barcelona during La Liga game
In a statement in February, the club denied any wrongdoing, saying it had paid an external consultant who supplied it with technical reports related to professional refereeing, which it claimed was a common practice among professional football clubs.