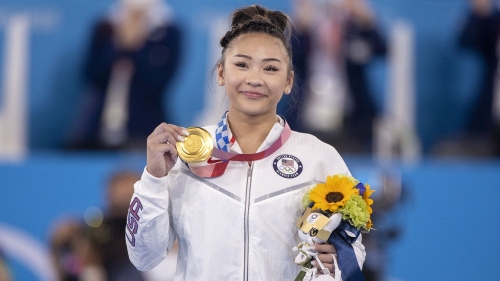 Suni Lee won the gold medal in the individual all-around women's final at Ariake Gymnastics Centre during the Tokyo 2020 Summer Olympic Games.
Tim Clayton/Corbis/Getty Images

CNN
—
American gymnast Suni Lee, who won the individual all-around gold medal at the Tokyo Olympics in 2021, is stepping away from the Auburn Tigers gymnastics team, announcing in a statement that she's recently been managing a kidney-related health issue.
"I have been dealing with a non-gymnastics related health related issue involving my kidneys," said Lee on Monday.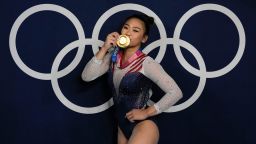 Sunisa Lee, of United States, reacts as she poses for a picture after winning the gold medal in the artistic gymnastics women's all-around final at the 2020 Summer Olympics, Thursday, July 29, 2021, in Tokyo, Japan. (AP Photo/Gregory Bull)
Gregory Bull/AP
Suni Lee and an epochal moment for the Hmong in America
"For my safety, the medical team did not clear me to train and compete over the last few weeks. I am blessed and thankful to be working with the best specialized medical team to treat and manage my diagnosis. My focus at this time is my health and recovery."
The 20-year-old thanked her doctors, coaches and the Auburn community and said that, despite her college gymnastics career ending prematurely, she still hopes to compete for the United States at the 2024 Olympics in Paris.
In November, Lee had announced that this year would be her final year competing at Auburn so she could focus on the Paris Games.
The Olympic gold medallist said on a video posted to Twitter in November: "I am so excited to share that after this season I will be returning to elite gymnastics. I have my sights set on Paris in 2024 and I know what I have to do to get there."
Lee's latest tweet added: "It's been challenging to end my Auburn career early, but I am thankful for all the love and support. I will not stop pursuing my dreams for a bid to Paris in 2024. In fact, this experience has sharpened my vision for the future."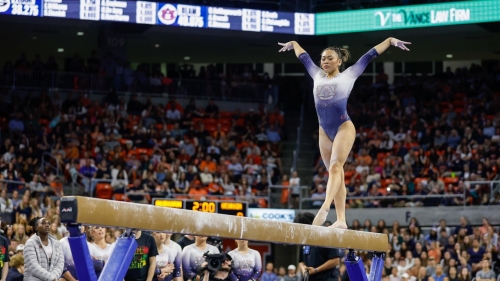 Lee still hopes to compete at the 2024 Olympics in Paris, despite her college gymnastics career ending prematurely.
Stew Milne/Getty Images
As a freshman in 2022, Lee had the most decorated year in Auburn program history, according to the Tigers' Athletics website. She won eight All-America honors, the national championship on balance beam and was named the Southeastern Conference Freshman of the Year.
Auburn head gymnastics coach Jeff Graba said in a statement, "We are immensely fortunate and blessed to have had Suni be a part of our team these last two years. It was an honor to coach a world-class athlete and it was rewarding to see her not only achieve a lot of her collegiate goals, but to watch her become a great teammate as well.
"We strive to put our student-athletes' well-being ahead of athletic performance and in this case, we felt like we made the best decision for her health and future. We are so excited to cheer Suni on as she pursues another Olympic dream and can't wait to see what else is in store for her."
The first Hmong American to compete in the Olympics, Lee tallied three medals for Team USA in Tokyo, winning team silver and bronze on uneven bars to go along with her all-around gold.
CNN's Thomas Schlachter contributed to reporting.