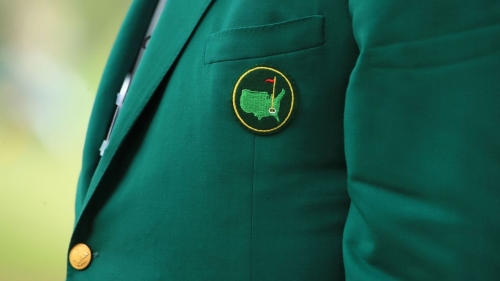 The green jacket has become synonymous with Augusta National and The Masters.
Andrew Redington/Getty Images

CNN
—
Golfers fall asleep dreaming of securing theirs, Bubba Watson was moved to tears simply reminiscing over his, and one fan was willing to shell out over $680,000 just to own one.
Augusta National's green jacket – an exclusive prize for Masters champions – is golf's most coveted fashion statement, and one of sport's most iconic pieces of clothing.
Sure, the prestige of winning one of the four majors in men's golf and the trophy, not to mention the prize money, are welcome rewards, but the storied history of the Georgia club's green member's jacket earned it a unique reputation among those that pursue it.
Transatlantic origins

The story of Augusta's green jacket began some 3,900 miles across the Atlantic, in the town of Hoylake in northwest England.
Ahead of hosting its sixth British Open Championship in 1930, Royal Liverpool Golf Club held a players' reception. In attendance was the most celebrated amateur golfer of the era, American Bobby Jones.
Over dinner, Jones proceeded to pepper former club captain Kenneth Stoker with questions on his red coat, the formal kit of Royal Liverpool captains.
"Mr. Jones, if you're so fascinated by this, I will give you my coat if you win our Championship this week," challenged Stoker – according to a CNN interview with club historian Joe Pinnington in 2014.
Naturally, Jones made short work of the wager, clinching the 11th of his 13 career major victories and returning to the US with a trophy – and a red blazer.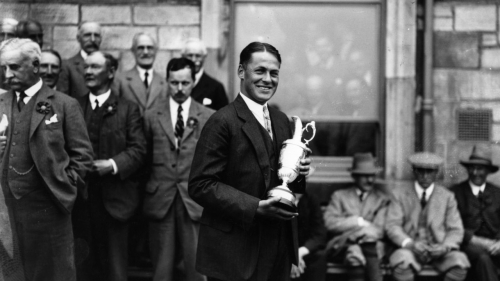 Jones celebrates the second of his three Open Championship wins after victory at St. Andrews, Scotland, in 1927.
Central Press/Hulton Archive/Getty Images
After becoming the first and only golfer to complete the original grand slam (Amateur Championship, Open Championship, US Open, US Amateur) months later, Jones stunned the sporting world by announcing his retirement from competitive golf at just 28 years old.
Harboring a passion for course design, Jones had other plans in mind. In 1934, his newly founded Augusta National hosted the first incarnation of The Masters.
Three years later, Augusta members started wearing green jackets to make themselves identifiable to patrons. In 1949 it was decided that year's victor, Sam Snead, and all the previous champions, would be issued with their own version too.