close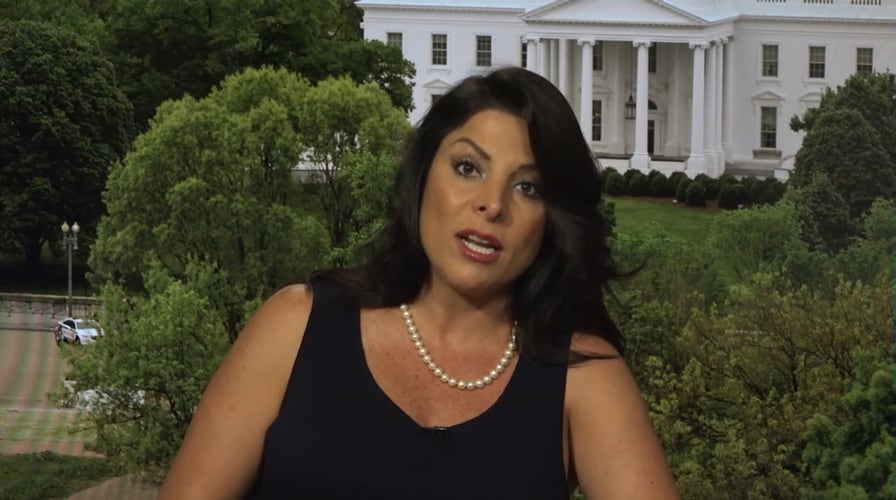 Video
Lawyer for family of slain Texas soldier Vanessa Guillén: 'I thought I'd seen it all until I went to Fort Hood'
Fox Nation host Nancy Grace interviews Guillen family attorney Natalie Khawam in Fox Nation's 'A Fort Hood Investigation with Nancy Grace: Part 1.'
A Texas woman whose boyfriend shot and killed himself while police pursued him following Army soldier Vanessa Guillén's disappearance from a military base was sentenced Monday to 30 years in prison for her role in the gruesome murder that prompted a movement in how sexual harassment is reported in the military.
Cecily Aguilar was the only suspect arrested for the death of Guillén, who was killed at Fort Cavazos, formerly known as Fort Hood, near Killeen, Texas.
Aguilar was 24 years old when she pleaded guilty in November to one count of accessory to murder after the fact and three counts of making a false statement. The sentence came after hours of testimony from attorneys, experts and Guillén's family.
It was the maximum punishment Aguilar could receive, Jaime Esparza, the U.S. attorney for the Western District of Texas, said.
"Our hope is that today's sentence brings a sense of relief and justice to the Guillén family, who have endured such pain throughout these past few years," Esparza said.
FAMILY OF MURDERED FORT HOOD SOLDIER VANESSA GUILLEN FILES $35M LAWSUIT AGAINST U.S. ARMY
"You received Justice today," Guillén's sister, Mayra, wrote on X, formerly Twitter. "Rest easy sister. Today was such a hard day, I learned so many details regarding your death after the fact of it's been 3 YEARS. My heart hurts."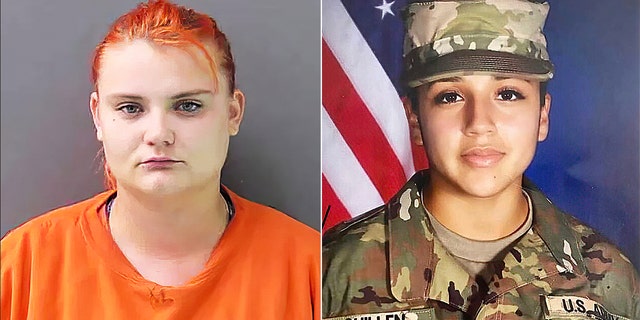 Cecily Aguilar helped dismember and dispose of Vanessa Guillén's remains. (Bell County Jail)
Prosecutors said Aguilar aided her boyfriend, Army Spc. Aaron Robinson, 20, in dismembering and disposing of Guillén's body in a rural, wooded area near the base, according to federal and state authorities. Robinson, of Calumet City, Illinois, died by suicide on July 1, 2020, the day Guillén's remains were found.
"We finally have closure in this case," said attorney Natalie Khawam, who represents Guillén's family.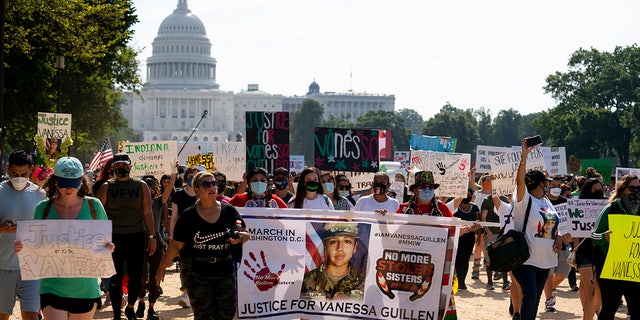 Supporters of the family of slain Army Spc. Vanessa Guillén march to the White House along the National Mall after a news conference in Washington, July 30, 2020. (AP Photo/Carolyn Kaster, File)
Guillén was declared missing in April 2020, when her family said they did not hear from her for an unusual amount of time after she was called in for a shift in the military base's armory room. According to a criminal complaint, Aguilar said she and Robinson – who authorities accuse of bludgeoning Guillén to death at the base – disposed of her body by mutilating it and hiding the remains in nearby woods.
MURDERED FORT HOOD SOLDIER VANESSA GUILLEN DESERVES SAME RESPECT AS GEORGE FLOYD, BIDEN MUST ACT, FAMILY SAYS
Two weeks after Guillén's body was found, Aguilar pleaded not guilty to conspiracy charges. Later, a judge dismissed her legal team's attempt to throw out her confession because she said she had not been read her Miranda rights at the time her statement was taken.
Guillén's family has said they believe she was sexually harassed during her time at the Texas military base. While Army officials have said they do not believe Robinson harassed Guillén, they admitted in a report a year later that Guillén was harassed by another soldier at the base.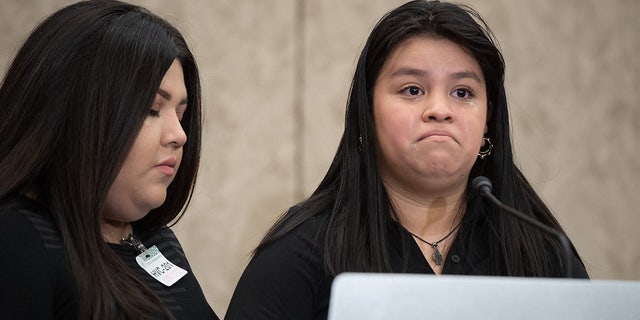 Mayra and Lupe Guillén, sisters of murder victim Vanessa Guillén, speak out during a press conference on Capitol Hill in Washington, D.C., June 23, 2021. (Saul Loeb/AFP via Getty Images)
Following Guillén's death, her family's claims that she was harassed and assaulted at the Texas base ignited a movement on social media of former and active service members who shared their experiences at military bases throughout the country using the hashtag #IAmVanessaGuillen.
CLICK HERE TO GET THE FOX NEWS APP
Then-U.S. Army Secretary Ryan McCarthy said during a visit to the Texas base that it had one of the highest rates of murder, sexual assault and harassment in the Army, later adding that the patterns of violence were a direct result of "leadership failures. "
State and federal lawmakers passed legislation in 2021 honoring Guillén that removed some authority from commanders and gave survivors more options to report abuse and harassment. Army officials disciplined 21 commissioned and non-commissioned officers in connection with Guillén's death.
The Associated Press contributed to this report.
Danielle Wallace is a reporter for Fox News Digital covering politics, crime, police and more. Story tips can be sent to [email protected] and on Twitter: @danimwallace.