close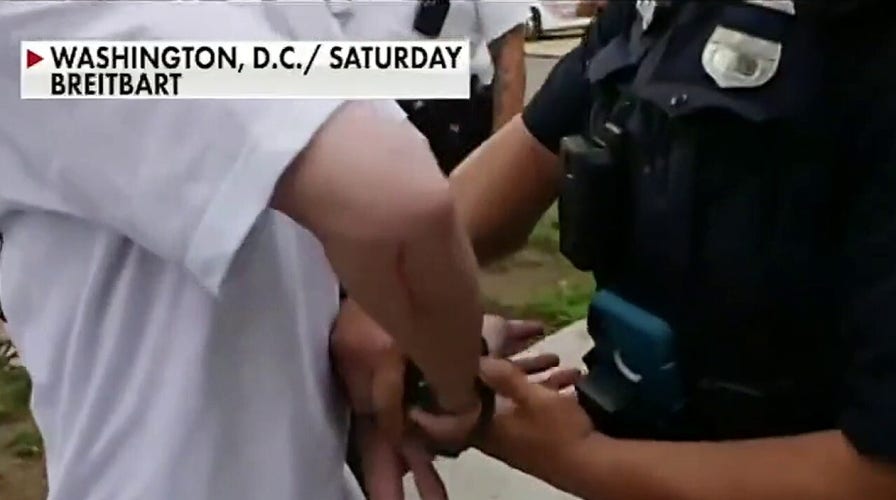 Video
Pro-life activists arrested for writing on sidewalk with chalk
Warner DePriest and Kristan Hawkins speak out against arrests for writing 'Black Pre-born Lives Matter' on the sidewalk.
A federal appeals court ruled Tuesday that the city of Washington, D.C., unevenly enforced its "defacement" ordinances against anti-abortion groups.
The court ruled that city authorities treated pro-life protestors more harshly than Black Lives Matter activists and reversed a lower court's dismissal of a complaint filed by the Frederick Douglass Foundation.
"In the summer of 2020, thousands of protesters flooded the streets of the District to proclaim 'Black Lives Matter,'" the court wrote in its decision. "Over several weeks, the protesters covered streets, sidewalks, and storefronts with paint and chalk. The markings were ubiquitous and in open violation of the District's defacement ordinance, yet none of the protesters were arrested."
WASHINGTON DC PRO-LIFE PREGNANCY CENTER VANDALIZED WITH RED PAINT, EGGS, 'REVENGE' MESSAGE
The opinion continues, "During the same summer, District police officers arrested two pro-life advocates in a smaller protest for chalking 'Black Pre-Born Lives Matter' on a public sidewalk. The organizers of the smaller protest, the Frederick Douglass Foundation and Students for Life of America (collectively 'the Foundation'), sued."
The Frederick Douglass Foundation and Students for Life of America filed a lawsuit against the city after two pro-life activists were arrested on Aug. 1, 2020, for chalk graffiti reading "Black Pre-Born Lives Matter."
THE PENTAGON PLANS TO SHAKE UP DC'S NATIONAL GUARD, CRITICIZED FOR ITS RESPONSE TO PROTESTS, JAN. 6
The foundation alleged that the protesters' First and Fifth Amendment rights were violated — the group acknowledged that the chalk graffiti violated city ordinances but argued Washington, D.C.'s selective enforcement of the laws was unconstitutional.
The foundation pointed to the government's tacit approval of Black Lives Matter-themed graffiti throughout the city during the summer of 2020 as evidence that the ordinances were being selectively enforced.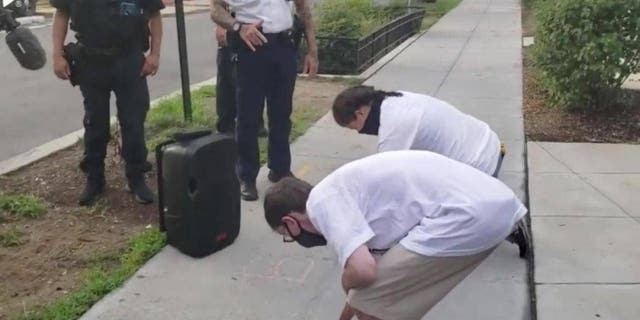 Police arrested pro-life protesters on Aug. 1, 2020 for drawing with chalk outside an abortion facility in Washington, DC. (Alliance Defending Freedom)
CLIMATE PROTESTERS ARRESTED ON CAPITOL HILL, PLACED IN RESTRAINTS AMID IRS WHISTLEBLOWER HEARING
A lower district court previously dismissed the foundation's lawsuit — but the appeals court ruled Tuesday to overturn that dismissal.
"The First Amendment prohibits discrimination on the basis of viewpoint irrespective of the government's motive. We hold the Foundation has plausibly alleged the District discriminated on the basis of viewpoint in the selective enforcement of its defacement ordinance," the court wrote.
CLICK HERE TO GET THE FOX NEWS APP
The case has been remanded for further proceedings.
Timothy Nerozzi is a writer for Fox News Digital. You can follow him on Twitter @timothynerozzi and can email him at [email protected]