close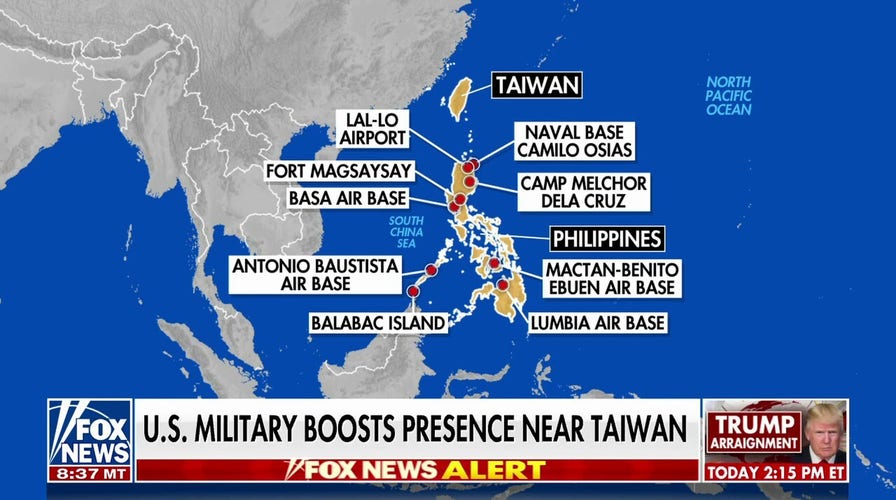 Video
China blasts US military boosting presence near Taiwan
Jennifer Griffin reports the U.S. has secured new access to four additional key bases in the Philippines.
Taiwan President Tsai Ing-wen reportedly was briefed by senior security officials Tuesday on a "regional situation" ahead of her scheduled meeting with House Speaker Kevin McCarthy, R-Calif.
In a video conference in Belize, Tsai on Tuesday "listened to a briefing on the overall regional situation," her office said in a statement, according to Reuters.
"The president asked relevant units to continue to grasp the surrounding situation, and to enable the visiting delegation to continue to grasp the situation in real time," the statement said.
The statement said those on the call included National Security Council secretary-general Wellington Koo and Foreign Minister Joseph Wu, both of whom are traveling with the president, as well as National Security Bureau Director-General Tsai Ming-yen, who has remained in the capital of Taipei, according to Reuters.
CHINA WARNS HOUSE SPEAKER MCCARTHY DON'T 'REPEAT DISASTROUS PAST MISTAKES' BY MEETING TAIWAN PRESIDENT: REPORT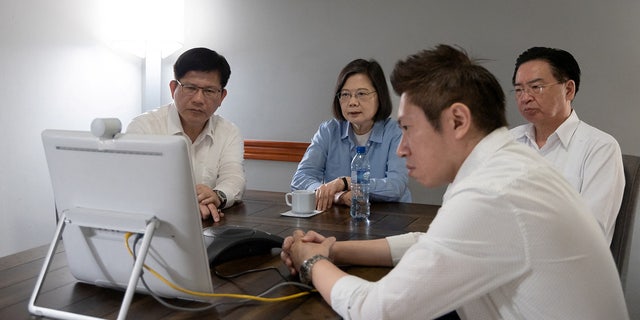 Taiwanese President Tsai Ing-wen attends a video call with senior members of government and security officials in Taipei, during her trip to Belize. (Taiwan Presidential Office/Handout via Reuters)
Meanwhile, China reportedly sent an aircraft carrier group to the waters off Taiwan's southeast coast Wednesday – the same day as Tsai's meeting with McCarthy.
In a statement Wednesday, Taiwan's Ministry of National Defense said the Chinese Communist Navy's Shandong fleet has crossed the Bashi Channel and passed through the southeast waters of Taiwan to start its first voyage training in the Western Pacific.
"The CCP's continuous dispatch of aircraft and ships to harass the sea and airspace around Taiwan not only poses a real threat to our national security, but also undermines the status quo of regional security and stability. Such behavior is definitely not what a responsible modern country should behave," the statement said.
The ministry added "external pressure will not hinder our determination to go global," and Taiwan's military will continue to closely monitor the military dynamics around the Taiwan Strait, and uphold the principle of "not escalating conflicts and not causing disputes" to deal with any challenges. It said Taiwan was confident "in defending national security."
CHINESE EMBASSY SENDS THREATENING LETTER TO CONGRESS OVER TAIWAN MEETING, WARNING IT 'WILL NOT SIT IDLY BY'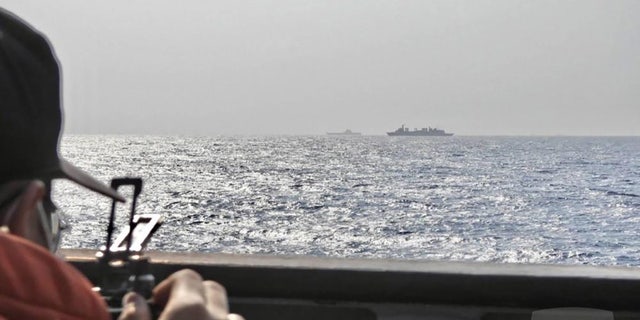 Taiwan's Ministry of National Defense stated Wednesday that the Chinese Communist Navy's Shandong fleet has crossed the Bashi Channel and passed through the southeast waters of Taiwan. (Taiwan Ministry of National Defense)
On the call Tuesday, Tsai also "expressed her gratitude" to colleagues who remained at their posts back in Taiwan to ensure national security over the holiday weekend.
Afterward, Tsai flew to Los Angeles, where the Taiwanese president landed Tuesday night and "was welcomed on the plane by Representative to the US Bi-khim Hsiao… and American Institute in Taiwan Chairperson Laura Rosenberger, and after alighting from the plane was received by Director General of the Taipei Economic and Cultural Office in Los Angeles Amino C.Y. Chi…," her office said. "The president and her delegation were then driven to her hotel, where they were greeted by an enthusiastic crowd at the entrance."
McCarthy's office confirmed Monday that the third most senior U.S. government official will be hosting a bipartisan meeting with Tsai at the Ronald Reagan Presidential Library in Simi Valley, California, on Wednesday. China has repeatedly threatened unspecified retaliation if the meeting takes place.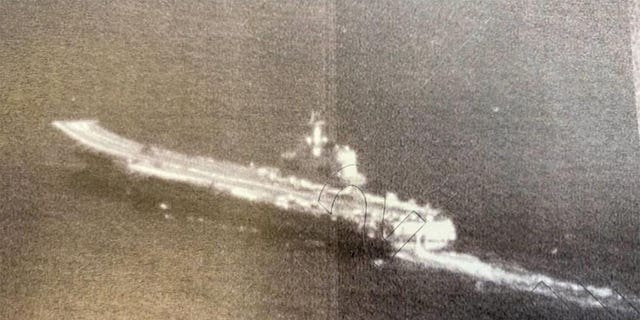 Taiwan Ministry of National Defense image of Chinese Communist Party's Shandong aircraft carrier formation. (Taiwan Ministry of National Defense)
CLICK HERE TO GET THE FOX NEWS APP
Pro- and anti-Taiwan demonstrators gathered Tuesday night, local time, outside a downtown Los Angeles hotel in anticipation of Tsai's arrival.
Her supporters lined a red carpet leading to the hotel's entrance, banging drums, chanting and holding Taiwanese flags and photos of the president, according to The Associated Press. A smaller group demonstrating in favor of China gathered nearby on the sidewalk, at times chanting "One China."
The Associated Press contributed to this report.
Danielle Wallace is a reporter for Fox News Digital covering politics, crime, police and more. Story tips can be sent to [email protected] and on Twitter: @danimwallace.