close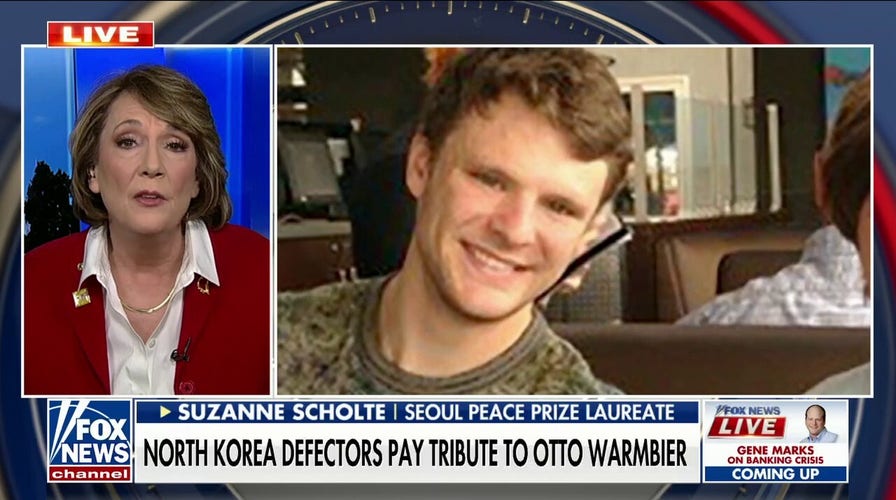 Video
North Korean defectors honor Otto Warmbier, Kim Jong Un's victims

'The North Korean Freedom Foundation' chair Suzanne Scholte joins 'Fox News Live' to discuss the protests in front of North Korea's mission to the United Nations.
South Korean President Yoon Suk Yeol promised on Friday to punish North Korea for the communist nation's recent series of "provocations."
"North Korea is advancing its nuclear weapons day by day and conducting missile provocations with unprecedented intensity," said Yoon.
He made the comments at the Daejeon national cemetery to commemorate the anniversary of West Sea Defense Day — a holiday in honor of servicemen who lost their lives defending the maritime border with North Korea.
FORCING NORTH KOREA TO 'DISMANTLE ITS NUKES' WOULD BE A 'DECLARATION OF WAR'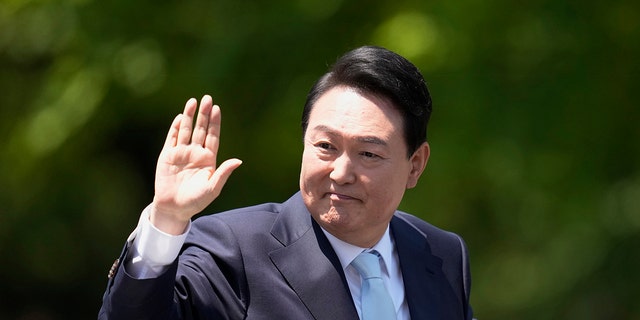 South Korea's new President Yoon Suk Yeol waves from a car after the Presidential Inauguration outside the National Assembly in Seoul, South Korea. (AP Photo/Lee Jin-man)
He continued, "The South Korean government and military will drastically strengthen our three-axis system in the face of North Korea's nuclear and missile advancements and provocations, and will further solidify security cooperation with the United States and also trilaterally with the United States and Japan."
Yoon's comments came just hours after North Korea claimed to have successfully simulated cruise missile attacks and an underwater nuclear drone launch.
US-SOUTH KOREA DRILLS DETER NORTH KOREA, PENTAGON CLAIMS HOURS AFTER NORTH KOREA LAUNCHES ICBM
North Korean leader Kim Jong Un attends the 7th enlarged plenary meeting of the 8th Central Committee of the Workers' Party of Korea (WPK) in Pyongyang, North Korea in this photo released by North Korea's Korean Central News Agency (KCNA).  (KCNA via REUTERS)
North Korean dictator Kim Jong Un threatened to plunge South Korea and the US "into despair" in response to ongoing joint military drills between the two nations.
"I will make sure North Korea pays the price for its reckless provocations," Yoon threatened.
US AND ITS PARTNERS STAGE WARFARE DRILLS AS JAPAN, SOUTH KOREA STRENGTHEN ALLIANCE AGAINST CHINA, NORTH KOREA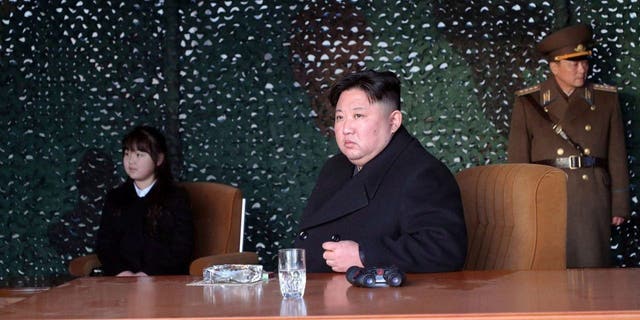 In this photo provided by the North Korean government, North Korean leader Kim Jong Un, with his daughter, inspects what it says is an artillery drill at an undisclosed location in North Korea ((Korean Central News Agency/Korea News Service via AP))
The North Korean Ministry of Foreign Affairs warned earlier this week that any attempt to force the country into denuclearizing would be equivalent to a declaration of war.
"Any force should keep in mind that if it tries to apply CVID to the DPRK, it will be dealt with resolutely in accordance with the DPRK's law on nuclear force policy," Jo said Thursday.
CLICK HERE TO GET THE FOX NEWS APP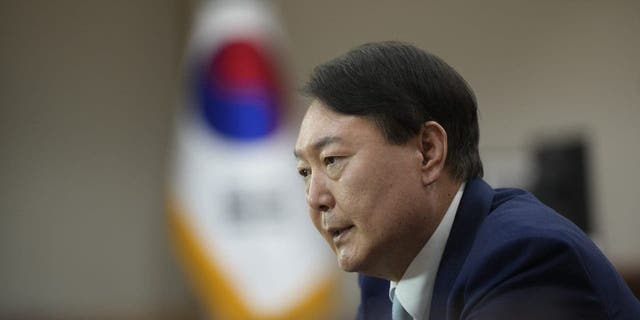 South Korean President Yoon Suk Yeol speaks during an interview at the presidential office in Seoul, South Korea. (AP Photo/Lee Jin-man)
"The pressure on the DPRK to dismantle its nukes precisely means a declaration of war," he said.
Timothy Nerozzi is a writer for Fox News Digital. You can follow him on Twitter @timothynerozzi and can email him at [email protected]