close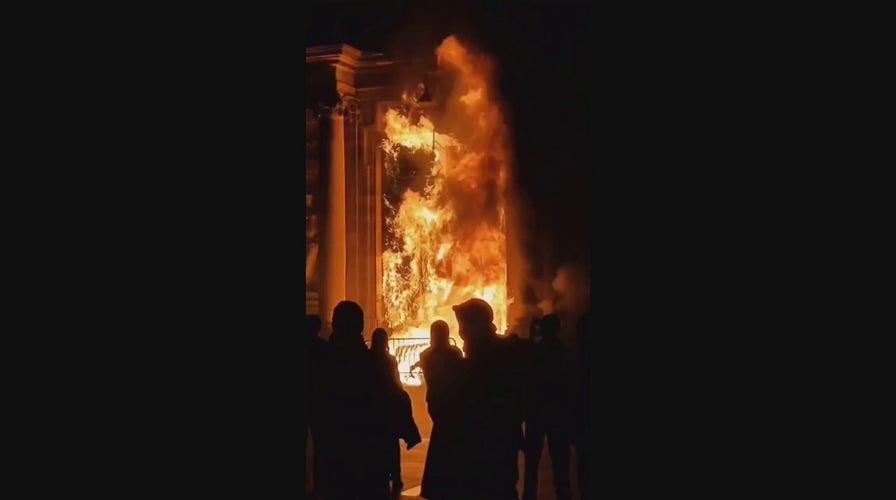 Video
Bordeaux City Hall set on fire as France protests Macron's pension reform
Protesters on Thursday set the front door of Bordeaux City Hall on fire in Western France. (Credit: @Bookee0 via Storyful)
A planned visit by King Charles III to France has been scrapped as more than a million people have taken to the streets across the country to protest French President Emmanuel Macron's pension reforms.
Macron's office said Friday that the state visit – which was set for Sunday – has been postponed following a phone call between Macron and Charles, according to Reuters.
Although no major protests were planned in France on Friday, train traffic was slowed, rows of trucks blocked access to Marseille's commercial port and debris still littered the Paris streets following the previous day's mass demonstrations.
Over 450 protesters were arrested in Paris and beyond on Thursday as around 300 demonstrations drew more than a million people nationwide.
MACRON UNDER FIRE AS FRENCH PROTESTS TURN VIOLENT OVER RETIREMENT AGE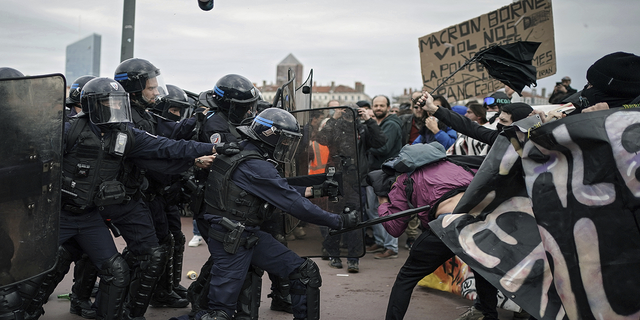 Protesters clash with French police officers during a demonstration in Lyon on Thursday. More than 400 officers were injured Thursday in protests against President Emmanuel Macron's pension reform, officials say. (AP/Laurent Cipriani)
Macron – whose government survived a vote of no confidence Monday after it pushed through the controversial legislation earlier this month, which pushes back the age of retirement from 62 to 64 – has argued the changes are necessary to keep France's social security program from going bust.
Macron on Wednesday refused to budge on the legislation, which is now down to the Constitutional Council – France's highest constitutional body – to pass after it was pushed through the lower chamber of parliament and passed in the Senate.
Images coming out of Paris Friday showed firefighters putting out garbage fires while trash could be seen strewn across streets and sidewalks.
Some of the demonstrations in the French capital turned violent Thursday, with riot police seen swinging batons and deploying tear gas to disperse protesters.
Interior Minister Gerald Darmanin said Friday that around 441 police officers were injured in the previous day's clashes and more than 1,000 trash bins in Paris were set ablaze.
MACRON WANTS PENSION PLAN TO BE IMPLEMENTED BY THE END OF THE YEAR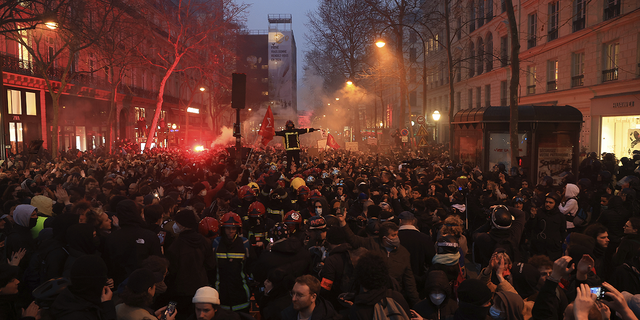 Protesters march during a rally in Paris, France, on Thursday night. (AP/Aurelien Morissard)
In Bordeaux, where Charles had been scheduled to visit Tuesday, the door of its city hall was destroyed in a fire Thursday night.
Bordeaux Mayor Pierre Hurmic said Friday he had "difficulty understanding the interest of such acts of vandalism," according to The Associated Press.
France's Civil Aviation Authority also has called for flights to be canceled this weekend at Paris' Orly airport, fearing more disruptions from demonstrators.
The head of the moderate CFDT trade union, Laurent Berger, who opposes the pension changes, told the Associated Press on Thursday that the continued demonstrations are their attempts to tell the French government "we have to find a way out, and we continue to say that the way out is the withdrawal of the law."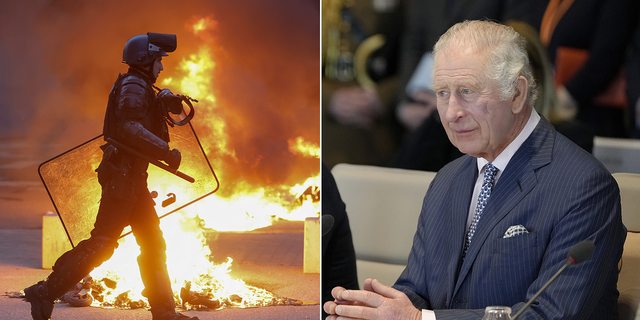 A riot police officer scuffles with protesters on the sideline of a rally in Strasbourg, eastern France, on Thursday, the day before it was announced that King Charles III's upcoming state visit to France has been postponed. Charles was scheduled to arrive in France Sunday for his first overseas trip since becoming monarch. (AP/Jean-Francois Badias/Kirsty Wigglesworth)
CLICK HERE TO GET THE FOX NEWS APP
Macron said that while the government must "listen to" the anger resonating from protesters, he still wants the pension changes implemented by the end of the year.
"Reform is not a luxury, it is not fun. It's a necessity for the country," he said Wednesday.
Fox News' Caitlin McFall and The Associated Press contributed to this report.
Greg Norman is a reporter at Fox News Digital.