close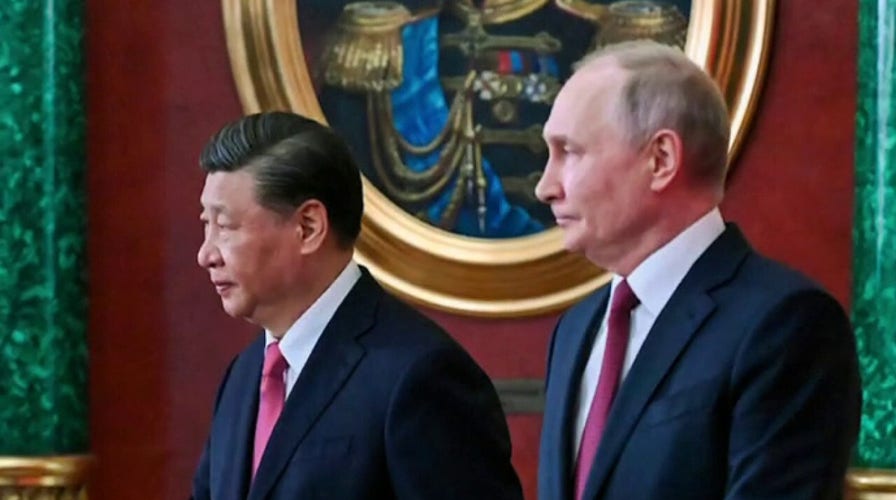 Video
Putin and Xi sign agreement to expand economic ties
Fox News White House correspondent Peter Doocy breaks down the high stakes summit between Chinese President Xi Jinping and Russian President Vladimir Putin on 'Special Report.'
America's credibility among its adversaries has dwindled under President Biden, with some experts arguing a line can be drawn from the disastrous U.S. withdrawal from Afghanistan to more recent events such as the Chinese spy balloon and the downing of a U.S. drone by Russian forces.
"I think the Biden administration's disastrous withdrawal from Afghanistan was a key catalyst for multiple trends that have undermined U.S. influence and deterrence," James Phillips, the senior research fellow for foreign policy at the Heritage Foundation, told Fox News Digital. "U.S. allies were shocked by the naive assumptions behind the withdrawal, the speed with which Washington abandoned longtime allies, and the incompetence of the policymakers that supervised the withdrawal."
Phillips argues that it was not just American allies who took note of the administration's hastily executed exit from Afghanistan, but also adversaries such as China and Russia, who no longer fear U.S. deterrence.
"U.S. adversaries perceived the withdrawal from Afghanistan as a manifestation of U.S. weakness and a desire to rapidly exit the Middle East," Phillips said. "Putin probably was encouraged to go ahead with his war of aggression in Ukraine by the perception that he had less to fear about a concrete U.S. response after the Afghanistan disaster."
RUSSIA GIVES STATE AWARDS TO PILOTS BEHIND US DRONE CRASH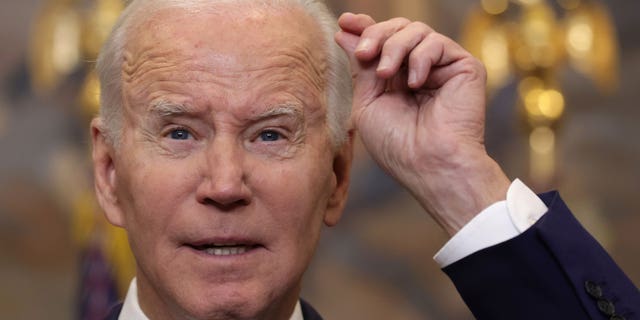 President Joe Biden. (Alex Wong/Getty Images)
Iran has also stymied Biden's efforts to renegotiate the Obama-era nuclear deal, something Phillips attributed to the administration's decision to "abandon the Trump Administration's maximum pressure policy and dangled incentives such as sanctions relief rather than disincentives such as the potential for a U.S. preventive strike on Iran's nuclear infrastructure."
"A credible threat of a military strike was much harder to build after the Afghanistan withdrawal," Phillips argued.
Phillips comments come amid a series of dramatic foreign policy incidents in the months since the U.S. withdrawal from Afghanistan, including heightened tensions in the Taiwan Strait, Russia's invasion of Ukraine, Iran's continued push for nuclear weapons and multiple missile tests carried out by North Korea.
Those international tensions have also reached close to home, including revelations that a Chinese "spy balloon" was able to enter American airspace before drifting across the entire continental U.S. and last week's take-down of a U.S. drone by Russian pilots.
Victoria Coates, a senior research fellow for international affairs at the Heritage Foundation echoed Phillips, arguing the Biden administration has never recovered from what happened in Afghanistan.
"It is a straight line from what's happening now and what happened 18 months ago in Afghanistan," Coates told Fox News Digital. "The images and reports that came out of the fall of Kabul were so incredibly damaging and the administration has done nothing in the intervening period to offset that and demonstrate strength."
SPY BALLOON LIKELY SENT EXTENSIVE INTELLIGENCE TO CHINA, EXPERTS SAY
Coates argued that the administration's weakness helped set up Russia's invasion of Ukraine, pointing out that Biden initially rejected Republican efforts to sanction the Nord Stream 2 pipeline as Russian President Vladimir Putin was building up forces on the border of Ukraine.
"I think that's when Putin said… 'they're not serious, they are going to take their marching orders from the Germans,'" Coates said.
Coates also argued that the administration has continued to show weakness on Russia even as it has vowed to continue support for the Ukrainian war effort, pointing out that the administration has initially "agonized" over decisions on which weapons to send to Ukraine for fear of antagonizing Putin.
Coates added that weakness has been noticed by China, which faced little consequences for flying a spy balloon over the continental United States.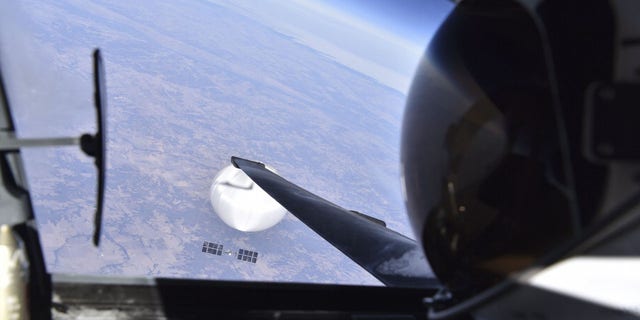 A pilot looks down upon a suspected Chinese spy balloon on Feb. 3, 2023. (US Air Force)
"The Chinese spy balloon… watching that thing drift across the continental United States for days and nothing's done, it's really quite remarkable," Coates said. "And then kind of this frenzy to shoot down other objects, whatever they were, and the suddenly there aren't anymore and we're not doing that anymore."
Coates said that while it is normal for America's adversaries to test new administrations when they enter office, Biden's administration offered up weakness out of the gate.
IRAN GAINS FOOTHOLD IN SOUTH AMERICA AS BIDEN ADMIN PURSUES NUCLEAR DEAL
"What is sort of amazing about Afghanistan is the Biden administration demonstrating weakness and fecklessness without even being probed… they just offered it out there," Coates said. "I think it took hostile forces around the world a little bit of time to process what happened."
Despite the international challenges continuing to stack up, Coates argued that the administration has insisted on sending the wrong message to America's enemies.
"The vice president said that the biggest strategic challenge we face is climate change," Coates said. "I think China and Russia look at that and see an extraordinary opportunity for themselves. China is going to dangle some agreement on climate to get the administration to play its game while trying to corner the market on electric vehicle batteries and on solar panels."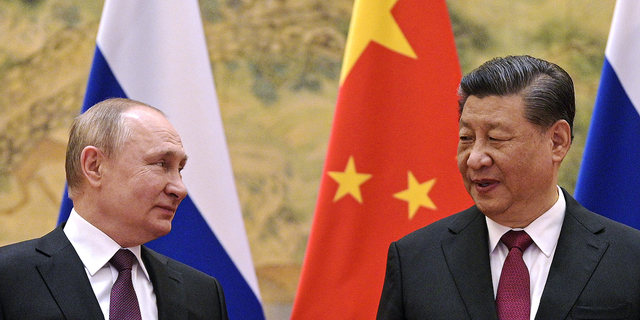 Chinese President Xi Jinping, right, and Russian President Vladimir Putin. (Alexei Druzhinin, Sputnik, Kremlin Pool Photo via AP)
However, Joel Rubin, a former deputy assistant Secretary of State for the Obama administration, argued that the Biden administration is working to regain credibility the U.S. has lost long before leaving Afghanistan.
Rubin said that American allies are currently seeing "us return to trying to be dependable, but they're afraid, of course, of what they experienced with the whiplash of American foreign policy under Donald Trump."
While Rubin gave former President Trump credit for his attempts to broker more peaceful relations with North Korea, he pointed to the previous administration's decision to abandon the Iran nuclear deal as a point when countries around the world began to see the U.S. as less dependable.
BIDEN ADMIN'S KIRBY RIDICULES PUTIN VISIT TO MARIUPOL: 'HE HAS TO KNOW HOW BADLY HE'S DOING INSIDE UKRAINE'
Rubin also pointed to the U.S. invasion of Iraq in 2003, noting that Iraq did not pose an immediate threat to national security and that the stated reasons for the invasion turned out to be false.
"If you want to find a singular moment of this century where the United States destroyed our credibility and undermined our alliances… it goes to the war in Iraq," Rubin said. "We were advised against it by our allies, we were begged to not go in by Arab nations, and not only did we go, but it turns out it was based upon a lie… it was a preemptive military strike against a country that was not directly threatening the United States."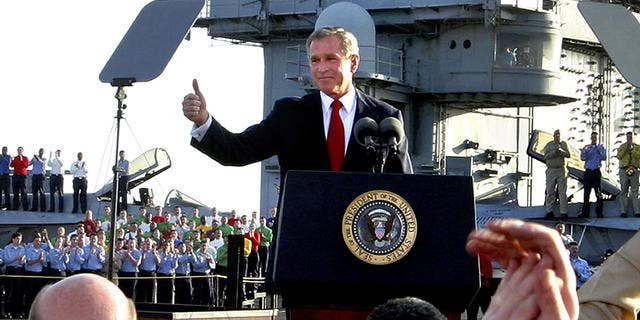 Former President George W. Bush declares the end of major combat operations in Iraq aboard aircraft carrier USS Abraham Lincoln. The war appeared at the time to be a success, but later, as conditions in Iraq deteriorated, the message of "mission accomplished" was criticized as premature. (AP)
Rubin argued that Biden has begun work to rebuild trust with allies, pointing towards increased investments and security cooperation with Japan and Australia that not only signal America's intent to be a dependable partner, but will work towards deterring future aggression from China.
"I think some of the hostile reaction you're seeing is because countries are adversaries are feeling the pressure of being surrounded by American allies now who are not taking it, and they don't have as much free rein, and so they're pushing back," Rubin said. "That's the ugly reactions from countries that don't want to play ball with us so easily."
Michael O'Hanlon, senior fellow at the Brookings Institution, told Fox News Digital that concerns over a loss of American credibility as the result of the Afghanistan withdrawal are "overwrought." While he made clear he opposed leaving Afghanistan, he argued that he does not "think it affects credibility much in faraway places that involve true treaty allies or core interests."
"We've had variants of this concern in the past, for example over Vietnam, and usually for an isolated and faraway case, the linkage is of limited importance if it's based on a single (however regrettable) decision or outcome," O'Hanlon said
BIDEN DROVE 'HISTORICALLY' CLOSE MIDDLE EAST ALLIES INTO THE ARMS OF AMERICA'S GREATEST ENEMIES, EXPERTS SAY
O'Hanlon pointed to Biden's support for Ukraine and his pushback against China as examples that bolster his credibility, arguing he may even be too tough on China.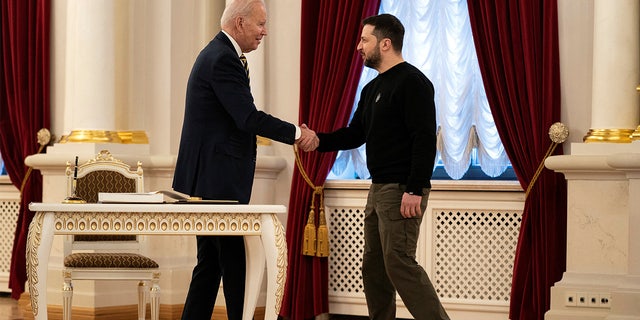 Ukraine's President Volodymyr Zelenskiy, right, and President Biden shake hands at Mariinsky Palace on an unannounced visit, in Kyiv, Ukraine, Feb. 20, 2023. (Evan Vucci/Pool via REUTERS)
"With China, he has built on Trump's actions to crack down on economic cooperation in areas where China exploits it, and to refocus U.S. military priorities on deterring a conflict against a peer in East Asia, with lots of investments in weapons and bases and other assets in pursuit of that crucial goal," O'Hanlon said, adding that there is no "way to claim that the goal has been definitively achieved" because "deterrence is in the eye of the beholder, and you don't know in advance that it will fail, even in cases where it does fail."
"On balance though I think he has been resolute towards China, verging on too tough in some ways," O'Hanlon said.
However, Phillips argues that Biden has pushed former allies closer to China and Russia, a problem that can be traced back to the U.S. exit from Afghanistan.
CLICK HERE TO GET THE FOX NEWS APP
"With the credibility of U.S. security guarantees severely undermined, allies such as Saudi Arabia and the United Arab Emirates sought to hedge their bets and cultivate better relations with China, Russia and even Iran," Phillips said. "China's recent brokering of a détente between Saudi Arabia and Iran probably would not have happened if not for the Afghanistan debacle and the Biden Administration's efforts to revive the flawed 2015 nuclear deal with Iran."
Michael Lee is a writer at Fox News. Follow him on Twitter @UAMichaelLee