close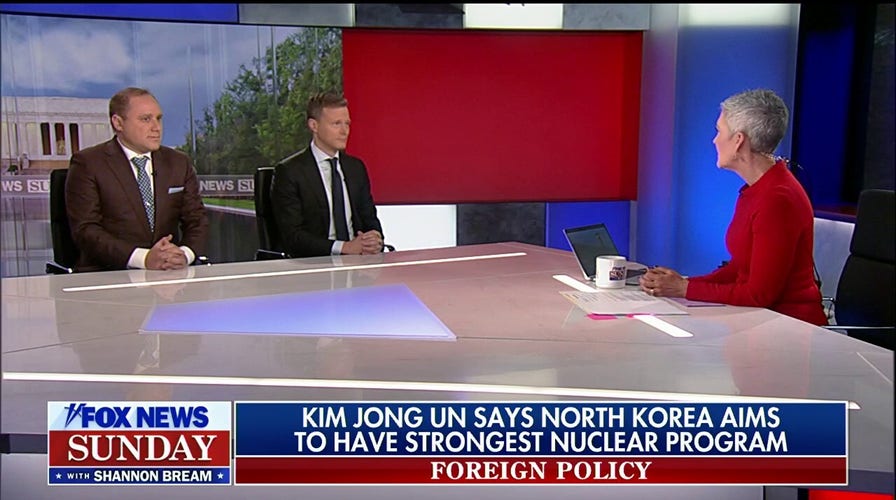 Video
'Fox News Sunday' panel discusses nuclear threats from North Korea, Russia, protests in China, Iran
Dmitri Alperovitch and Matthew Kroenig discuss the growing nuclear threats from North Korea and Russia's possible use of warhead in Ukraine and growing protests in China and Iran on 'Fox News Sunday.'
South Korea and the U.S. have engaged in talks to involve Seoul in U.S. nuclear weapons management amid increasingly hostile tensions with neighboring North Korea.
South Korean President Yoon Suk Yeol told reporters Monday that South Korea was pushing for joint planning and training involving U.S. nuclear assets, an idea the U.S. responded positively to, according to an Associated Press report Tuesday.
However, President Biden denied that such talks were taking places when asked by reporters later Monday if there were any discussions about joint nuclear exercises, flatly responding, "no."
SOUTH KOREA PLANS TO HOLD OVER 20 MILITARY DRILLS WITH US NEXT YEAR AMID RISING TENSIONS WITH NORTH KOREA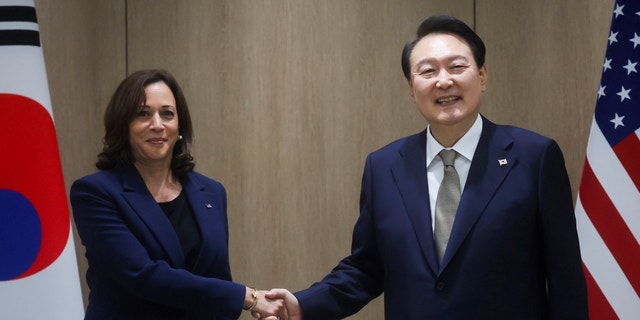 Vice President Kamala Harris shakes hands with South Korea's President Yoon Suk-Yeol.
(LEAH MILLIS/POOL/AFP via Getty Images)
Biden's response to the question appeared to catch the South Koreans off guard, with Yoon's top adviser for press affairs, Kim Eun-hye, issuing a statement later Tuesday reiterating that the two sides "are discussing an intel-sharing, a joint planning and subsequent joint execution plans over the management of U.S. nuclear assets in response to North Korea's nuclear (threats)."
Kim also speculated that Biden replied "no" to the question because it was poorly asked by the reporter, and the president was not provided any background information.
The news comes amid heightened tensions on the Korean Peninsula, with North Korea launching a record number of weapons tests and escalating its rhetoric toward both Japan and South Korea.
The isolated country's threatening posture has seemingly increased U.S. and South Korean military cooperation, with the two sides unveiling last month that the South Korean and U.S. militaries are planning over 20 joint drills this year in response to the threats from North Korea.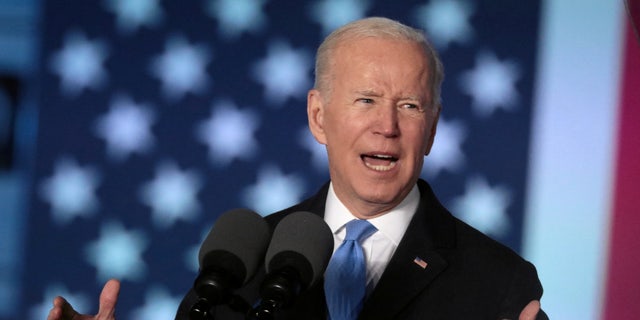 President Joe Biden.
(Reuters)
NORTH KOREA RESUMES WEAPONS TESTING, LAUNCHES TWO BALLISTIC MISSILES THAT LAND NEAR JAPANESE WATERS
However, cooperation in nuclear weapons management would be a dramatic shift.
South Korea does not possess any nuclear weapons and is instead part of the U.S. "nuclear umbrella," an agreement that promises a devastating American response to an attack on a U.S. ally.
Yoon said that the new arrangement would keep nuclear weapons in the hands of the U.S. military, but intel-sharing and exercises involving the weapons would be jointly conducted with South Korea.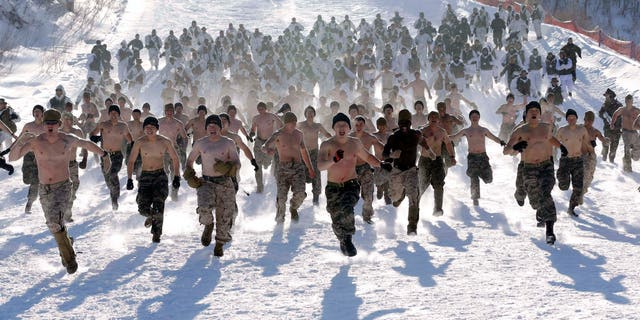 Shirtless South Korean Marines and their U.S. counterparts from 3-Marine Expeditionary Force 1st Battalion from Kaneho Bay, Hawaii, run on a snow covered field during their Feb. 4-22 joint military winter exercise in Pyeongchang, South Korea.
(AP2013)
CLICK HERE TO GET THE FOX NEWS APP
The White House did not immediately respond to a Fox News request for comment.
The Associated Press contributed to this report.
Michael Lee is a writer at Fox News. Follow him on Twitter @UAMichaelLee