close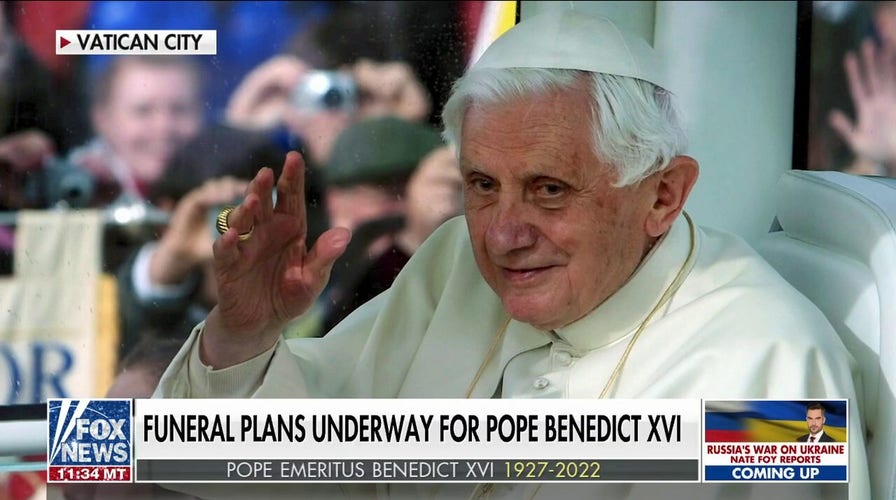 Video
Pope Emeritus Benedict XVl was an 'enormously powerful figure: Bishop Robert Barron
Bishop of the Diocese of Winona-Rochester, Minnesota Bishop Robert Barron discusses the life and legacy of Pope Emeritus Benedict XVl on 'Fox News Live.'
Pope Benedict XVI, who passed away on Saturday at the age of 95, remained lucid until close to the end of his life, Vatican sources have said.
The deceased pope's last words were recorded by the nurse who was caring for him at approximately 3 a.m. on Dec. 31. At the time, he required constant care but had not yet become incoherent.
POPE EMERITUS BENEDICT XVI DEAD AT 95, VATICAN SAYS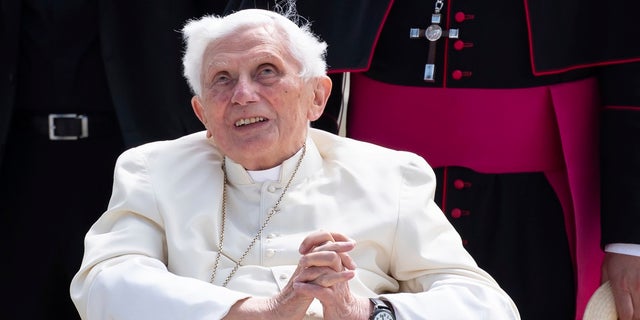 Emeritus Pope Benedict XVI arrives for his departure at Munich Airport in Freising, Germany on Monday.
(Sven Hoppe/dpa via AP)
Archbishop Georg Gänswein, Benedict's personal secretary, told Vatican News, "With just a whisper of a voice, but in a clearly distinguishable manner, [Benedict] said in Italian, 'Lord, I love you!' I was not there at the moment, but the nurse told me about it shortly afterwards."
He added, "These were his last comprehensible words, because afterwards he was no longer able to express himself."
POPE BENEDICT'S VISION OF CATHOLICISM, VATICAN II, AND THE FUTURE OF THE CHURCH ENDURE THROUGH HIS TEACHINGS
The Vatican announced Benedict had passed away Saturday at 9:34 a.m. He was 95 years old.
The late pontiff's body is currently being held in Mater Ecclesiae Monastery in Vatican City, where he spent the majority of his life post-papacy.
POPE EMERITUS BENEDICT XVI DEAD AT 95, VATICAN SAYS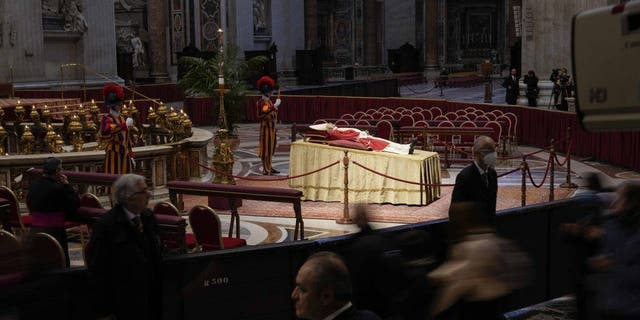 People look at the body of late Pope Emeritus Benedict XVI laid out in state inside St. Peter's Basilica at The Vatican, Monday, Jan. 2, 2023.
(AP Photo/Andrew Medichini)
On the eve of the first day of Pope Emeritus Benedict's body being available for viewing, Italian police predicted 30,000 visitors. By the end of the evening, 65,000 people passed through St. Peter's Basilica.
As the day began 10 Papal Gentlemen – lay assistants of the Pope – carried the body on a cloth covered wooden stretcher to its resting place in front of the main altar.
CROWDS GATHER AS POPE EMERITUS BENEDICT XVI'S BODY LIES IN STATE AT VATICAN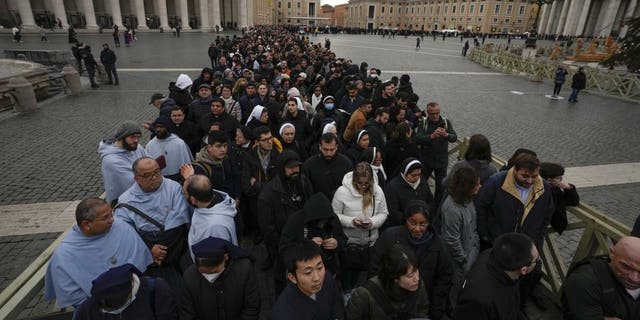 People wait in a line to enter Saint Peter's Basilica at the Vatican where late Pope Benedict 16 is being laid in state at The Vatican, Monday, Jan. 2, 2023.
(AP Photo/Alessandra Tarantino)
Before the general populace were allowed into the basilica, prayers were recited and the basilica's archpriest, Cardinal Mauro Gambetti, sprinkled holy water over the body. Benedict's hands were clasped, a rosary around his fingers.
On Monday, the Vatican confirmed widely reported burial plans. In keeping with his wishes, Benedict's tomb will be in the crypt of the grotto under the basilica that was last used by St. John Paul II, before the saint's body was moved upstairs into the main basilica ahead of his 2011 beatification, Vatican spokesman Matteo Bruni said.
CLICK HERE FOR THE FOX NEWS APP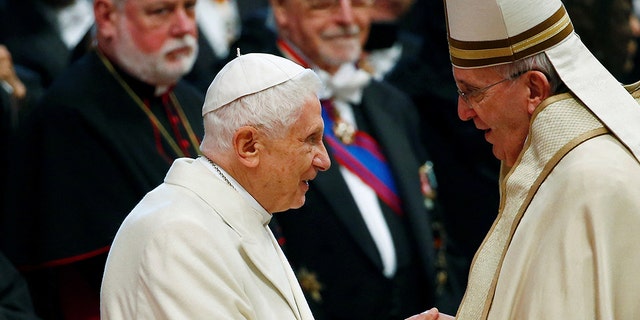 Pope Francis greets Pope Emeritus Benedict XVI during a mass to create 20 new cardinals during a ceremony in St. Peter's Basilica at the Vatican Feb. 14, 2015.
(REUTERS/Tony Gentile/File Photo)
On Jan. 5, Pope Francis will preside over the late pontiff's funeral mass in St. Peter's Square, the Vatican stated.
Timothy Nerozzi is a writer for Fox News Digital. You can follow him on Twitter @timothynerozzi and can email him at [email protected]