Former South Carolina Gov. Nikki Haley, who served as ambassador to the United Nations during former President Donald Trump's administration, will join Trump in the race for the 2024 Republican presidential nomination.
Fox News Digital confirms Haley will formally declare her candidacy for the White House at an event in Charleston, South Carolina, on Feb. 15, according to an invitation that will soon be going out to her supporters. News of Haley's announcement was first reported by the Post and Courier newspaper in South Carolina.
Political pundits have long viewed Haley as a potential GOP presidential contender, as she crisscrossed the country the past two years through her political group Stand for America, helping fellow Republicans running in the 2022 elections. Haley's travels brought her numerous times to Iowa, New Hampshire, and Nevada, which hold the first, second and fourth contests in the Republican presidential nominating calendar. Haley's home state of South Carolina votes third in the GOP primary schedule.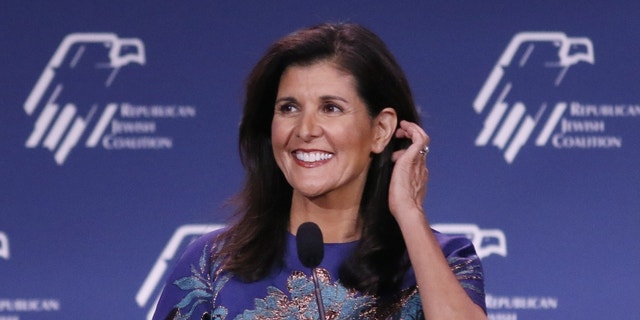 Nikki Haley, former ambassador to the United Nations and former South Carolina governor, during the Republican Jewish Coalition (RJC) Annual Leadership Meeting in Las Vegas, Nevada, US, on Saturday, Nov. 19, 2022. 
(Ronda Churchill/Bloomberg via Getty Images)
When speaking with reporters last year who questioned her about a White House run, Haley reiterated that "after November, we'll figure it out. But you know what I've said — I've never lost a race. I'm not going to start now. If there's place for me, we'll put a 100% in, and we'll finish it."
2024 WATCH: TRUMP'S IN — HERE'S WHO ELSE MAY JOIN THE GOP PRESIDENTIAL PRIMARY FIELD
Haley turned up the volume in a speech following the midterms at the Republican Jewish Coalition's annual leadership meeting, which was viewed as the first major 2024 GOP presidential cattle call.
WHY THE REPUBLICAN PRESIDENTIAL NOMINATION RACE IS OFF TO A SLOW START
"A lot of people have asked if I'm going to run for president," Haley said to cheers from the crowd at the Las Vegas confab. "Now that the midterms are over, I'll look at it in a serious way."
She repeated that she's "never lost an election," and that "when people underestimate me, it's always fun."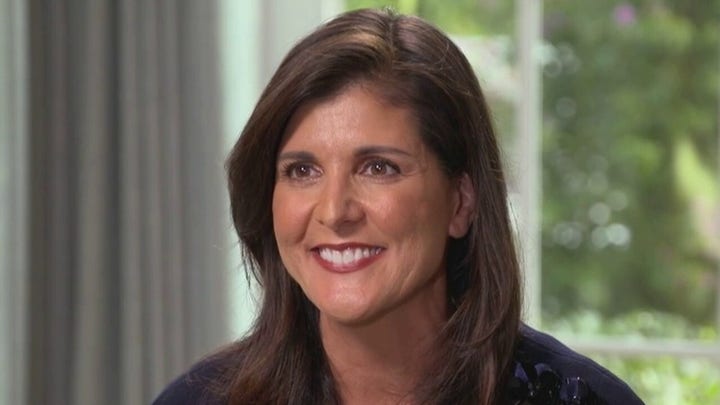 Video
Two weeks ago Haley amped up her language even further, saying in an interview on Fox News' "Special Report" that "I think we need a young generation to come in, step up and really start fixing things… Can I be that leader? Yes, I think I can be that leader."
Haley is the daughter of immigrants from India who grew up to become South Carolina's first female governor. Now, she'll become the second well-known Republican to launch a 2024 campaign, following the former president, who announced his candidacy in an event at his Mar-a-Lago club in Palm Beach, Florida, in mid-November
Speaking with reporters aboard his plane on Saturday as he flew from a campaign speech in New Hampshire to a leadership kickoff in South Carolina, Trump said that Haley had called him to discuss running for the White House.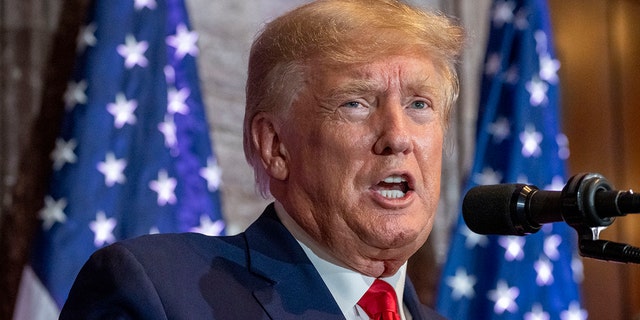 Former President Donald Trump speaks at a campaign event at the South Carolina Statehouse, Saturday, Jan. 28, 2023, in Columbia, S.C. 
(AP Photo/Alex Brandon)
"Go by your heart if you want to run," Trump said he told Haley. And he said he told her she "should do it."
But then he appeared to take a dig at Haley, noting that she had previously "publicly" said she wouldn't seek the White House in 2024 if Trump ran again.
Haley told the Associated Press in April 2021 that "I would not run if President Trump ran, and I would talk to him about it. That's something that we will have a conversation about at some point, if that decision is something that has to be made."
But later that year, Haley signaled an openness to a possible 2024 presidential run even if Trump decided to seek the White House again.
CLICK HERE TO GET THE FOX NEWS APP
Haley may not be the only South Carolina Republican to jump into the White House race. Sen. Tim Scott is making moves that could lead towards the launch of a presidential campaign.
Among the top Republicans who appear to be moving towards launching bids are Florida Gov. Ron DeSantis, former Vice President Mike Pence, former Secretary of State Mike Pompeo, and former two-term Govs. Larry Hogan of Maryland and Asa Hutchinson of Arkansas. And among those mulling White House runs are Govs. Glenn Youngkin of Virginia, Chris Sununu of New Hampshire, and Kristi Noem of South Dakota, Sen. Ted Cruz of Texas, and former Reps. Liz Cheney of Wyoming and Will Hurd of Texas.