An Arkansas bill advanced by a state House committee would require transgender students to use the restroom of their gender assigned at birth, instead of using the restroom matching their gender identity.
"Every child in our school and each school has a right to privacy and to feel safe in their bathrooms at school," Rep. Mary Bentley, R-Perryville, said at a hearing of the bill last week.
House Bill 1156, sponsored by Rep. Bentley, would require public schools and open enrollment public charter schools to bar people from using a restroom that does not correspond with the sex listed on their birth certificate. The bill applies to places at schools where people "may be in various stages of undress" around others, which includes restrooms, locker rooms, changing rooms and shower rooms.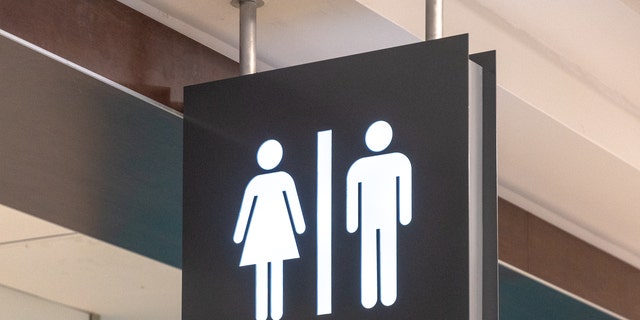 Public washroom or bathroom sign hanging from the ceiling. 
(Roberto Machado Noa/LightRocket via Getty Images)
The bill also states that superintendents, principals or the administrative head of an open enrollment public charter school who are found to be in noncompliance with the bill will receive a 15% salary cut in the following fiscal year. If passed, the bill also states that parents of students who encounter a member of "the opposite sex" in a multiple occupancy restroom "shall have a cause of action."
The measure now advances to the majority-Republican House, which could be voted on as soon as Wednesday.
VIRGINIA BILL WOULD BAN TRANSGENDER ATHLETES FROM WOMEN'S SPORTS
Critics called the latest push an effort to spark another court challenge to transgender students' rights and is not addressing any real problems.
"For states to be passing these kinds of bills at this point is really them issuing a challenge to the federal government and saying, 'We know that this is what you think the law says, and we're ready to do battle with you,'" said Cathryn Oakley, state legislative director and senior counsel of the Human Rights Campaign, the nation's largest LGBTQ civil rights group.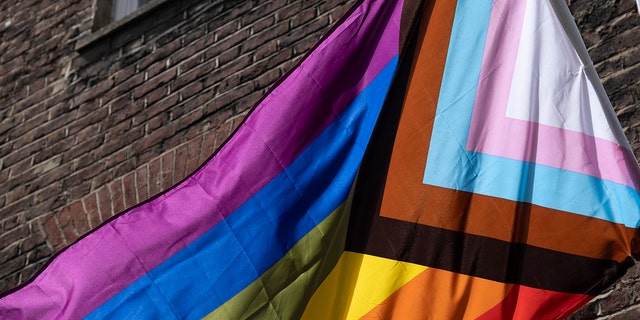 Pride Progress flag in Soho on 28th June 2022.
(Mike Kemp/In Pictures via Getty Images)
Conway School Board members Linda Hargis spoke in favor of the bill, saying it was about making sure female students feel comfortable in the restroom.
"Our kids have the right to feel comfortable and safe in their space," Hargis said. "And without this bill and the policy, we are creating a perfect storm."
ARKANSAS BILL CLASSIFYING DRAG SHOWS AS 'ADULT' BUSINESSES ADVANCES IN LEGISLATURE
Bentley's proposal requires schools to provide "reasonable" accommodations, including single-person restrooms for transgender students.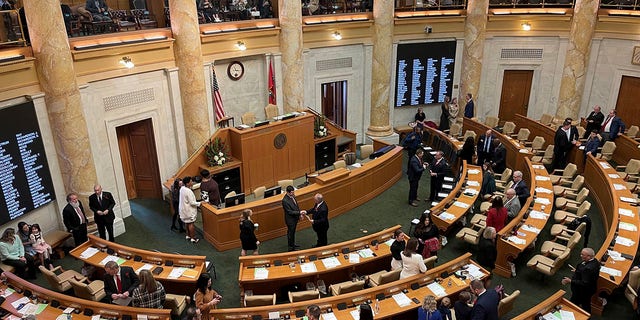 Arkansas lawmakers gather in the House of Representatives chamber at the state Capitol in Little Rock, Ark. on Monday, Jan. 9, 2023. 
(AP Photo/Andrew DeMillo)
As Arkansas' bathroom legislation advances, the majority-Republican Legislature is poised to make Arkansas the first state to impose restrictions on drag performances. A House committee is expected this week to take up that legislation, which would classify drag shows as "adult-oriented" businesses, and Republican Gov. Sarah Huckabee Sanders said she supports that bill.
In a statement Tuesday, Sanders' office did not specifically say whether she'd sign the bathroom bill if it reaches her desk.
CLICK HERE TO GET THE FOX NEWS APP
"The governor believes our schools are no place for the radical left's woke agenda and would sign a law that focuses on protecting and educating our kids, not indoctrinating them," spokeswoman Alexa Henning said.
The Associated Press contributed to this report.