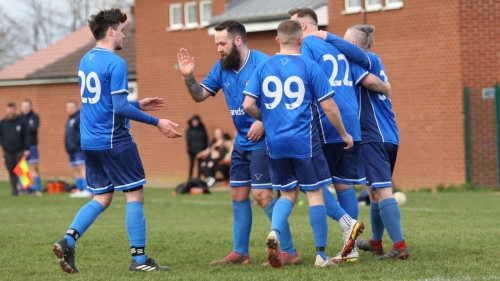 Sands United soccer clubs are providing support for bereaved dads throughout the UK.
Wharton Images/Sands United FC
Editor's Note: If you or someone you know is struggling with suicidal thoughts or mental health matters, please call the 988 Suicide and Crisis Lifeline, or visit the hotline's website.

CNN
—
Sands United is a soccer club much like many others. They play on Sundays and they go through the motions of the sport – the ups and the downs that fans of all teams are familiar with – every weekend. They lace up their boots and seek out victories, then usually retire for a drink or two afterwards.
But there is something very different about Sands United. It is a club for bereaved fathers. The shirts of Sands United players don't carry the names of soccer's superstars. Instead, they bear the names of the children that the players lost shortly after birth.
In 2021, the neonatal mortality rate was about 2.7 deaths per 1,000 live births in England and Wales, according to the Office for National Statistics. Neonatal death refers to the death of a child within 28 days of delivery.
There are a number Sands United clubs across the UK, 39 to be exact, – from Edinburgh, Scotland all the way down to the Isle of Wight, a small island off of England's south coast.
And at each club are fathers who have experienced unimaginable losses. The clubs are directly connected to the charity Sands – which offers support to those affected by pregnancy loss or the death of a baby.
Every weekend, these men – from all walks of life – come together to play a match and to commemorate the all too brief lives of the children they've lost.
A Sands United FC London badge on a player's jersey.
lockiephoto/Sands United FC
David Hammond, who founded a Sands United team in the West Midlands, England, credits the team with helping him immensely in the aftermath of his own personal tragedy. He also calls it "the club you never want to join."
Five years ago, Hammond and his partner Stacey lost their son, Lucas. The couple were only able to spend an hour with him after he was born before he died.
Following the first anniversary of Lucas' death, Hammond was feeling low. He and his partner had been to a couple of support groups together but he struggled to open up at them.
"I just kind of sat there," he said. "And I found that with a lot of the other guys that were there, too."
Hammond says he found it challenging to talk about his feelings following his and Stacey's loss.
"My partner and I would find that she'd go to bed, I said I'd stay up for just a bit longer, and then I'd break down and start crying. And I would never do that in front of her." he said. "I felt like I had to be a rock for her and I couldn't crack."
And that's where soccer came in. Hammond had heard of Sands United before, as he had previously caught a news report on the TV on one of its many teams. He decided to see if there was a Sands club in his local area, in the West Midlands. When he couldn't find one, he – on the advice of his wife Stacey – decided to set one up himself.
Armed with just a Facebook page to spread awareness with at first, Hammond started Sands United Solihull. The club is now in its third season and is populated by fathers who have lost newborn children.
He said soccer – both playing it and the culture of fandom and club rivalry – provided a springboard for himself and his teammates to be able to discuss their feelings:
"With football, you already have a connection with someone: You might support the same team as them, or you might support Man United and they might support Liverpool so you've got a bit of rivalry and banter with them," he told CNN.
"What I found with Sands was that we'd have a kickabout, and then we'd go to the bar after, sit down and have a chat and then you'd find other connections. A new guy came along and said he and his partner had been at Heartlands [a hospital in the West Midlands,] and I said we were looked after there too."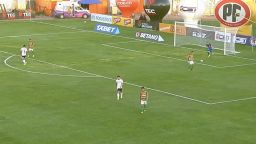 Argentine goalkeeper Leandro Requena scores an outrageous goal direct from a goal kick,
From TNTSportsCL/Twitter
Goalkeeper scores from a goal kick — it could set the record for the longest range goal in history
"You find it easier to open up when you see these little lanes of connection," Hammond said. "When you see someone in an Aston Villa shirt, and you can't stand that club, you can build some banter with them.
"Whereas, when you go to support group meetings, you're wearing your normal clothes, you're having a cup of tea or coffee but you're struggling to talk about things. Sometimes, men need that little push to connect with other men."
And as much as soccer in general often leads men to forge friendships and can inspire conversation, Sands United is special in that it recognizes the losses its members have been through in every game – each match is dedicated to the memory of the child that one of the players has lost.
Hammond said one of the men he knows at Sands described wearing his son's name on his shirt during matches as a way of playing soccer with him – something he knew he would otherwise never be able to do.
Sands has completely changed Hammond's approach to grief and his outlook on the personal tragedy he's endured.
"[Before Sands United,] I couldn't talk about my son without breaking down in tears. But this team has massively helped me to the point now that I can talk about Lucas with a smile on my face," he said to CNN.
"Even though he was only with us for a short time, this club is the legacy he has left on the world and that is an amazing thing."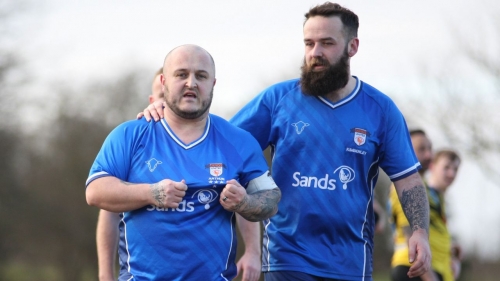 There are 39 Sands United soccer clubs throughout the UK.
Wharton Images/Sands United FC
A 'North Star' for bereaved dads

Alex Walmsley is the founder of a Sands United team in West Yorkshire, in the north of England. He first encountered pregnancy loss when he was 6 years old, when his mother lost his brother twenty weeks into her pregnancy.
Later, in his adult life, tragedy struck again.
In 2017, Walmsley and his partner Olivia were informed that their baby had anencephaly – a serious birth defect where the fetus forms without a complete brain or skull. They made the difficult decision to terminate the pregnancy after the scan. The couple became pregnant again after these events and discovered their second child also had anencephaly. They lost their second child.
Later, in 2018, they had a miscarriage.
After their losses, Walmsley and his partner both got involved with the Sands charity from which its soccer clubs sprung. The charity supports bereaved parents and promotes research to better understand the causes of stillbirth, neonatal deaths and pregnancy loss – Walmsley and Olivia even had Sands pins as favors at their own wedding in 2018.
One day, Walmsley was listening to the radio and he heard about the Sands soccer team in the coastal city of Brighton. Inspired, he decided to start a branch up where he lives in West Yorkshire. Much like Hammond, he started the club with nothing more than a Facebook page and before he knew it, he'd gotten a whole team together.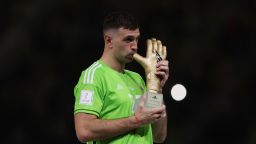 LUSAIL CITY, QATAR – DECEMBER 18: Emiliano Martinez of Argentina poses for a photo with the adidas Golden Glove trophy during the award ceremony following the FIFA World Cup Qatar 2022 Final match between Argentina and France at Lusail Stadium on December 18, 2022 in Lusail City, Qatar. (Photo by Clive Brunskill/Getty Images)
Clive Brunskill/Getty Images Europe/Getty Images
World Cup final: How Argentina won penalty shootout
"Being a part of this club, it's like being with a group of lads that just get it," Walmsley told CNN. "There's a camaraderie there. I tell the team, 'you come along and you can talk as much or as little as you want.'"
Before Sands United, Walmsley – similarly to Hammond – found it difficult to talk about his feelings: "I'm not one of those people that can just sit in a room and chat," he said. He struggled to really open up at support groups and bottled many of his emotions up.
He recalled one time, after his and his wife Olivia's losses, he went out to the shops and called in at a pub on the way home. He sat in the corner with a beer and "just started crying."
Until then, Walmsley felt that he'd "stomped" his feelings down.
Walmsley said he thinks there are still a lot of "stumbling blocks" around men's mental health which prevents them from truly being able to share their personal thoughts with others – even those close to them.
"A lot of men have told me that they felt excluded when it came to some of the support on offer following their losses," he said. "Some of them said that they found that there were support groups that didn't really consider the fathers who had experienced baby loss."
Sands United, however, is a space specifically for men who have been through the unthinkable.
"Everybody at the club is looking out for each other. And the atmosphere is relaxed. One minute, the lads might be talking about who got knocked out of the Champions League the night before and in the next, they'll be talking about the loss of their child."
"There's got to be a release valve for the emotions that you go through after baby loss. And that's what Sands is – it's a release valve," he told CNN.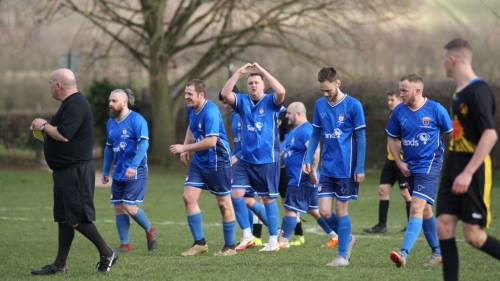 Players from Sands United FC South Yorkshire celebrate a goal.
Wharton Images/Sands United FC
There's a reason, Walmsley says, that soccer is the chosen sport of Sands.
"Football has got a bit of a secret sauce to it in that all you have to do is kick a ball into a net," he said. "Unlike tennis, rugby and cricket, you don't need equipment or huge amounts of skill to play football. It's the most accessible sport in the world. All you need is a ball and your feet."
The accessible nature of grassroots soccer means that Sands United West Yorkshire is made up of men from all walks of life: "The lads at Sands are lawyers, mechanics and tradesmen."
Walmsley wants his Sands club to be a "North Star" for any bereaved dad that needs support, whatever their story, background or footballing ability. He hopes the team can be a "button someone can press for help whenever they need it."
As for the future of Sands United, Walmsley says he wants to make sure the club is always able to reach the "the next guy out there who's going through what we've been through. Sometimes, they can be a bit lost. And we have to find them."
Baby loss, both Alex and David noted, isn't going to go away. There are always going to be grieving parents and there are always going to be bereaved dads looking for someone to talk to.
But Sands United isn't going anywhere – and as long as its teams exist, men going through the unimaginable will always have a place to have a kickabout and a chat that might prove invaluable.
Sands United is a unique way for bereaved men to come together through a shared love of sport, find a support network, and feel at ease talking about their grief when they're ready. Find out more about Sands United.
If you have been affected by the death of a baby, before, during or shortly after birth, Sands is there to support you for as long as you need support.