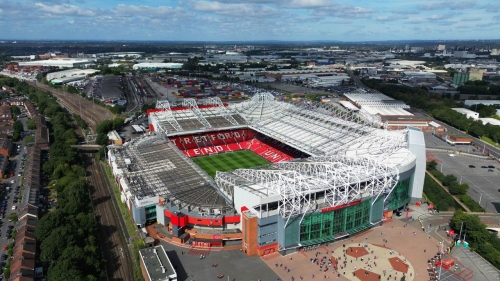 The Glazer family are currently considering offers from bidders.
Michael Regan/Getty Images

CNN
—
The owners of Manchester United are more than simply the custodians of a soccer club.
For, with its long history of accumulating trophies, rebuilding the team after the 1958 Munich air disaster and self-proclaimed 1.1 billion fans worldwide, Manchester United is "arguably Britain's most valuable sporting, perhaps even cultural, asset," as Simon Chadwick, professor of sport and geopolitical economy at SKEMA Business School, tells CNN Sport.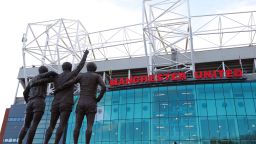 MANCHESTER, ENGLAND – OCTOBER 30: A general view is seen outside Old Trafford ahead of the Premier League match between Manchester United and West Ham United at Old Trafford on October 30, 2022 in Manchester, England. (Photo by James Gill – Danehouse/Getty Images)
James Gill – Danehouse/Getty Images
Manchester United owners exploring potential sale of famed club
So when United's American owners – the Glazer family – which bought the team in 2005, announced almost four months ago that they were exploring selling the club, it sparked a multi-billion dollar bidding war stretching across the financial sector, geopolitics and soccer.
It also inflated the share price from $13.03 on November 21 to a 52-week high of $27.34 on February 16, although it began dropping again as reports emerged questioning the club's true value.
So, what will happen to the world-famous club in the coming weeks, why is its potential sale so important, and could the Glazers, after all this, remain its owners?
Who is in the running?

Despite all the rumors circulating, there are currently only two confirmed bidders for the club: British billionaire Jim Ratcliffe and Qatari Sheikh Jassim Bin Hamad Al Thani.
Both confirmed their intent publicly, prompted by a soft deadline on February 17 set by the bank handling the sale, the Raine Group, according to multiple reports.
Parties from Saudi Arabia have also reportedly entered the race to own the club, while the US-based hedge funds Elliott Investment Management and Ares Management Corp have submitted their own proposals to offer financing for a bid, the Telegraph and Reuters reported respectively.
And the Glazers themselves, deeply unpopular with United fans since their leveraged buyout of the club saddled it with a net debt of $626 million according to the club's latest accounts, remain in control of the whole process.
For years, fans have protested against the Glazer family, staging marches on Old Trafford, and plastering "Love United, Hate Glazer" on banners at home and away matches.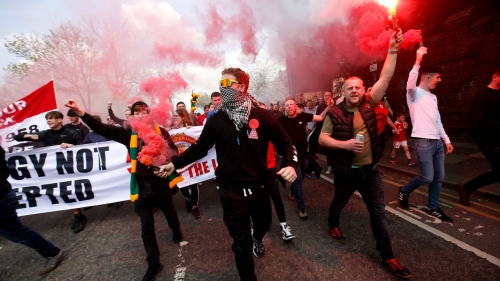 Manchester United supporters stage protest against the club's owners in April 2022.
Ed Sykes/Action Images/Reuters
"The relationship between the fans and the Glazer family is irreparably harmed," Alex – a United fan and co-host of the "American Red Devils" podcast – tells CNN Sport.
Another fan, Ed Barker who hosts the podcast "No Question about That," describes the Glazer ownership as a "disaster for the club."
Manchester United did not comment on the Glazers' ownership and directed CNN to its November statement announcing the club's "strategic review" and potential sale.
The chairman of a Qatari bank

Sheikh Jassim, the chairman of Qatar Islamic Bank (QIB), officially made a bid for "100% of" Manchester United on February 17, seeking to "return the club to its former glories," his statement read.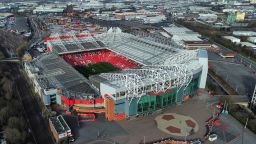 MANCHESTER, ENGLAND – MARCH 15: (EDITORS NOTE: This photograph was taken using a drone) An aerial view of Old Trafford ahead of the UEFA Champions League Round Of Sixteen Leg Two match between Manchester United and Atletico Madrid at Old Trafford on March 15, 2022 in Manchester, England. (Photo by Michael Regan/Getty Images)
Michael Regan/Getty Images
Qatari Sheikh Jassim Bin Hamad Al Thani officially makes bid for Manchester United
"The bid will be completely debt free via Sheikh Jassim's Nine Two Foundation, which will look to invest in the football teams, the training centre, the stadium and wider infrastructure, the fan experience and the communities the club supports," the statement continued, adding that more details of the bid would be released when appropriate if the process develops.
Sheikh Jassim is the son of Qatar's former Prime Minister Sheikh Hamad bin Jassim bin Jaber Al Thani, and, reportedly, is a lifelong Manchester United fan.
His bid, soccer finance expert Kieran Maguire tells CNN Sport, would "effectively … take the club private again," eliminating all the debt, and buying out "not just the Glazer family, but everybody else that owns shares in Manchester United as well."
CNN reached out to the club and the Raine Group for comment but did not immediately hear back.
Why a Qatari owner would be controversial

Several fan groups, as well as the human rights organization FairSquare, have raised concerns about Sheikh Jassim's bid.
As a member of the Qatari royal family, Sheikh Jassim's ties to the country's government have been scrutinized since he announced his bid.
The way Chadwick would characterize Sheikh Jassim is that he's "far away enough to not be considered part of the state apparatus but still close because there are only 3,000 royal family members in Qatar and he will have a position in the hierarchy."
Sheikh Jassim's ties with, or independence from, the Qatari state have major implications for his bid – both in terms of his association with the government's much maligned human rights record and the fair play regulations of the Union of European Football Associations, the sport's governing body in Europe.
"To ensure the integrity" of UEFA competitions, including the Champions League, UEFA rules stipulate that no "individual or legal entity may have control or influence over more than one club" participating in the competition.
Paris Saint-Germain, which regularly competes in the Champions League alongside United, is owned by Qatar Sports Investment (QSi), the country's sovereign wealth fund.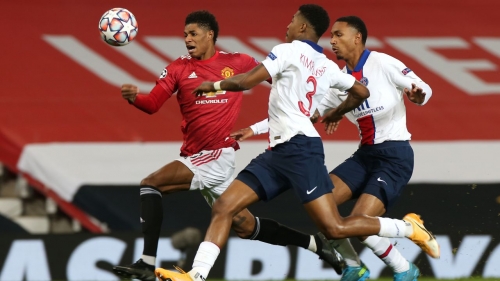 Manchester United and Paris Saint-Germain faced each other in the 2020/21 Champions League.
Matthew Peters/Manchester United/Getty Images
Sheikh Jassim said in his statement that he is funding the sale through his own foundation, an organization without any digital footprint. Meanwhile, the bank he chairs, QIB, is a separate entity to QSi although there are some links between the two organizations.
As of March 2022, the Qatar Holding LLC, the investment arm of Qatar Investment Authority (QIA) was the single largest shareholder of QIB, owning 16.7% of the bank, while Nasser Al-Khelaifi, president of PSG, is a board member at QIA.
Qatar's human rights record, particularly its stance towards migrant workers and LGBTQ+ rights, was criticized from the time it was awarded last year's World Cup.
Same-sex relations are illegal in Qatar and punishable by up to seven years in prison. A report from Human Rights Watch, published in October 2022, documented cases as recently as last September of Qatari security forces arbitrarily arresting LGBTQ+ people and subjecting them to "ill-treatment in detention."
"I think there's almost entirely negative aspects to a state bid," Barker told CNN Sport, while stressing that his perspective isn't representative of every fan.
"I don't think that's good for football and I don't think for United."
The Rainbow Devils, Manchester United's official LGBTQ+ Supporters Club, tweeted on February 17 that it had "deep concern over some of the bids that are being made," and believed "any bidder seeking to buy Manchester United must commit to making football a sport for everyone, including LGBTQ+ supporters, players and staff."
The British billionaire from Manchester

Born near the city and a self-declared Manchester United fan, Jim Ratcliffe first expressed interest in buying the club back in August, before it was even for sale.
He confirmed that he and his company had submitted a bid "for majority ownership" in a statement sent to CNN on February 18.
"We would see our role as the long-term custodians of Manchester United," the statement read, emphasizing the bid's "modern, progressive, fan-centred approach."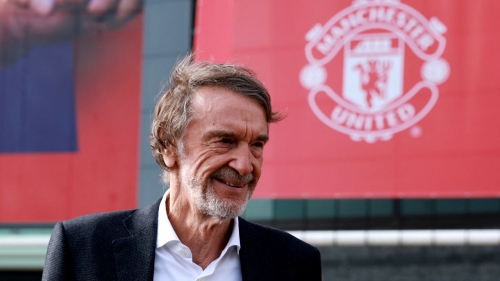 Ratcliffe was pictured at Old Trafford on Friday.
Phil Noble/Reuters
"We want a Manchester United anchored in its proud history and roots in the North-West of England, putting the Manchester back into Manchester United and clearly focusing on winning the Champions League," it added.
Ratcliffe's bid for "majority ownership" would buy out the Glazers and, Maguire predicts, require borrowing money to acquire the club.
Ratcliffe is a majority shareholder of chemical group INEOS which already owns the French soccer club Nice, Swiss club Lausanne-Sport, the Ineos Grenadiers cycling team and is a principal partner of the Mercedes F1 team.
His bid is also not without controversy for, like Sheikh Jassim's bid, it raises questions about the principle of multi-club ownership, given that his company already owns two soccer teams, although they play in different domestic leagues than United and are less likely than PSG to qualify for the Champions League.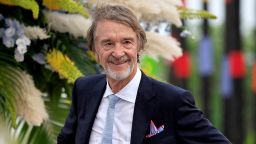 British INEOS Group chairman Jim Ratcliffe poses upon his arrival for the 73rd edition of the Red Cross Gala at the Casino in Monte Carlo on July 18, 2022. (Photo by Valery HACHE / AFP) (Photo by VALERY HACHE/AFP via Getty Images)
Valery Hache/AFP/Getty Images
Jim Ratcliffe's INEOS enters bidding process to buy Manchester United — The Times reports
Meanwhile, a Greenpeace UK spokesperson told CNN, "It's worrying that the Man Utd bidding process has turned into a dirty derby between entities linked to fossil fuels," referencing Ineos' production of "plastic, chemicals and fossil fuels," as well as the QIB's revenues from oil and gas.
"Kicked out of museums and art galleries, oil and gas is now invading the world of sport desperately looking for popular brands behind which to hide its climate-wrecking business," the spokesperson added. "Whichever way this derby goes, the winner won't be the climate."
When asked for comment, Ineos directed CNN towards its multi-billion dollar investments in carbon capture, carbon storage and green hydrogen, as well as its plans to achieve net-zero emissions by 2050.
"That matters to a probably a small group of fans, but some who are informed about what the company is," Barker says.
Saudi Arabia connection

As well as these two confirmed bids, there are other parties rumored to be interested in buying the club.
The US-based hedge fund Elliott Investment Management is planning to offer financing for a bid to take over the club, though it has ruled itself out of a full takeover, Reuters reported citing sources close to the matter.
Elliott Investment Management declined to comment when contacted by CNN.
Meanwhile, Ares Management Corp – who pursue investment activities in leveraged loans, private debts and other types of investments – also offered funds to support a takeover, according to Reuters citing three sources familiar with the matter. It added that one bidder turned down Ares' funding because the terms were unattractive.
Ares declined to comment when contacted by CNN.
Multiple private groups in Saudi Arabia also submitted their own bids for Manchester United, the Telegraph reported last month.
How much will it cost?

Although Forbes valued the club at $4.6 billion, the world's third most valuable professional soccer team, multiple reports have said that the Glazer family are seeking between $7.2 to $9.6 billion from potential buyers.
Maguire estimates the current offers to be "somewhere in the region of $4.8 to $6.04 billion."
Premier League club Chelsea was bought for $3.02 billion by an ownership group led by Todd Boehly last year, with a promise to inject $2.1 billion in further investment.
Some experts predict that United will fetch a higher price.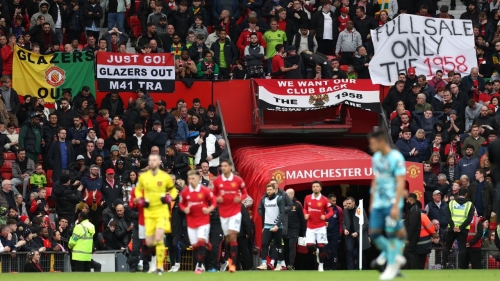 Manchester United fans display banners protesting about the current owners of the club earlier this month.
Catherine Ivill/Getty Images
"Manchester United is a much bigger football club than Chelsea," Maguire adds. "It's got a bigger ground. It's got a bigger fan base. It's a much more well-known brand."
Offers in this region could eclipse the $4.65 billion that a consortium headed by Walmart heir Rob Walton reportedly paid for the NFL's Denver Broncos – a record price tag for a North American sports franchise, according to ESPN.
Like Chelsea, United is also in need of investment to redevelop its stadium Old Trafford and training ground.
What happens next?

The coming months are bound to be uncertain for Manchester United fans, as the Glazers consider the bids proposed and whether to sell the club.
"It's a bit like putting up your house for sale and you give a rough guide price," Maguire explains. "The Glazers are looking for $7.2 to $9.6 billion. It's probably not worth that … and it comes down to how much each party is willing to compromise or to pay in terms of extra financial commitments."
Although the British government released a white paper in February, announcing its intention to create an independent football regulator that would include "new tests for owners and directors," it has not yet been implemented.
These proposed tests would examine a potential owner's integrity, financial soundness and conduct due diligence on their sources of wealth. The regulator would also require clubs to declare their "ultimate beneficial owner" to increase transparency and determine whether a prospective owner or director is politically exposed.
But, given the absence of any reference to human rights concerns, it seems unlikely that the future regulator could seriously derail any of the United takeover bids.
Bidders are reportedly meeting with representatives from the Raine Group and the club in the next couple of weeks, while Ratcliffe was pictured visiting Old Trafford on March 17.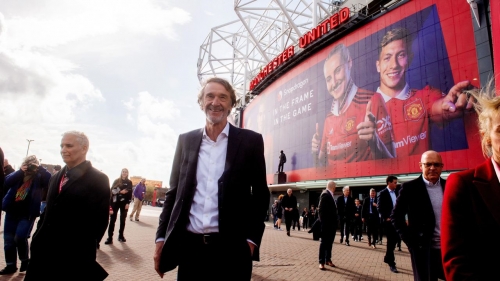 Ratcliffe was pictured at Old Trafford on Friday amid reports that bidders are meeting with represenatives from the club.
Peter Byrne/PA Images/Getty Images
"The longer it drags on into the summer," Barker says with one eye on the summer transfer window, "the more likely it is that United won't be able to do the kind of business that the club wants.
"There's no positive outcome delaying this process for the club."
Redeveloping the stadium and training ground, signing new players and investing in the team, as well as the more intangible political stakes, all hinge on these upcoming negotiations.
But whoever eventually ends this process owning the storied club will represent "a hard bargain for United fans to make," Alex – host of the "American Red Devils" podcast – says.
"It's important to separate an owner from the club and everything it represents," he adds. "I really believe that if you own Manchester United, your role is to be a custodian, because it's not just a sports team, it represents so much to so many people."