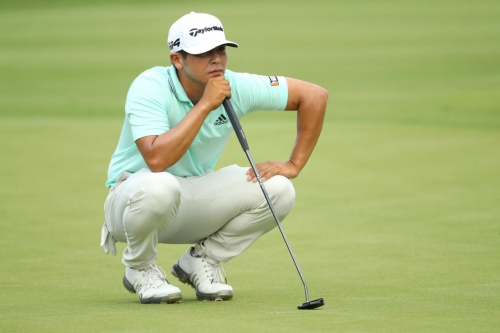 Quadzilla, Kurt Kitayama: Blending the name of the reptilian movie monster with the term for a group of thigh muscles, "Quadzilla" was the nickname gifted to Kurt Kitayama by fellow pro Xander Schauffele when the duo were coming up together on the Korn Ferry Tour. At college, Kitayama was nicknamed "The Project" due to his fabled work ethic and perseverance, and the American's efforts paid off with his first PGA Tour victory at the Arnold Palmer Invitational in March 2023.
Warren Little / Getty Images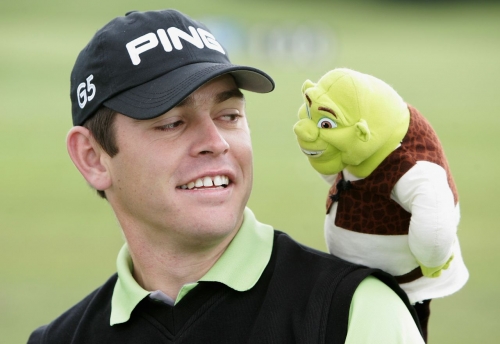 Shrek, Louis Oosthuizen: Some might not be keen on being compared to a swamp-dwelling ogre, but Louis Oosthuizen leaned into it, club headcovers and all. "It's the gap in my teeth," the South African told reporters when asked about the nickname in 2010. "My friends say I look like Shrek … You can't choose your friends, so what can I say?"
Warren Little / Getty Images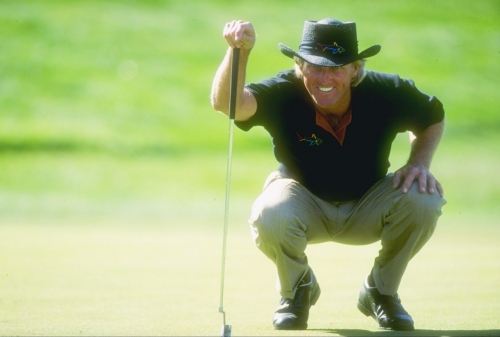 The Great White Shark, Greg Norman: Native to Australia and lethal, Greg Norman and great white sharks had a lot in common, though one was keen to avoid the water. The two-time Open champion founded a company — Great White Shark Enterprises — hosted a PGA Tour team event — the Shark Shootout — and titled his autobiography — "The Way of the Shark" — based on his affiliation with the predatory fish.
Gary Newkirk / Getty Images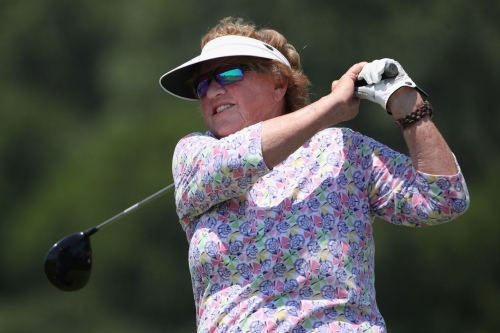 Big Mama, JoAnne Carner: "Big Mama" is a fitting nickname for one of the most important figures in women's golf history. Two US Women's Open wins in the 1970s were the highlight of JoAnne Carner's sparkling 35-year-long journey on the LPGA Tour. Aged 65, in 2004 she became the oldest player to make the cut at an LPGA event, before shooting her age to card an 83 in the first round of the US Senior Women's Open in 2022.
Christian Petersen / Getty Images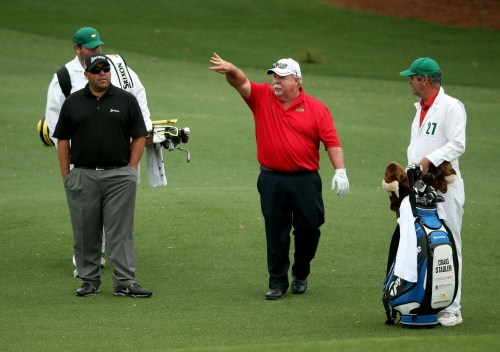 The Walrus, Craig Stadler: There are four walruses in this photo — two on the fairway and two in the bag. A much-loved presence on the fairways, Craig Stadler (center) earned his affectionate nickname through his burly build and plump mustache. When the 1982 Masters champion's son, Kevin (left), followed in his father's footsteps by going pro, "The Smallrus" title was ready and waiting. In 2014, they became the first ever father-son duo to compete together at The Masters.
Andrew Redington / Getty Images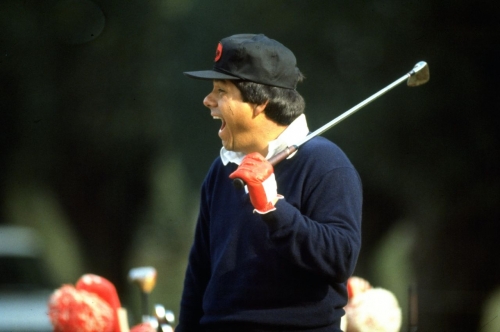 The Merry Mex, Lee Trevino: A Texan of Mexican descent, it says much about Lee Trevino's personality that he was renowned as much for his sense of humor as he was for his remarkable golfing talents. The Masters was the only major to elude Trevino, who won the remaining three twice each before making a cameo in the beloved golf comedy film "Happy Gilmore" in 1996.
Tony Duffy / Getty Images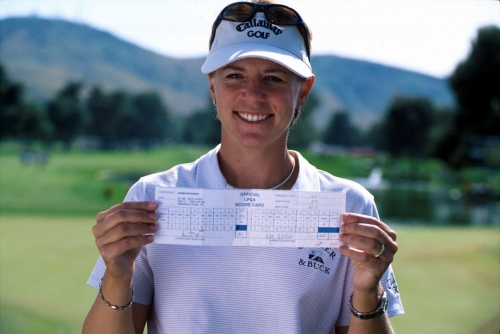 Ms. 59, Annika Sörenstam: With 10 major wins and 72 LPGA Tour titles, Annika Sörenstam has a near endless supply of memorable rounds to call upon, but her second round at the 2001 Standard Register PING holds a special significance. The legendary Swede shot the first ever 59 in women's golf history in Phoenix to earn the unique title of "Ms. 59." Al Geiberger lays claim to "Mr. 59" as the first to shoot the score at a PGA Tour event, in 1977.
Scott Halleran / Getty Images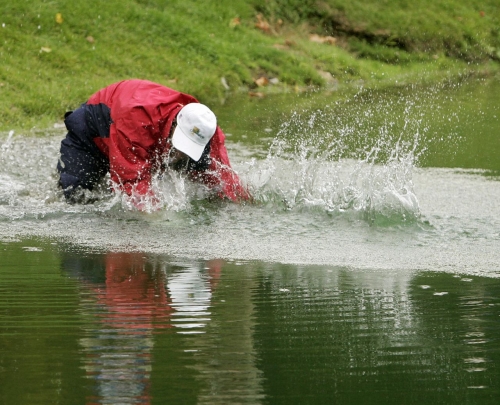 Aquaman, Woody Austin: Years before Jason Momoa took on the role, Woody Austin was "Aquaman." The American dove headfirst into the superhero nickname after a fateful fall into the water while attempting to hit a shot at the Presidents Cup in 2007.

Timothy A. Clary / AFP via Getty Images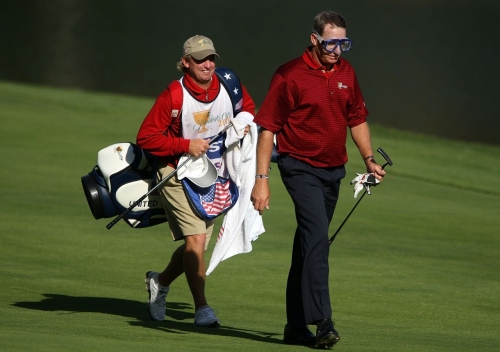 Aquaman, Woody Austin: It led to one of the most unconventional wardrobe choices ever seen on the fairways when, two days later during his singles match up against Argentina's Ángel Cabrera, Austin strolled the 14th hole fairway of Quebec's Royal Montreal Golf Club in scuba goggles.
Scott Halleran / Getty Images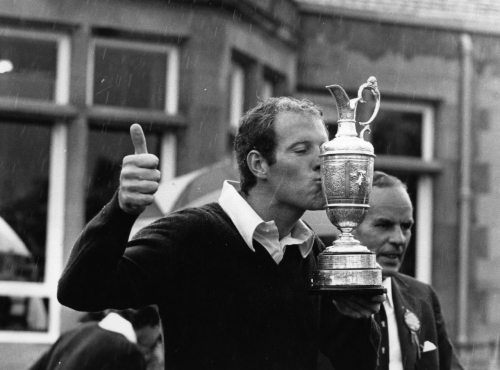 The Towering Inferno, Tom Weiskopf: You can't have a nickname like "The Towering Inferno" and not live up to it — and Tom Weiskopf did so emphatically. The American's 6-feet 3-inch (1.91 meter) frame anchored a devastating swing, his raw power occasionally manifesting in fiery outbursts on the fairways. An Open Championship triumph in 1973 headlined a hugely successful playing career before Weiskopf moved into golf course design.

Arthur Jones / Getty Images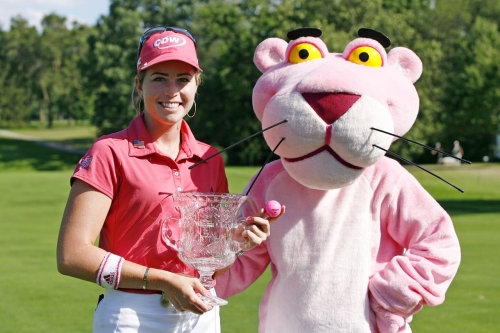 The Pink Panther, Paula Creamer: Proficient in putting with a penchant for pink, "The Pink Panther" was the perfect nickname for Paula Creamer. Even the American's golf bag, balls, and club grips eventually followed her color scheme, making the 2010 US Women's Open champion an unmistakable sight on the fairways.
Hunter Martin / Getty Images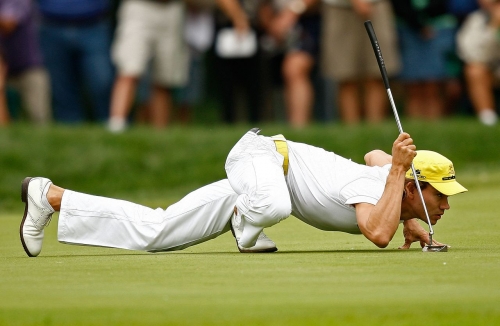 Spider-Man, Camilo Villegas: With great putting comes great responsibility; Colombian golfer Camilo Villegas' unorthodox style of reading putts quickly led to comparisons with New York City's web-slinging superhero.
Mike Ehrmann / Getty Images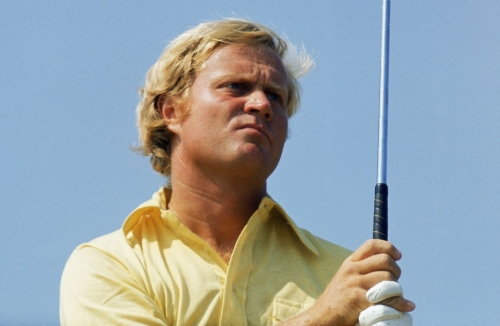 The Golden Bear, Jack Nicklaus: With 18 major titles and 73 PGA Tour wins, Jack Nicklaus was the gold-standard for golf in more than just nickname. His blond hair and affinity for yellow shirts helped consolidate "The Golden Bear" title, which just happened to be the nickname and mascot for the Ohioan's Upper Arlington High School sports teams.

Don Morley / Getty Images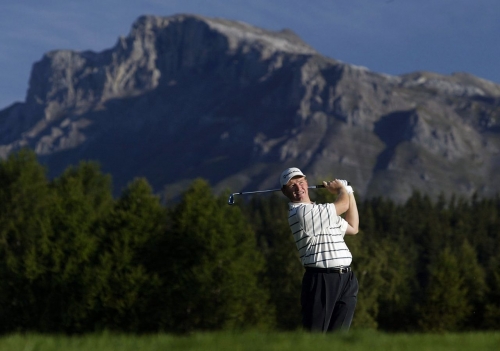 The Big Easy, Ernie Els: A 6-feet 3-inch (1.91 meter) giant with a liquid swing, "The Big Easy" was a natural title for four-time major champion Ernie Els. His moniker inspired the name for a developmental tour in his native South Africa — "The Big Easy Tour."
Andrew Redington / Getty Images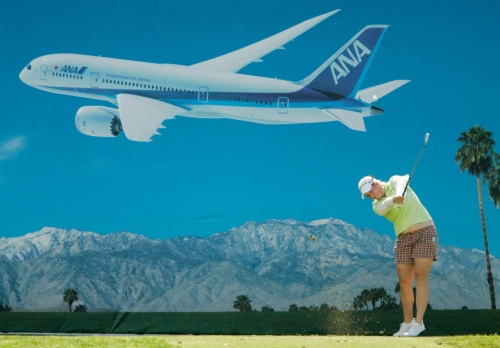 Bam Bam, Brittany Lincicome: A prodigious amateur, Brittany Lincicome burst onto the scene with a crushing drive that quickly earned her the "Bam Bam" title. A two-time Chevron Championship winner, the American continued the legacy of Fred "Boom Boom" Couples, whose similar big-hitting ability powered him to Masters glory in 1992.

Kent Horner / Getty Images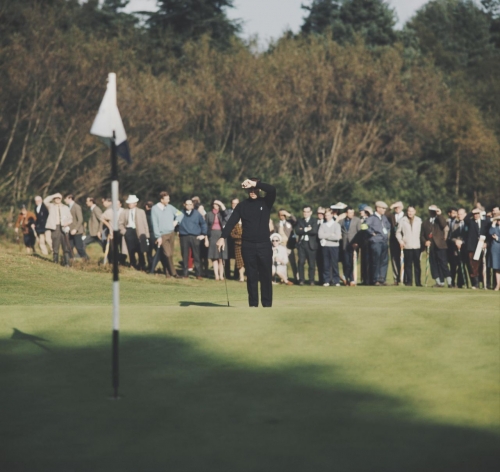 The Black Knight, Gary Player: Often dressed head-to-toe in black, throughout his sparkling career Gary Player was the grim reaper for many a golfer's hopes of silverware. The South African icon remains the only non-American golfer to complete the career grand slam, with his tally of nine major championships behind only US trio Walter Hagen (11), Tiger Woods (15) and Jack Nicklaus (18).

Tim Graham/Hulton Archive/Getty Images
Golf's greatest nicknames
Prev
Next

CNN
—
Tigers, great white sharks, and hawks; in terms of nicknames, golf thought it had the top of the food chain covered.
That was until the king of the monsters – "Quadzilla" – roared onto the scene in March.
Victory at the Arnold Palmer Invitational sealed a first PGA Tour title for Kurt Kitayama, securing him $3.6 million in prize money – almost doubling his eight-year earnings on Tour in a single paycheck.
Fortunately for the American, he has big pockets. At least that is according to fellow pro Xander Schauffele, who dubbed his compatriot "Quadzilla" in honor of his imposing thigh muscles when the duo played together on the Korn Ferry Tour in 2016.
These days they are smaller, Kitayama insists, but that has not stopped him from embracing the name that has gone viral since his maiden triumph.
"You could tell the pants were fitting tight, he called me out on it," Kitayama told CNN's Don Riddell.
"When Xander and I were playing on the Korn Ferry Tour they got pretty big … I got a little overweight I'd say.
"Also when I was working out, the one thing I loved doing was squatting. So I used to do it a lot and that was the only thing I lifted pretty much."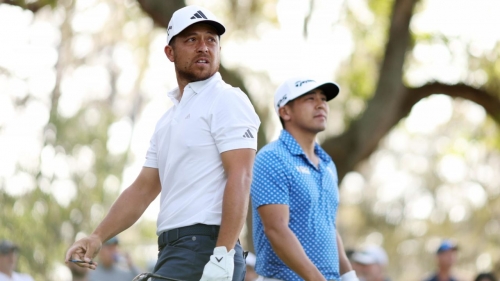 Schauffele and Kitayama were in action at The Players Championship in March.
Richard Heathcote / Getty Images
Project PGA

Yet it is a much older nickname that best epitomizes Kitayama: "The Project."
Bestowed upon him while he cut his teeth as a college golfer, it is a title that reflects how much he had to improve, as well as capturing the hard work and perseverance that drove Kitayama along a long and winding road to his first PGA Tour win – two months on from his 30th birthday.
A talented junior basketball star despite his diminutive 5-feet 7-inch frame, a young Kitayama harbored dreams of the NBA, not the PGA. As starting point guard for the Chico Blazin' Heat, the Californian led his high school team to two Northern Section titles before hoop dreams took a back seat to golf.
"(Basketball) was my favorite sport growing up … that was probably the dream until I realized I wasn't going anywhere with that," Kitayama said.
"When I got to college, golf really was the only focus."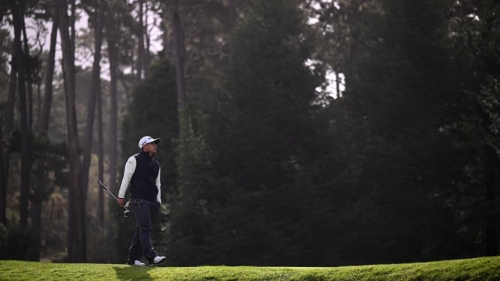 Kitayama took an unconventional path to professional golf.
Orlando Ramirez / Getty Images
At the University of Nevada, Las Vegas (UNLV), Kitayama enjoyed success on a renowned golf program, yet his early trajectory was a far cry from the breakneck rises of prodigious amateurs like Tiger Woods and Tom Kim.
Having "struggled" through his first two seasons, it wasn't until his senior year that Kitayama even gave himself a chance at making it pro. In 2015 that aim was realized, but three years later – having played mostly on the PGA Tour's developmental Web.com Tour (now the Korn Ferry Tour) – he was still floating outside the top 1,000 in the world golf rankings.
Yet 2018, spent on the Asian Tour, would prove to be a turning point. Having secured his spot on the European Tour (now the DP World Tour) via qualifying school in November, by March 2019 he had become the fastest player in history to tally two European Tour wins after victories at the Mauritius Open and Oman Open respectively.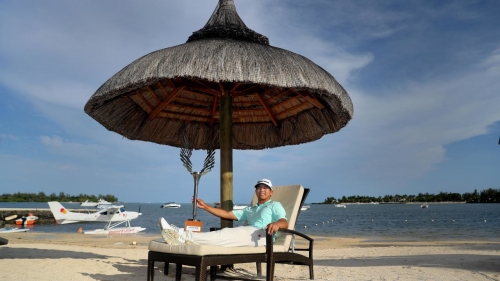 Kitayama toasts his Mauritius Open victory at the Four Seasons Golf Club in December 2018.
Warren Little / Getty Images
By the year's end, he was inside the world's top 75 players. In September 2021, a long climb to the top of the sport was completed when a tied-11th finish at the Korn Ferry Tour Championship rewarded a 28-year-old Kitayama with his PGA Tour card.
Late bloomer? "It just happened that way," he reflected.
"I've just always looked at getting better each year and not thinking too far ahead; just continue to keep moving up.
"Hard work has gotten me to where I am now … When I'm doing something that I really want to do, I'm willing to put in the work and sacrifice social time with friends or something to get better."
Project completed

By the time he arrived in Orlando for his 50th PGA Tour start – and event debut – at the Arnold Palmer Invitational, Kitayama had risen to world No. 46, yet a first win remained agonizingly elusive.
On three occasions in 2022, Kitayama had finished runner-up to some of the game's best players by a single stroke: first to US Open champion Jon Rahm at the Mexico Open, then to world No. 7 Schauffele at the Scottish Open, and again to four-time major winner Rory McIlroy at the CJ Cup.
Kitayama looked on course for his most agonizing near-miss yet when, approaching the ninth tee with a two-shot final round lead at Bay Hill, a drive out-of-bounds spiraled into a triple bogey.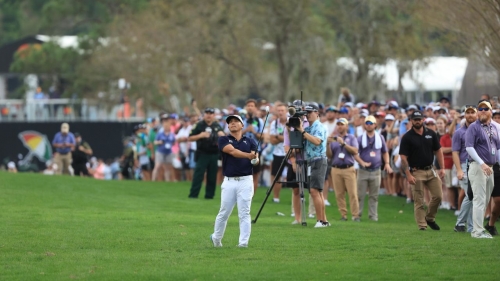 Kitayama looked to be sliding out of contention after a disastrous 9th hole.
Sam Greenwood / Getty Images
Six consecutive pars signaled a strong response, yet Kitayama and four others shared the lead with three holes remaining. By the finish, just two strokes would separate the top seven players.
"I feel like I was able to keep it pretty level all the way through, even after the triple," Kitayama recalled.
"But looking back at it and seeing how that leaderboard changed so much, it was crazy really, it was so up-and-down. I was talking to my friends back home; they were pumped but then they were also so nervous watching it."
A 14-foot birdie putt at the 17th nudged Kitayama ahead before a stunning 50-foot effort at the final hole left the American with a simple tap-in for his first Tour win.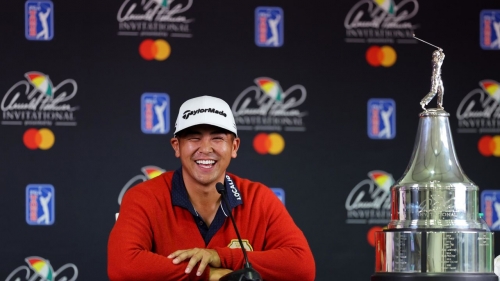 A beaming Kitayama brought the trophy to his winner's press conference.
Michael Reaves / Getty Images
Chaos

Having used the experience of his three-runner up finishes to navigate the tense denouement, it was fitting that Kitayama finished one shot ahead of his CJ Cup heartbreaker, McIlroy.
The Northern Irishman was among the first to congratulate the new champion, embracing Kitayama shortly after his closing putt.
Rory 🤝 [email protected] was one of the first players to congratulate @Kurt_Kitayama after his victory @APInv. pic.twitter.com/HR5zkmn7hT

— PGA TOUR (@PGATOUR) March 5, 2023
"I'm really happy for Kurt. He's been playing well for a while now and I'm happy to see him get his first win," McIlroy told reporters.
"He's persevered and played wherever he could get starts and all of a sudden he's won one of the biggest events on the PGA TOUR, so good for him."
Victory rocketed Kitayama to a career high world No. 19 and made him the first player to win on his Arnold Palmer Invitational debut since Robert Gamez 33 years ago.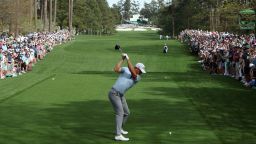 AUGUSTA, GEORGIA – APRIL 04: Justin Thomas of the United States plays his shot from the seventh tee during a practice round prior to the Masters at Augusta National Golf Club on April 04, 2022 in Augusta, Georgia. (Photo by Gregory Shamus/Getty Images)
Gregory Shamus/Getty Images
Golf balls rule proposal sparks controversy: 'So bad for the game,' says Justin Thomas
His life since has been, in a word, "chaos." After a landslide of media duties and sponsor interest, Kitayama is looking forward to getting back to golfing.
"It's a new experience and something I'm going to figure out how to handle and see how it affects my play," he said.
"I'm just going to keep trying to improve and keep trying to keep getting better to put myself in that situation more often – trying to become a more consistent player.
"A lot's going to change though, I'm just going to have to get used to it."