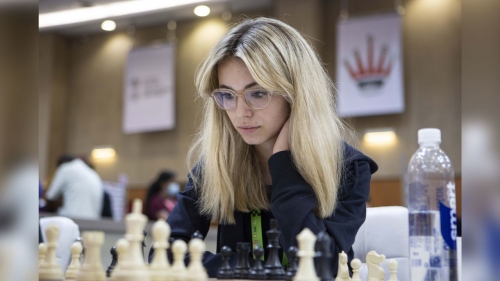 Anna Cramling is one of the most popular chess streamers online.
Courtesy Madelene Belinki

CNN
—
With multiple women coming forward about their disturbing experiences in the chess world, including accusations of sexual misconduct by a grandmaster, the historic game is having its own #MeToo moment.
Popular online chess streamer Anna Cramling says she's also had uncomfortable experiences during her career in the game.
The 20-year-old, who boasts almost 400,000 subscribers on YouTube, says being a woman in chess has sometimes led to unwanted comments by men that left her feeling uncomfortable and lonely during tournaments.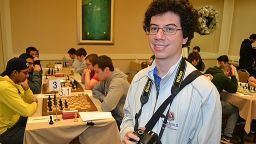 Alejandro Ramirez at the 2016 Pan-Ams.
US Chess/La Nacion/ZUMA Press
US Chess Federation investigates grandmaster following accusations of sexual misconduct
"I've had weird experiences in the chess world ever since I was a kid," Cramling told CNN Sport.
"From adult men complimenting me at chess tournaments, to receiving DMs from my chess opponents saying things such as 'I couldn't stop looking at you' during our chess game.
"This made me feel very uncomfortable, as a chess game typically takes four or five hours, so it felt weird knowing that someone so much older than me had been thinking about me in that way for so many hours."
As the daughter of two grandmasters – her mother, Pia, was the fifth-ever female grandmaster and her father, Juan Manuel Bellón López, a five-time Spanish champion – chess has always played an important role in Cramling's life.
Born in Spain, Cramling said she spent a lot of time traveling with her parents to tournaments around the world and eventually decided to develop her own skills.
She says she started taking chess more seriously after moving to Sweden with her family, studying the game for up to two hours every day.
"Even if I didn't study every day, I constantly heard about chess, I constantly saw my parents analyzing their chess games, talking about chess," she said.
According to Chess.com, Cramling reached a peak International Chess Federation (FIDE) rating of 2175 in 2018 which qualifies her as a Woman FIDE Master – the third-highest ranking for women, behind the woman grandmaster and the woman international master.
Since 2020, however, Cramling says her focus has been more on building her social media platforms.
'Embarrassed and guilty'

Cramling recalls the moment when an arbiter questioned her outfit during a youth tournament that she was part of when she was 15.
It was summer, she said, so like many she was wearing shorts, and had gone over to speak to some friends she knew competing in the men's tournament.
She said a tournament official approached her and told her she was "distracting all the male players."
"I remember going back to the women's section of the tournament and feeling so embarrassed and guilty that I couldn't concentrate throughout my whole game – I just wanted to leave," she said.
"One of the main issues has been that there are so many more guys than girls that play chess, and being a woman at a chess tournament can sometimes feel lonely.
"I have sometimes played in tournaments with over 300 participants, where only five have been women.
"I think that one of the reasons so few women compete is because the environment in chess tournaments can be very hostile to them, and I know that many, many women have stories like mine, or worse."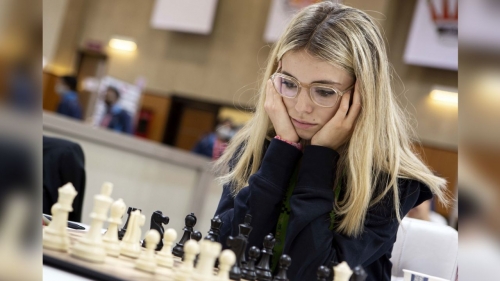 Cramling started streaming her games online in 2020.
Courtesy Madelene Belinki
Despite these incidents, Cramling still has an obvious passion for the game that is visible on her online platforms.
She regularly uploads videos, such as informal matches against grandmaster Magnus Carlsen, and streams her games online.
The world of chess streaming may be relatively new, but it certainly has an audience.
In addition to her growing YouTube channel, Cramling boasts 301,000 followers on Twitch and almost 150,000 on Instagram. She says that most of the feedback she receives online is friendly.
Cramling says her presence and subsequent following have grown monthly, and she was recently nominated for Best Chess Streamer at The Streamer Awards this year.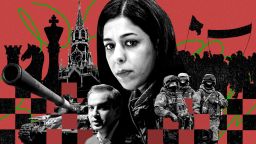 Photo-Illustration:CNN/Getty Images
Iranian chess referee Shohreh Bayat fears ostracism over her activism as she challenges Russian chief of game's governing body
She's come a long way since her first video, which she says she made using her then boyfriend's laptop.
By chance, her decision to experiment with streaming coincided with the Covid-19 pandemic, which saw the world of online chess experience a boom in popularity – online platform Chess.com said earlier this year it had more than 102 million users signed up, a 238% increase from January 2020.
Cramling says she is grateful that her knowledge and enthusiasm for chess have found an audience.
"I never thought I was going to make a living out of this," she said. "It was so fun in the beginning, and I still think it's really fun.
"I think that also translates into streams, people see that I'm having fun and I think that's the most important thing.
"The moment when it starts not being fun, I think it's really hard to make good content."
What chess must do for women

Cramling says she wants her content to serve as more than just entertainment.
According to researcher David Smerdon, only 11% of FIDE-rated players and only 2% of grandmasters – the highest chess title awarded by the sport's governing body – are women.
Just like her mother was her role model, Cramling now wants to inspire other women to play chess, but says tournaments must do their part.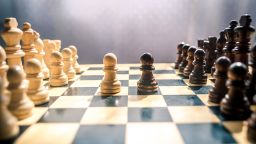 chess black and white pieces on the wooden Board
Adobe Stock
From classical to bullet, the different variants of chess explained
She says she wants officials to be more engaged in monitoring behavior toward women and has called on them to take charge if an issue arises.
"Chess trainers, players and especially tournament officials should all set an example to make everyone feel welcome, no matter who they are. Chess is a game for everyone," she said.
"I hope that, through my online presence, I can contribute in showing that women have a voice in chess and inspire more women to play.
"I know that chess tournaments will not forever look this way, we just need to get more women to play.
"The more we talk about how badly some women are treated at tournaments, and the more we listen to everyone's stories, the more we are able to make a change."
CNN reached out to FIDE for comment but hadn't received a reply at the time of publication.