close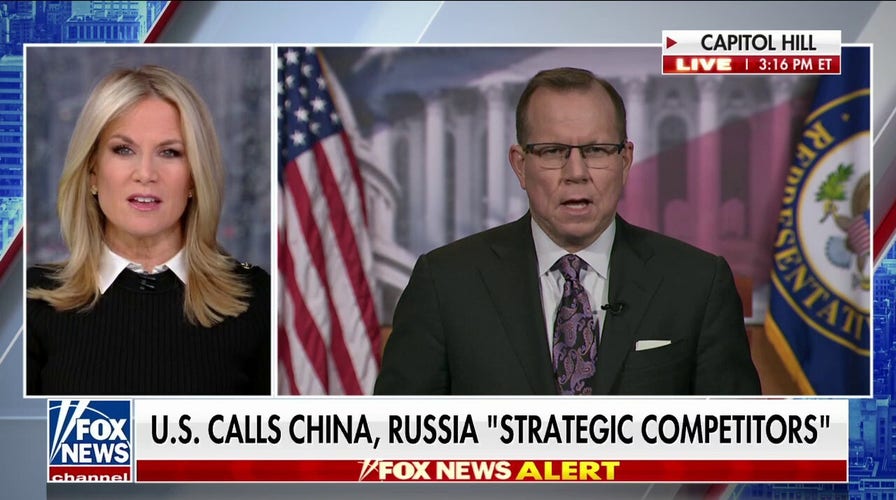 Video
US officials call attention to new alliance between Russia and China in the post-Cold War world
Fox News senior congressional correspondent Chad Pegram reports on lawmakers' warnings as Russia and China forge an alliance during meetings in Moscow.
Former Russian President Dmitry Medvedev is warning Thursday that any attempt to detain current Russiann President Vladimir Putin following an arrest warrant issued by the International Criminal Court (ICC) over his alleged actions in Ukraine would be a "declaration of war" against Moscow.
Medvedev made the comment as the ICC is pushing back against "threats" from him earlier this week, in which he suggested Russia could fire a hypersonic missile at its headquarters in The Hague, Netherlands.
"Let's imagine — obviously this situation which will never be realized — but nevertheless let's imagine that it was realized: The current head of the nuclear state went to a territory, say Germany, and was arrested," Medvedev said in a video posted on Telegram, according to Reuters.
"What would that be? It would be a declaration of war on the Russian Federation," he added.
RUSSIA'S MEDVEDEV GOES ON TIRADE AGAINST INTERNATIONAL CRIMINAL COURT, THREATENS THE HAGUE WITH MISSILE STRIKE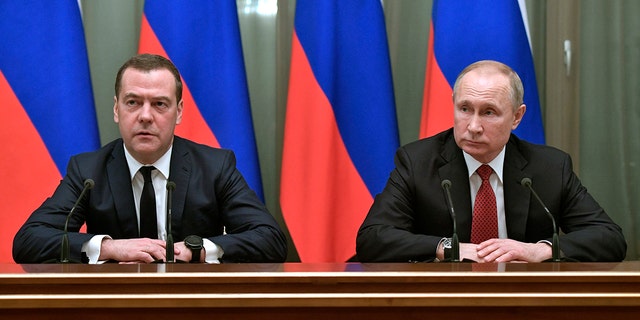 Russian President Vladimir Putin, right, and then-Russian Prime Minister Dmitry Medvedev attend a cabinet meeting in Moscow in January 2020. Medvedev is warning Thursday that an arrest of Putin following an ICC warrant would amount to a "declaration of war." (Alexei Nikolsky, Sputnik, Kremlin Pool Photo via AP)
"And in that case, all our assets — all our missiles et cetera — would fly to the Bundestag, to the Chancellor's office," Medvedev continued, referencing the German parliament.
Last week, the ICC accused Putin of personal responsibility for the abductions of children in Ukraine, saying in a statement that he is "allegedly responsible for the war crime of unlawful deportation of (children) and that of unlawful transfer of (children) from occupied areas of Ukraine to the Russian Federation."
President Biden said Friday that the move to issue the arrest warrant was "justified" as Putin had "clearly committed war crimes."
BIDEN SAYS INTERNATIONAL CRIMINAL COURT 'JUSTIFIED' FOLLOWING PUTIN ARREST WARRANT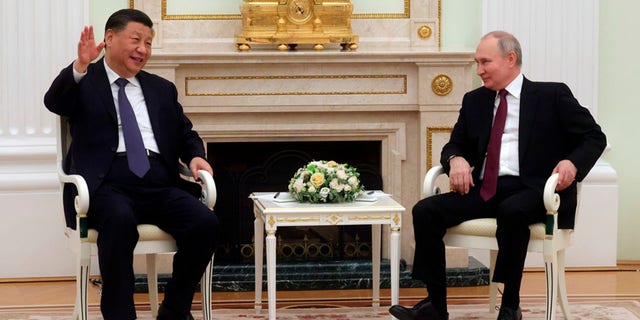 Chinese President Xi Jinping, left, was the first world leader to meet with Russian President Vladimir Putin this week following the issuance of the warrant from the ICC. (Sergei Karpukhin, Sputnik, Kremlin Pool Photo via AP)
On Monday, Medvedev suggested the Kremlin could fire a hypersonic missile at the ICC.
"I'm afraid, gentlemen, everyone is answerable to God and missiles," Medvedev, a staunch Putin loyalist who was also Russia's president from 2008 to 2012, wrote in a message on Telegram, according to Russian state media outlet Tass.
"It's quite possible to imagine how a hypersonic Oniks fired from a Russian warship in the North Sea strikes the court building in the Hague. It can't be shot down, I'm afraid."
CLICK HERE TO GET THE FOX NEWS APP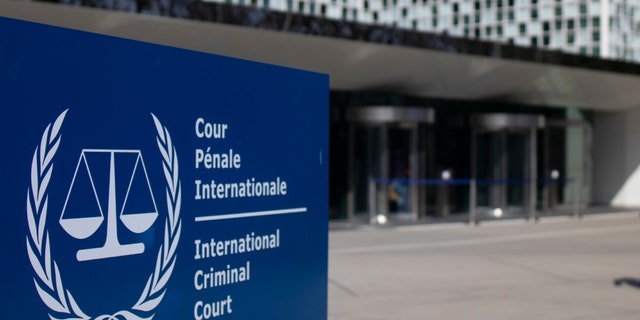 The exterior view of the International Criminal Court is pictured in The Hague, Netherlands, in March 2021. Former Russian President Dmitry Medvedev previously suggested Russia could launch missile strikes on the building. (AP Photo/Peter Dejong, File)
Medvedev also warned the judges to "watch the skies closely," calling the court "a pathetic international organization."
The Assembly of States Parties, which is the management oversight and legislative body of the ICC, said Wednesday that "threats against the International Criminal Court as well as measures announced against its Prosecutor and Judges involved in the issuance of arrest warrants in the Ukraine situation" are "attempts to hinder international efforts to ensure accountability for acts that are prohibited under general international law."
Fox News' Peter Aitken, Julia Musto and Paul Best contributed to this report.
Greg Norman is a reporter at Fox News Digital.