close
Video
North Korean defectors honor Otto Warmbier, Kim Jong Un's victims

'The North Korean Freedom Foundation' chair Suzanne Scholte joins 'Fox News Live' to discuss the protests in front of North Korea's mission to the United Nations.
North Korea has responded to the United States' urging for other members of the United Nations to pressure the hermit kingdom into denuclearization.
The North Korean Ministry of Foreign Affairs took a harsh tone, warning that any attempt to force the country into denuclearizing would be equivalent to a declaration of war.
NORTH KOREA LAUNCHES ANOTHER SET OF MISSILES AMID US CALLS FOR UN INTERVENTION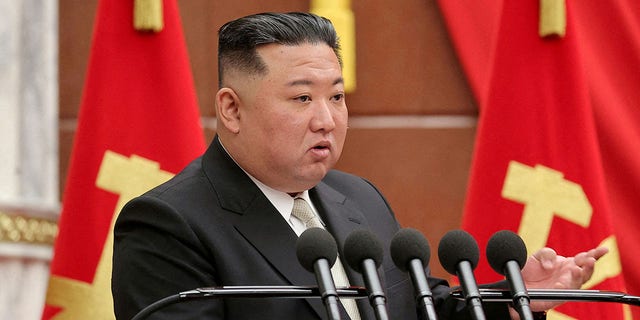 Kim Jong Un attends a meeting of the 8th Central Committee of the Workers' Party of Korea in Pyongyang, North Korea, March 1, 2023. (North Korea's Korean Central News Agency via Reuters)
"The U.S. representative to the U.N. again… spouted a litany of rhetoric about the outdated CVID and the 'human rights situation,'" said Jo Chol-su, a director general in the foreign ministry, according to South Korean outlet Yonhap.
Earlier this week, U.S. Ambassador to the U.N. Linda Thomas-Greenfield urged other members of the international body's Security Council to help move North Korea toward "complete, verifiable and irreversible" denuclearization (CVID).
US-SOUTH KOREA DRILLS DETER NORTH KOREA, PENTAGON CLAIMS HOURS AFTER NORTH KOREA LAUNCHES ICBM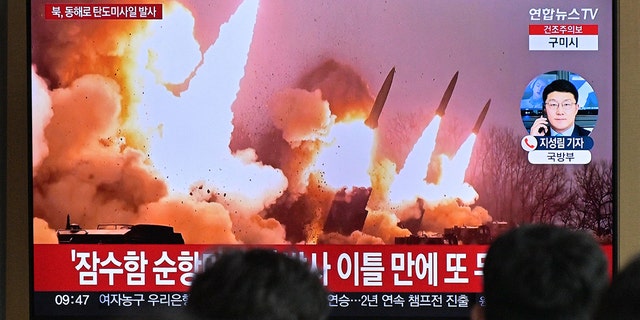 People stand near a television showing file footage of a North Korean missile test, at a railway station in Seoul, March 14, 2023. (Anthony Wallace/AFP via Getty Images)
"Any force should keep in mind that if it tries to apply CVID to the DPRK, it will be dealt with resolutely in accordance with the DPRK's law on nuclear force policy," Jo said Thursday.
Jo went on to warn that too much pressure to denuclearize would be considered by North Korea as an act of war.
US AND ITS PARTNERS STAGE WARFARE DRILLS AS JAPAN, SOUTH KOREA STRENGTHEN ALLIANCE AGAINST CHINA, NORTH KOREA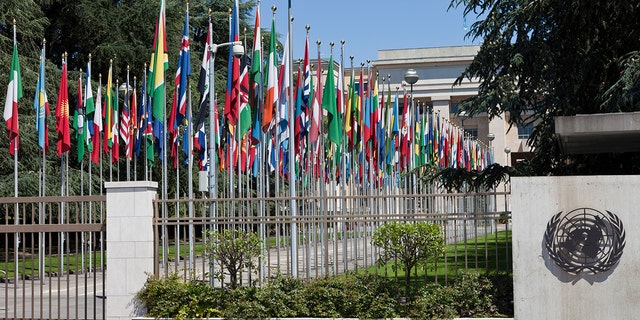 The U.N. headquarters building in Geneva, Switzerland, in 2011. (iStock)
"The pressure on the DPRK to dismantle its nukes precisely means a declaration of war," he said.
North Korea fired yet another round of missiles as the United States seeks greater intervention from member states of the United Nations.
CLICK HERE TO GET THE FOX NEWS APP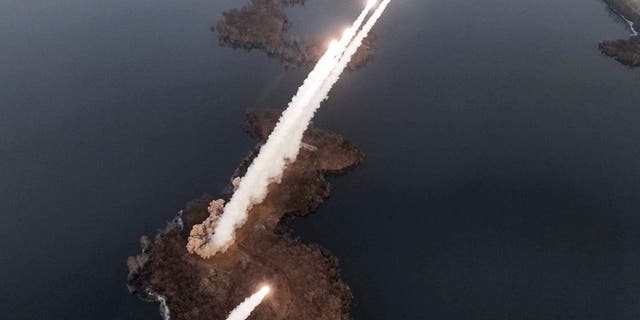 An artillery drill at an undisclosed location in North Korea, March 9, 2023. (Korean Central News Agency/Korea News Service via AP)
South Korea's Joint Chiefs of Staff reported the latest round of missiles at 10:15 a.m. local time on Wednesday. The weapons appear to have been fired from the South Hamgyong province, according to reports.
Timothy Nerozzi is a writer for Fox News Digital. You can follow him on Twitter @timothynerozzi and can email him at [email protected]