close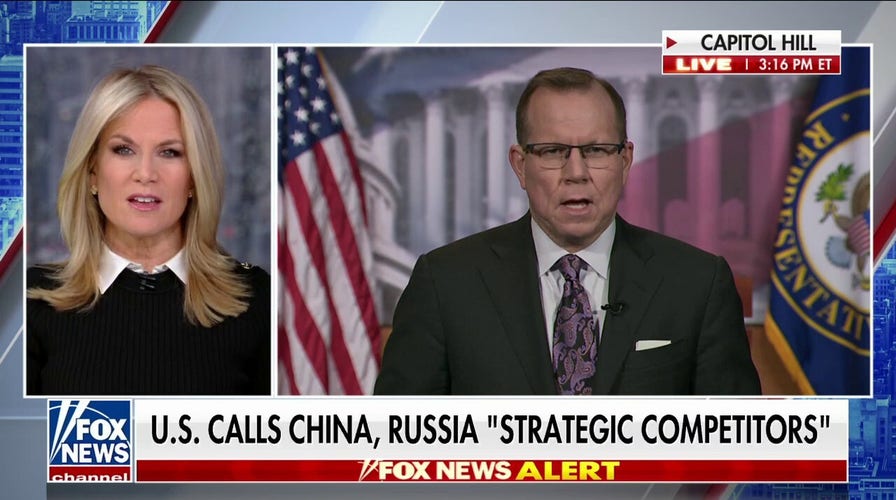 Video
US officials call attention to new alliance between Russia and China in the post-Cold War world
Fox News senior congressional correspondent Chad Pegram reports on lawmakers' warnings as Russia and China forge an alliance during meetings in Moscow.
Former Russian President Dmitry Medvedev reportedly suggested on Friday that Moscow may look to send troops back to Kyiv even as Russian troops struggle to progress in eastern Ukraine.
The hawkish Russian elite and current deputy chairman of Russia's Security Council has repeatedly issued inflammatory statements since the war in Ukraine began. On Friday, he said "nothing can be ruled out" when it comes to Russia's war effort.
"If you need to get to Kyiv, then you need to go to Kyiv, if to Lviv, then you need to go to Lviv in order to destroy this infection," he told Russian news outlet RIA according to numerous reports.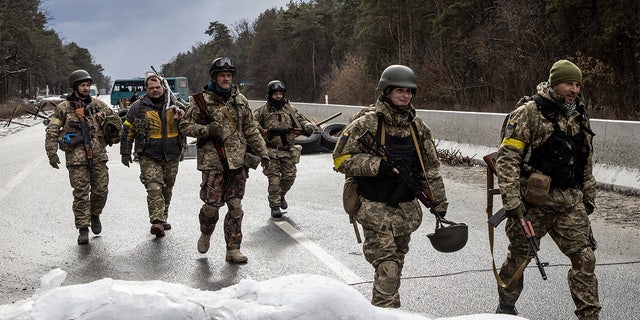 Members of the Ukrainian military arrive to reinforce a forward position on the eastern frontline near Kalynivka village on March 8, 2022, in Kyiv, Ukraine. (Photo by Chris McGrath/Getty Images)
PUTIN PLANS FOR 'MORE WAR' IN UKRAINE AS NATO'S DEFENSE PLEDGE GOES UNFULFILLED: STOLTENBERG
However, the Putin ally did not stop at suggesting Russia could look to expand its war effort after already failing to take Kyiv early last year. He suggested any Ukrainian attempts to retake the occupied Crimean Peninsula would give Russia an excuse to use "absolutely any weapon."
"If we talk about some serious offensives that are associated with an attempt to recapture the Crimea, it is clear that this is the basis for the use of all means of protection," he told RIA Friday.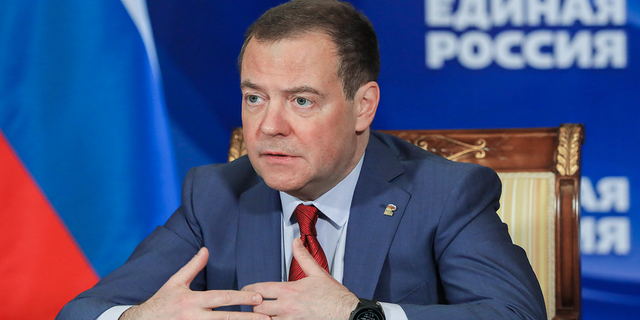 Russian Security Council Deputy Chairman and the head of the United Russia party Dmitry Medvedev chairs a meeting on saving businesses and jobs in foreign companies via video link at Gorki state residence, outside Moscow on March 16. (Yekaterina Shtukina, Sputnik, Government Pool Photo via AP)
RUSSIA LOSING STEAM IN BAKHMUT SAYS KYIV, UKRAINE READIES FOR 'OPPORTUNE' TIMING
The comments came as reports of flagging Russian abilities in Bakhmut emerged Thursday and days after a drone attack targeted a Russian rail shipment in Crimea Tuesday, successfully destroying Russian cruise missiles.
Ukraine has made it clear they will not stop fighting Russia until all of its forces have withdrawn from occupied areas including Crimea, though Western defense officials remain concerned by Moscow's repeated threats to turn towards its nuclear arsenals to achieve its war aims in Ukraine.
Medvedev has issued threats against the possibility of employing nuclear capabilities against not only Ukraine but its Western allies.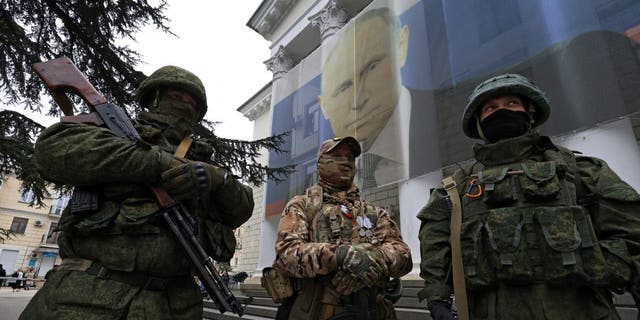 Participants dressed in military uniform stand in front of a banner with a portrait of Russian President Vladimir Putin during a patriotic flash mob marking the ninth anniversary of Russia's annexation of Crimea, in Yalta, Crimea March 17, 2023. (REUTERS/Alexey Pavlishak)
CLICK HERE TO GET THE FOX NEWS APP
The former president also said that statements issued by Kyiv on its intent to retake Crimea were "propaganda" and said any attempt to "split off part of the state" is a direct assault on Russian territory.
"Therefore, draw your own conclusions: there are absolutely grounds for using any weapon here. Absolutely any," he added.
Caitlin McFall is a Reporter at Fox News Digital covering Politics, U.S. and World news.