close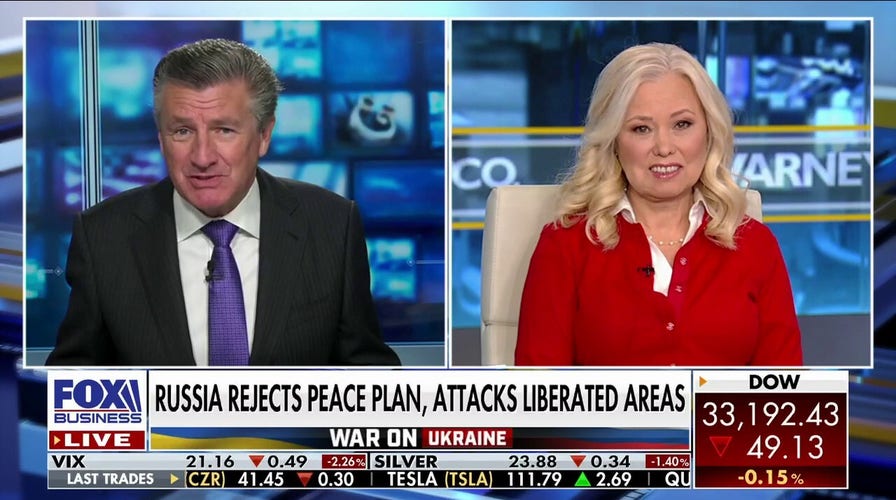 Video
Peace talks unlikely as Russia, Ukraine, US pursue 'irreconcilable' positions: Rebekah Koffler
Former Defense Intelligence Agency Officer Rebekah Koffler discusses why peace talks are unlikely between Russia, Ukraine, and the U.S., on 'Varney & Co.'
Russia's war effort in Ukraine has persisted at a "routine level" despite Russian President Vladimir Putin's order for a ceasefire over Jan. 6 and 7 in recognition of Orthodox Christmas, the U.K. defense ministry assessed Saturday.
Fighting in the Luhansk region around the city of Kreminna has ramped up over the last three weeks as Russia looks to hold onto the strategically important area amid a tough Ukrainian counter-offensive.
Kreminna is located 50 miles north of Bakhmut, which Russian forces have failed to secure despite heavy weaponry and troop reinforcement over the last several months.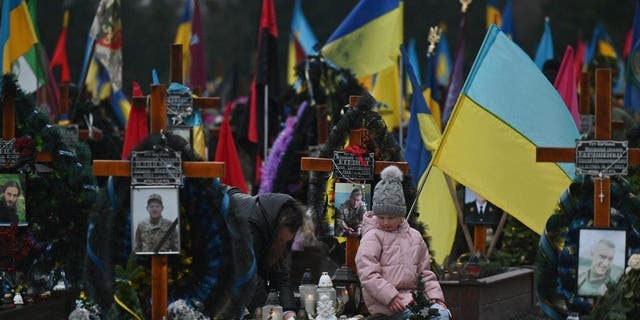 LVIV, UKRAINE – JANUARY 06: Family members visit the graves of their loved ones killed during Russia-Ukraine war at Lychakiv Cemetery during Orthodox Christmas Eve, in Lviv, Ukraine, on January 6, 2023. 
(Photo by Artur Widak/Anadolu Agency via Getty Images)
PUTIN ORDERS TEMPORARY CEASEFIRE IN UKRAINE IN OBSERVATION OF ORTHODOX CHRISTMAS
U.K. defense officials assessed last month that Russia may be looking to reinforce Kreminna to shore up the logistically vital area and to safeguard its control over the city of Sievierodonetsk, which it had overrun by June following a brutal ground assault.
The defense ministry said that fighting around Kreminna has been largely carried out to the west of the city as Ukrainian troops look to push the front lines east.
Heavily forested terrain full of coniferous woodlands has meant "both sides are highly likely struggling to accurately adjust artillery fire," according to the ministry's assessment.
"As is typical with operations in forests, combat has largely devolved to dismounted infantry fighting, often at short range," the assessment read.
But fighting in Kreminna not only poses a threat to Russia's ability to hold locations in Luhansk.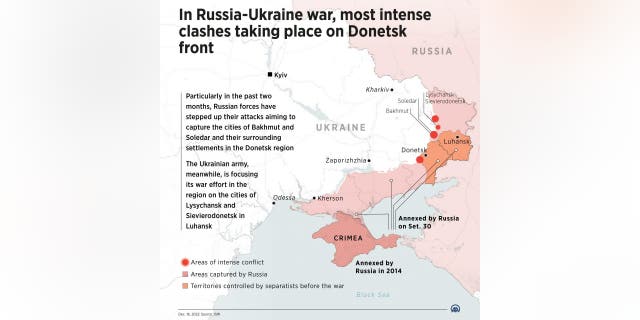 An infographic titled "In Russia-Ukraine war, most intense clashes taking place on Donetsk front" in Ankara, Turkiye on Dec. 16, 2022.
(Elmurod Usubaliev/Anadolu Agency via Getty Images)
ZELENSKYY WARNS RUSSIA WILL 'THROW EVERYTHING THEY HAVE' IN ATTEMPT TO TURN WAR AROUND
"Russian commanders will highly likely view pressure around Kreminna as a threat to the right flank of their Bakhmut sector, which they see as key for enabling any future advance to occupy the remainder of Donetsk Oblast," the ministry said.
Defense officials have noted that Russia stands to gain little strategically from securing Bakhmut and have suggested that the fight for Moscow over the town has become "symbolic."
Some reporting has suggested that Russia's mercenary Wagner Group has broken through an area northeast of Bakhmut known as Soledar, which houses salt and gypsum mines.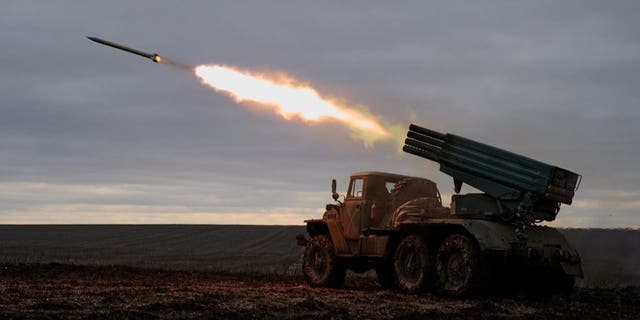 Soldiers of the 59th brigade of the Ukrainian Armed Forces fire grad missiles on Russian positions in Russia-occupied Donbas region on Dec. 30, 2022, in Donetsk, Ukraine. 
(Pierre Crom/Getty Images)
CLICK HERE TO GET THE FOX NEWS APP
Western officials have not confirmed the Russian advancement, though if accurate the progression could spell trouble for Ukrainian soldiers as the mercenary group may look to encircle defensive forces around Bakhmut.
A White House spokesman on Thursday suggested there may be a monetary element that is driving Russia's "obsession" with Bakhmut, reported Reuters.
Caitlin McFall is a Reporter at Fox News Digital covering Politics, U.S. and World news.