close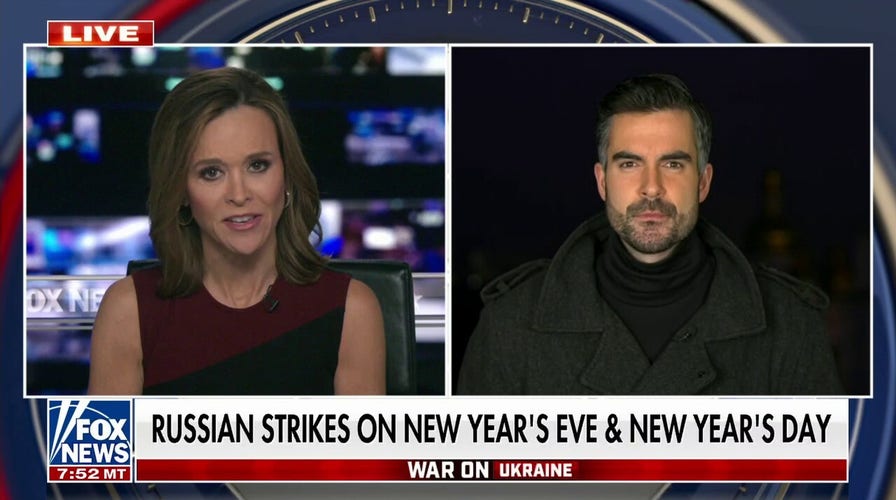 Video
Russia strikes targets in Ukraine on New Year's Eve, New Year's Day
Fox News' Nate Foy reports the latest on the Russia-Ukraine war from Kyiv. 
Moscow admitted heavy casualties suffered in a Ukrainian strike on the Russian-occupied Donetsk region in one of the deadliest attacks on the Kremlin's forces since the war began over 10 months ago.
Russia's defense ministry said Monday that Ukrainian forces fired rockets at a facility in the eastern Donetsk region where Russian soldiers were stationed, killing 63 of them.
Yet, the Ukrainian Army and pro-Russian social media channels seemed to suggest several hundred had perished at makeshift barracks set up at a vocational school in the same area.
Ukrainian forces fired six rockets from a HIMARS launch system, and two of them were shot down, a Russian defense ministry statement said. It did not say when the strike happened.
RUSSIA DRONE SWARM CONTINUES NEW YEARS ASSAULT ON KYIV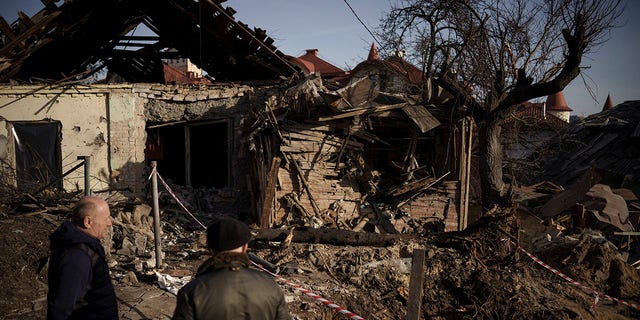 People stand next to the site of a Russian attack in Kyiv, Ukraine, Monday, Jan. 2, 2023.
(AP Photo/Renata Brito)
The strike, using a U.S.-supplied precision weapon that has proven critical in enabling Ukrainian forces to hit key targets, delivered a new setback for Russia, which, in recent months, has reeled from a Ukrainian counteroffensive. The Ukrainian military has not directly confirmed the strike, but it seemed to acknowledge what appeared to be the same attack that Russian authorities reported.
The Strategic Communications Directorate of Ukraine's Armed Forces claimed Sunday that some 400 mobilized Russian soldiers were killed in a vocational school building in Makiivka and about 300 more were wounded. That claim could not be independently verified. The Russian statement said the strike occurred "in the area of Makiivka" and didn't mention the vocational school.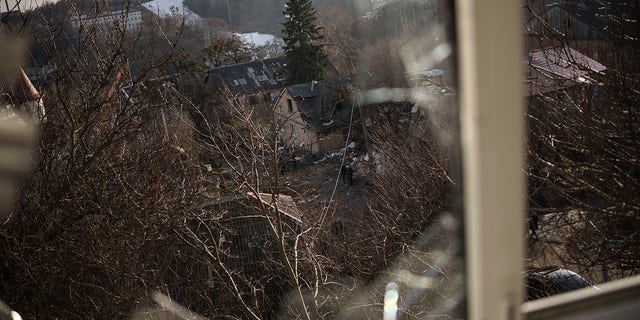 Damaged houses are seen through a broken window, following a Russian attack on New Year's Eve, in Kyiv, Ukraine, Monday, Jan. 2, 2023.
(AP Photo/Renata Brito)
Meanwhile, Russia deployed multiple exploding drones in another nighttime attack on Ukraine, officials said Monday, as the Kremlin signaled no letup in its strategy of using bombardments to target the country's energy infrastructure and wear down Ukrainian resistance to its invasion.
The barrage was the latest in a series of relentless year-end attacks, including one that killed three civilians on New Year's Eve.
Ukrainian President Volodymyr Zelenskyy has accused Russia of "energy terrorism" as the aerial bombardments have left many people without heat amid freezing temperatures. Ukrainian officials say Moscow is "weaponizing winter" in its effort to demoralize the Ukrainian resistance.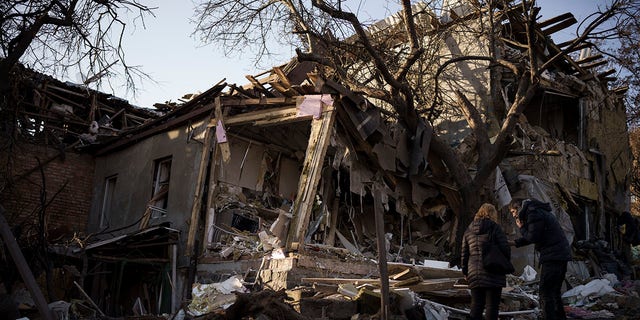 Serhii Kaharlytskyi, right, stands outside his home that was destroyed after a Russian attack in Kyiv, Ukraine, Monday, Jan. 2, 2023. Kaharlytskyi's wife Iryna died in the attack on Dec. 31, 2022.
(AP Photo/Renata Brito)
On Monday, Kyiv Mayor Vitali Klitschko said that 40 drones "headed for Kyiv" overnight. All of them were destroyed, according to air defense forces. Klitschko said 22 drones were destroyed over Kyiv, three in the outlying Kyiv region and 15 over neighboring provinces.
Energy infrastructure facilities were damaged as a result of the attack, and an explosion occurred in one city district, the mayor said. It wasn't immediately clear whether that was caused by drones or other munitions. A wounded 19-year-old man was hospitalized, Klitschko added, and emergency power outages were underway in the capital.
CLICK TO GET THE FOX NEWS APP
Moscow's full-scale invasion on Feb. 24, 2022, has gone awry, putting pressure on Russian President Vladimir Putin as his ground forces struggle to hold ground and advance. He said in his New Year's address to the nation that 2022 was "a year of difficult, necessary decisions."
Putin insists he had no choice but to send troops into Ukraine because it threatened Russia's security – an assertion condemned by the West, which says Moscow bears full responsibility for the war. Russia is currently observing public holidays through Jan. 8.
The Associated Press contributed to this report.
Danielle Wallace is a reporter for Fox News Digital covering politics, crime, police and more. Story tips can be sent to [email protected] and on Twitter: @danimwallace.