close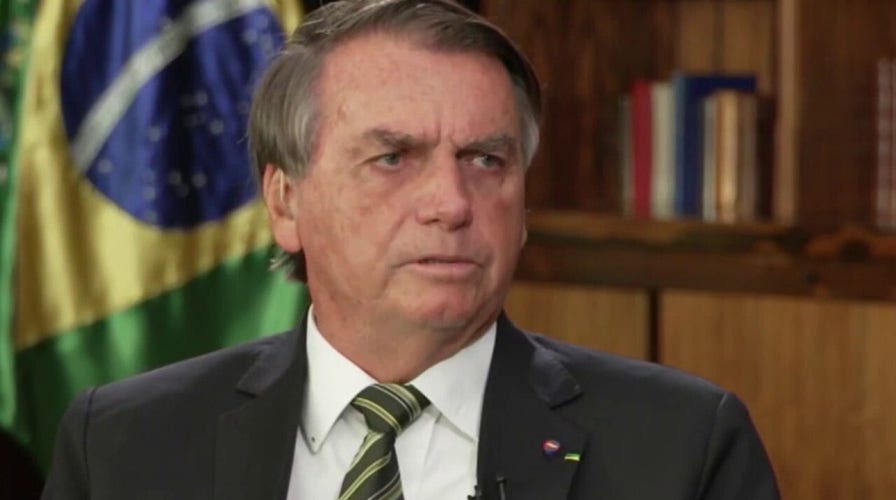 Video
Bolsonaro on how South America is being pulled to the left, Brazil loosening gun restrictions
Brazilian President Jair Bolsonaro sits down with Tucker to discuss the protection of life and faith in his country on 'Tucker Carlson Tonight.' 
Brazilian leftist Luiz Inácio Lula da Silva was sworn in as president on Sunday with his far-right predecessor Jair Bolsonaro notably absent.
Bolsonaro, now lacking presidential immunity, reportedly departed for the United States on Friday still without conceding defeat since October's election. Bolsonaro reportedly plans to stay in Florida for at least a month, according to The New York Times, renting the Orlando home of a professional mixed-martial-arts fighter a few miles from Disney World.
In a speech to Brazil's Congress Sunday, Lula went after the outgoing president of Latin America's largest country, accusing Bolsonaro of wielding anti-democratic threats following the most fraught election in a generation and promising to hold members of his administration to account.
"We do not carry any spirit of revenge against those who tried to subjugate the nation to their personal and ideological designs, but we will guarantee the rule of law," Lula said, according to Reuters, without mentioning Bolsonaro by name. "Those who erred will answer for their errors."
BRAZIL'S BOLSONARO TELLS SUPREME COURT ELECTION 'IS OVER'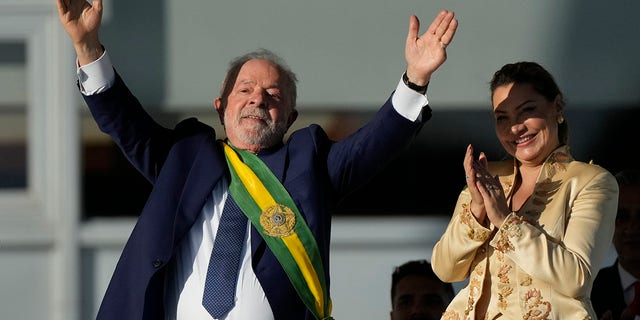 President Luiz Inacio Lula da Silva, left, waves to supporters beside his wife Rosangela Silva after he was sworn in as new president at the Planalto Palace in Brasilia, Brazil, Sunday, Jan. 1, 2023. 
(AP Photo/Silvia Izquierdo)
"Under the winds of redemocratization, we used to say, 'Dictatorship never again,'" he added, according to the Times. "Today, after the terrible challenge we've overcome, we must say, 'Democracy forever.'"
Lula, once forced into political hiatus while serving 580 days in prison on corruption charges before the country's Supreme Court later threw out the convictions, vowed Sunday that in his new third term as president he would tackle deforestation and climate change and invoke stricter gun restrictions. He also criticized Bolsonaro's handling of the COVID-19 pandemic, which reportedly left 680,000 Brazilian dead. "The responsibilities for this genocide must be investigated and must not go unpunished," Lula said.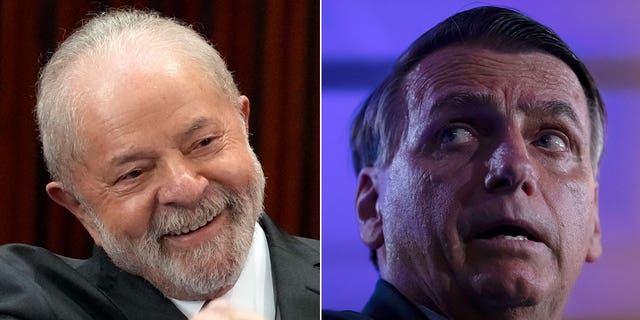 On the left, Brazilian President-elect Luiz Inacio Lula da Silva smiles during his election certification ceremony at the Supreme Electoral Court in Brasilia, Brazil, Monday, Dec. 12, 2022. On the right, then-Brazilian President Jair Bolsonaro participates in a press conference on Oct. 29, 2022, in Río de Janeiro. 
(AP )
At his elaborate inauguration — which included a motorcade, music festival and hundreds of thousands of supporters filling the central esplanade of the capital of Brasília – Lula announced that he accepted a presidential green-and-yellow sash from "the Brazilian people."
Breaking tradition, a garbage collector handed the sash to the incoming president because outgoing Bolsonaro wasn't there to do so.
"We look forward to continuing the strong U.S.-Brazil partnership in trade, security, sustainability, innovation, and inclusion," Biden administration U.S. Secretary of State Antony Blinken tweeted. "Here's to a bright future for our countries – and the world."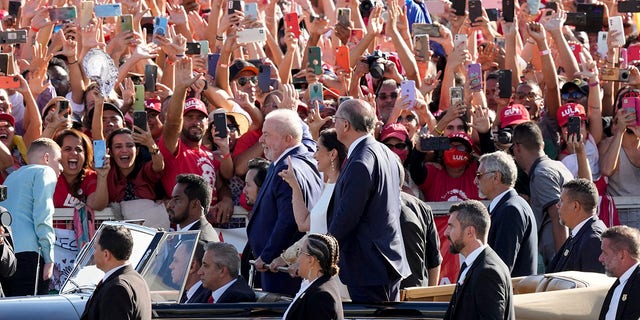 President Luiz Inacio Lula da Silva, right, Vice President Geraldo Alckmin, left, and his wife Maria Lucia Ribeiro, center, ride on an open car to the Planalto Palace in Brasilia, Brazil, Sunday, Jan. 1, 2023.
(AP Photo/Eraldo Peres)
King Charles also congratulated Lula, saying in a letter that he was "encouraged to hear you emphasize the urgent need to tackle the climate crisis in your victory speech and at COP27."
A few hours before reports of his departure, Bolsonaro addressed the country as president on his social media. At times on the verge of tears, Bolsonaro said he wasn't able to find a legal alternative or enough support to change the course of history and prevent his departure from office.
"How difficult it has been to stay quiet for two months, working to find alternatives," he said. "If you're upset, put yourself in my place. I gave my life to this country."
Bolsonaro also condemned a recent bomb threat in Brasilia, saying it was not the time to attack people but rather to try to build opposition against the future government.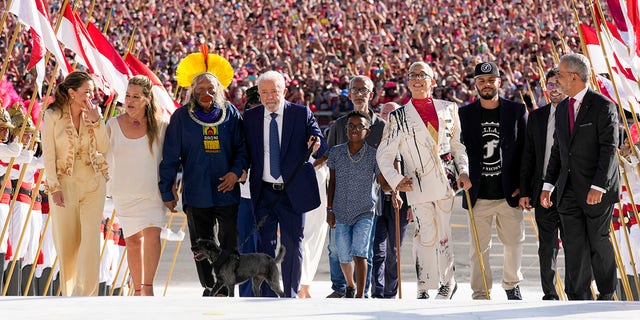 Luiz Inacio Lula da Silva arrives to the Planalto Palace with a group representing diverse segments of society after he was sworn in as new president in Brasilia, Brazil, Sunday, Jan. 1, 2023. 
(AP Photo/Eraldo Peres)
"We lost a battle, but we will not lose the war," he said. "The world does not end on Jan. 1."
A crowd of supporters stood outside the presidential residence in the pouring rain listening for a sign from their leader, and many were left disappointed. Some shouted the words "traitor" and "coward." One woman cried, according to The Associated Press.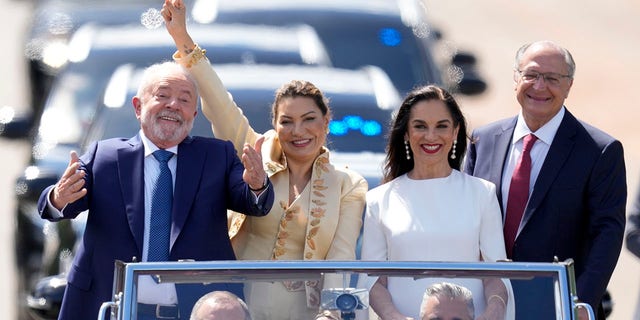 President-elect Luiz Inacio Lula da Silva, left, his wife Rosangela Silva, second from left, Vice President-elect Geraldo Alckmin, right, and his wife Maria Lucia Ribeiro, ride on an open car to Congress for their swearing-in ceremony, in Brasilia, Brazil, Sunday, Jan. 1, 2023. 
(AP Photo/Andre Penner)
Since his electoral loss, some of Bolsonaro's most die-hard supporters have been camping outside military buildings in Brasilia and elsewhere in the country, asking for the armed forces to intervene. Many believed election results were fraudulent or unreliable and hoped Bolsonaro would somehow remain in power.
CLICK HERE TO GET THE FOX NEWS APP
Others have blocked roads and highways or set buses and trucks on fire. Police are also investigating the attempted invasion of the federal police's headquarters in Brasilia earlier this month and said most of the 32 individuals they are looking for have had contacts with the Brasilia pro-Bolsonaro encampment.
The Associated Press contributed to this report.
Danielle Wallace is a reporter for Fox News Digital covering politics, crime, police and more. Story tips can be sent to [email protected] and on Twitter: @danimwallace.