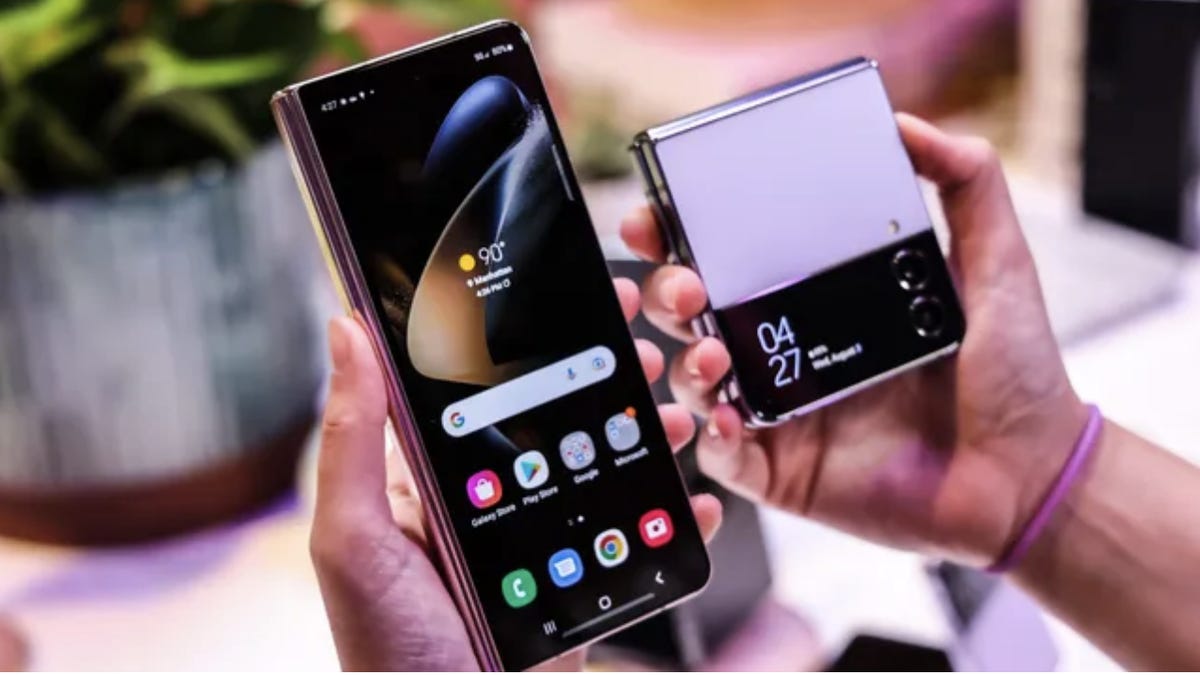 Samsung unveiled the Galaxy Z Fold 4 and Galaxy Z Flip 4, the latest iterations of its foldable phones at an August event.
Samsung
With the Galaxy S23 family expected to arrive next month, there's a lot that Samsung fans get to be excited about. But, the company regularly launches new foldable phones and wearables in August, and it sometimes surprises us with other new gadgets before then.
While Samsung regularly releases new products across many categories, including TVs, home appliances and monitors, I'm most interested in where its mobile devices are headed. Samsung is one of the world's largest smartphone makers by market share, meaning it has more influence than most other tech companies on the devices we carry in our pockets each day. Wearables have also become a large part of how Samsung intends to differentiate its phones from those of other Android device makers, as it seeks to create a web of products that keep users hooked, much the same way as Apple.
Here are the rumored Samsung products I'm most excited to see this year based on rumors, leaks and the company's usual product launch schedule. 
Galaxy S23 lineup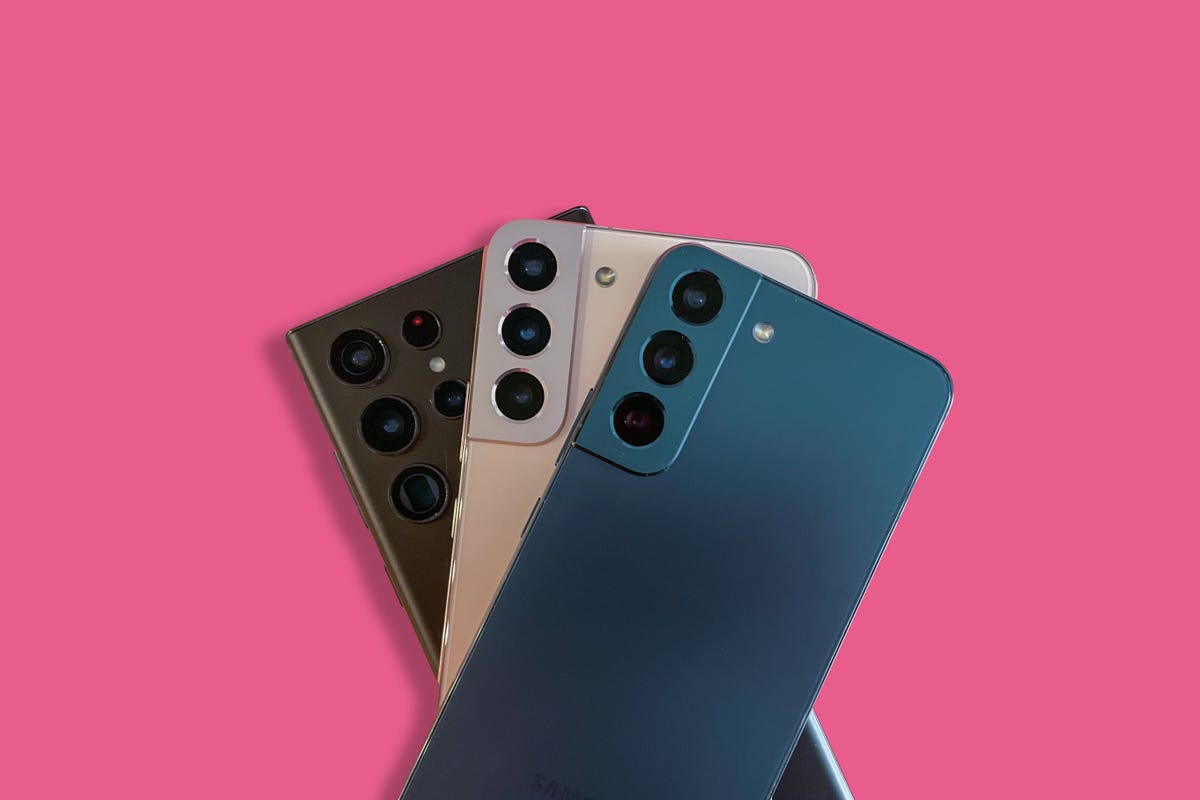 The Samsung Galaxy S22 lineup

Lisa Eadicicco/CNET

Samsung makes a lot of phones, but the Galaxy S23 lineup usually showcases the best of what it has to offer. The Galaxy S23 family is expected to make its debut at the company's Unpacked event on Feb. 1 and will likely launch shortly thereafter. The standard S23 and S23 Plus are expected to get a general refresh that will most likely include a new processor, a slightly updated design and maybe some camera enhancements.
But the top-of-the-line Ultra is where Samsung devotes most of its camera prowess. The new model is expected to get a 200-megapixel camera, likely powered by the new image sensor Samsung announced on Jan. 16. That chip promises to deliver higher resolution along with better performance in challenging circumstances, as my colleague Stephen Shankland wrote. Achieving both is usually difficult because the higher the resolution, the smaller the pixels. And smaller pixels typically can't gather as much light, which can have a direct impact on image quality. 
We'll know more when Samsung introduces the Galaxy S23 lineup. But I'm looking forward to seeing whether that expected jump in camera resolution actually makes a big difference in everyday use. 
Galaxy Z Fold 5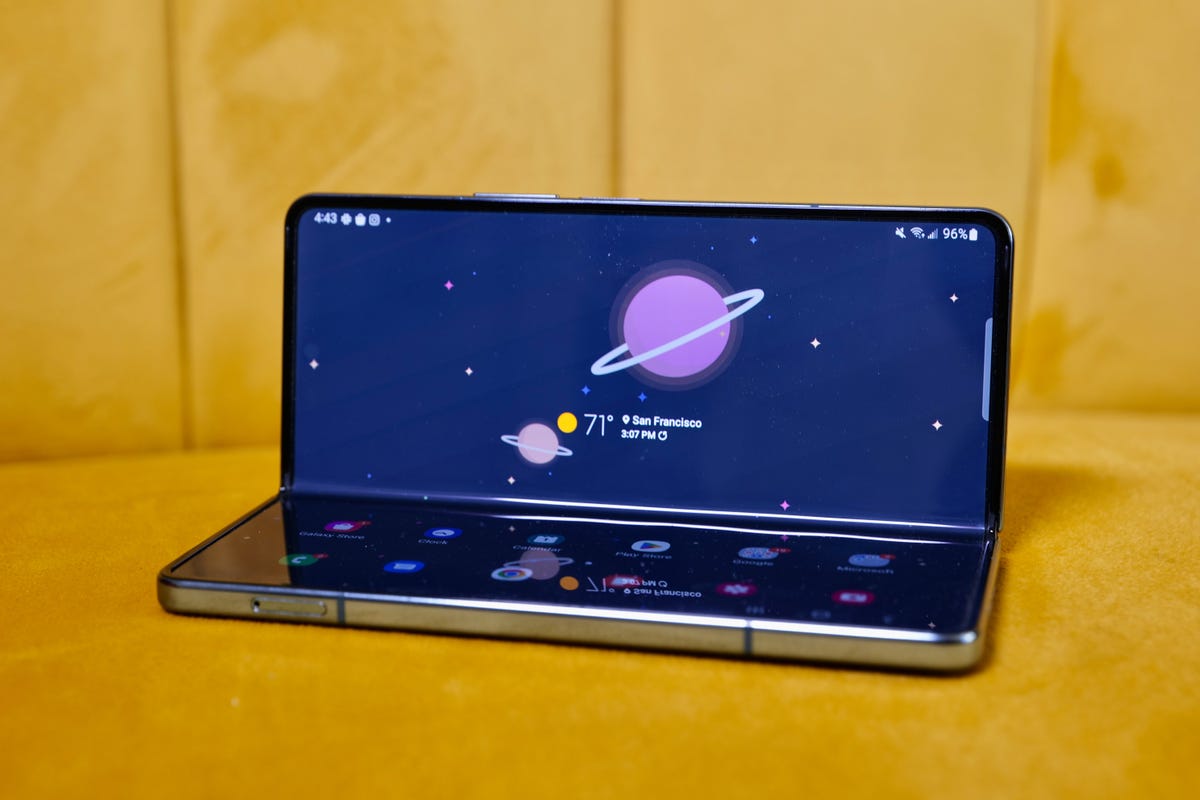 The Galaxy Z Fold 4

Patrick Holland/CNET

Samsung's next phone-tablet hybrid could be the first to have an embedded S Pen, according to a report from The Elec. That not only means the stylus would be included free of charge, but the phone would also include a slot for storing it just like on the S22 Ultra. If you want to use an S Pen with the Galaxy Z Fold 4, you'll have to purchase it separately, and there's no mechanism for attaching it to or storing it in the phone without buying a case.
It's a seemingly small addition, but one that could make the Galaxy Z Fold 5 much more useful as a productivity device. It would also give the Galaxy Z Fold 5 a clearer purpose and could boost its appeal among early adopters, artists and notetakers. Samsung could target the same audience of shoppers that's usually interested in the Galaxy Ultra or its previous Galaxy Note devices.
Samsung typically releases new foldable phones in August, so we expect to hear more around that time frame. In addition to the rumors around an included S Pen, the Z Fold 5 will likely have the routine upgrades to the processor and camera. What I'm really hoping for, however, is new software that makes better use of the phone's giant screen and a foldable display with a less noticeable crease.
Galaxy Z Flip 5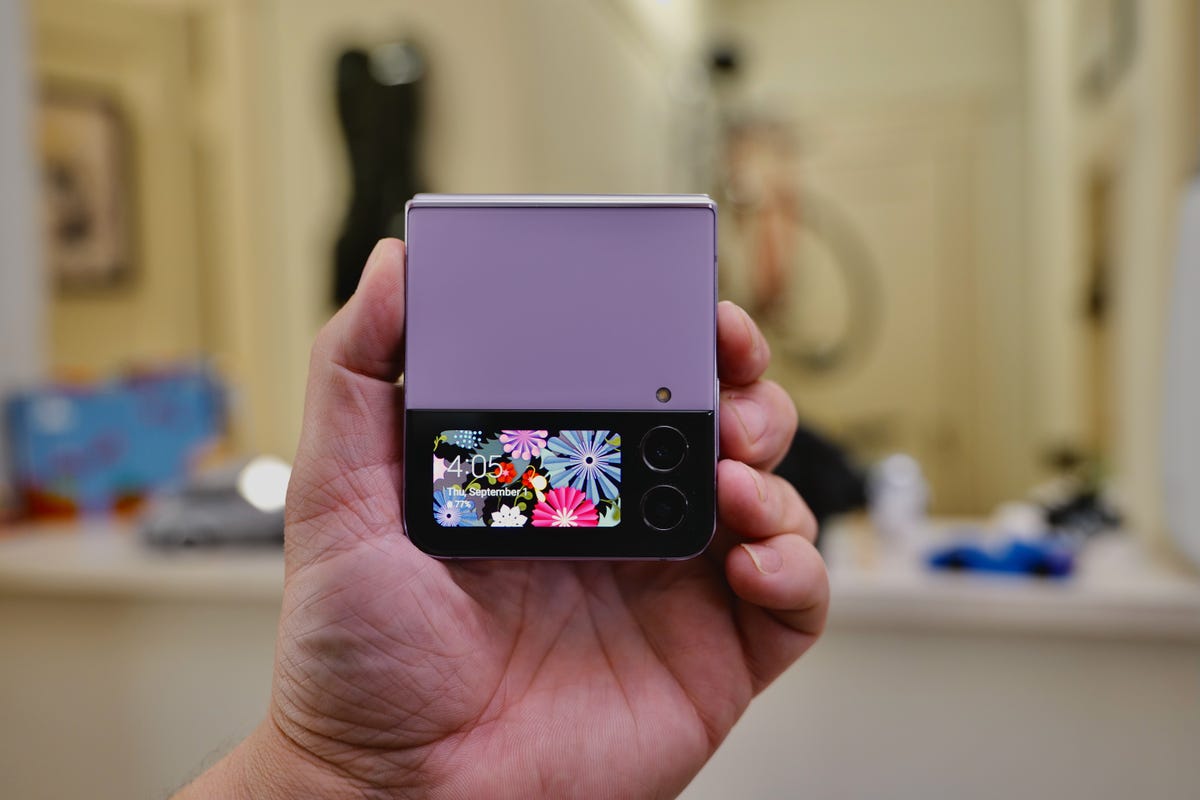 The cover screen is identical to the one on the Galaxy Z Flip 3.

Patrick Holland/CNET

Samsung's pocket-friendly foldable will also likely get an upgrade around August, just like the expected Z Fold 5. The Galaxy Z Flip 4 already gets a lot of things right, and it's one of the most practical and affordable foldable phones available. Yet there are plenty of ways Samsung can and should improve the Z Flip. Samsung's flip phone could benefit from a larger cover screen, longer battery life and an upgraded camera that brings it closer to those found on the Galaxy S series, for example.
But the biggest reason I'm interested in seeing what's next for the Z Flip is because of its price. The phone starts at $1,000 and is often available for less with an eligible trade-in, making the price similar to that of a standard, non-foldable premium phone. Samsung also kept the Galaxy Z Flip 3 in its lineup and dropped its price by $100 following the Z Flip 4's launch. That further suggests the Z Flip is shaping up to be Samsung's more affordable foldable phone option. 
A Galaxy Z Flip 5 with a newer processor, better camera and larger cover screen for the same price as the Z Flip 4 (or perhaps a little cheaper) could be one of the most compelling foldables yet.
Galaxy VR headset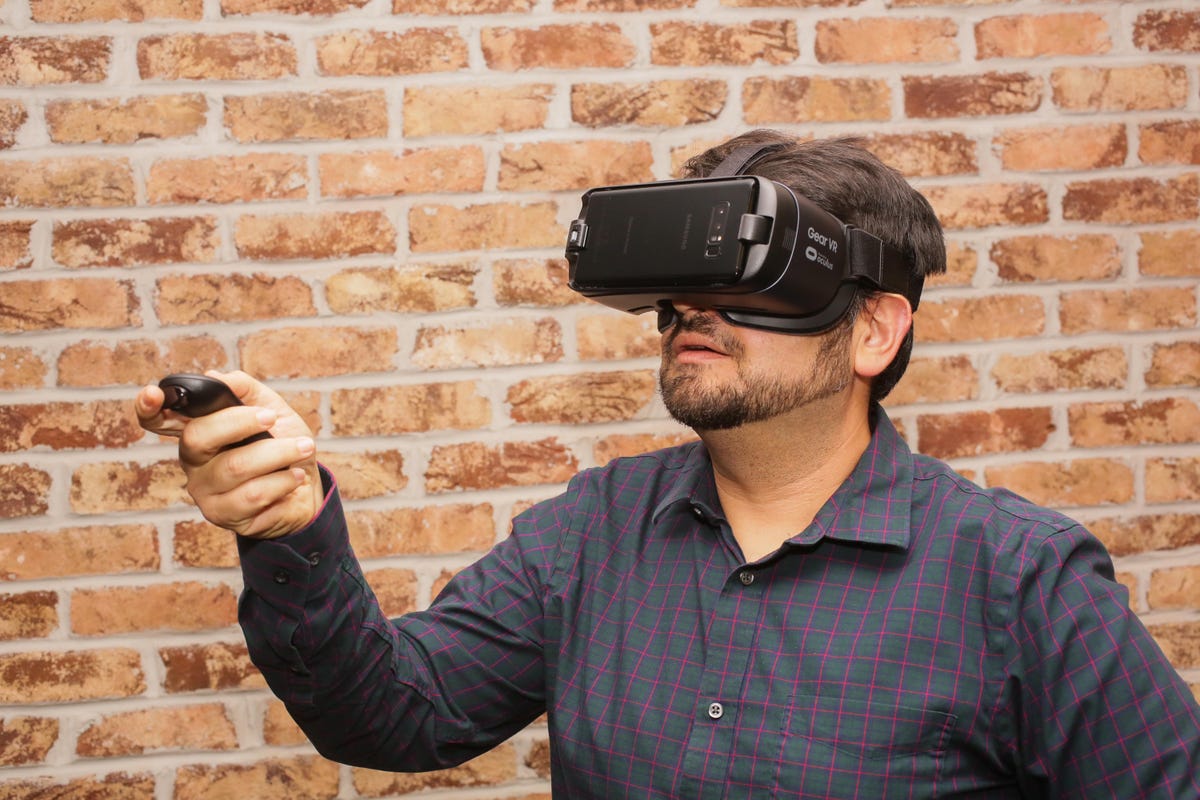 A photo of Samsung's Gear VR headset, which required a smartphone to work, from 2017.

Sarah Tew/CNET

It's already shaping up to be a big year for virtual and augmented reality headsets. Apple is expected to introduce a VR headset, and the PlayStation VR 2 and HTC Vive XR are coming next month. Samsung has been surprisingly absent from the VR space in recent years, and these developments make me wonder if that will soon change. 
A report from the ETNews suggests that may indeed be the case. The Korean news site reported in December that Samsung would release an extended reality headset for developers in 2023, according to an English translation of the story. Extended is abbreviated as "XR" in the story, hinting that this headset may blend aspects of virtual and augmented reality.
A new type of Galaxy foldable
Samsung showcased its display concepts at CES 2023.

David Katzmaier/CNET

Samsung hasn't mentioned plans for future foldables beyond the Galaxy Z Fold and Galaxy Z Flip series, but it certainly has plenty of ideas to choose from. At CES 2023, Samsung showcased its line of "Flex" display concepts, including the appropriately named Flex Hybrid. That device has a foldable, tablet-size screen that extends by sliding out when opened to provide even more screen space.
The Flex Hybrid caught my eye, though, because I can understand the potential behind foldable tablets. Tablets are inherently larger than phones, so the ability to make them more portable by folding them in half seems more necessary. Tablets are also usually used as secondary devices for tasks like watching movies, reading, or getting work done. Having a display that could morph to fit different circumstances seems interesting. 
It's unclear whether any of these will graduate into real products. But it's important to remember the Galaxy Z Fold started as a concept, too. 
Galaxy Watch 6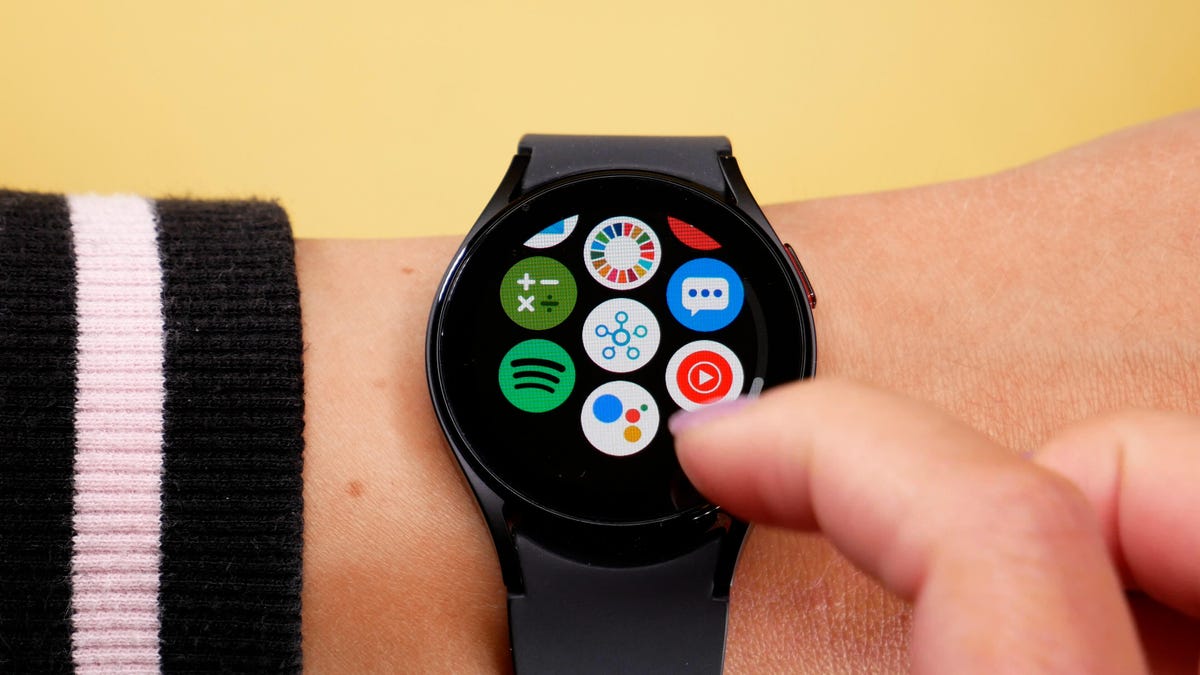 The Galaxy Watch 5

Lexy Savvides/CNET

Samsung hasn't mentioned anything about its future smartwatch plans, and there haven't been any leaks or rumors about the Galaxy Watch 6 yet. But if the company follows its usual schedule, we should see new Galaxy Watches in August. They will likely have the same health sensors found in the Galaxy Watch 5 and 5 Pro, which include those for measuring body composition, blood oxygen and taking an ECG among others. There's also a skin temperature sensor that still isn't active yet in the Galaxy Watch 5 and Watch 5 Pro. 
Samsung's Exynos W920 chip that powers the Galaxy Watch 5, enabled better performance for 3D graphics like emoji avatars and faster app launches. It's unclear whether Samsung will develop a new chip for the Galaxy Watch 6, but I hope to see longer battery life regardless. Since Apple and Qualcomm have both made efforts to expand the functionality of smartwatches in low-power mode, it wouldn't be surprising to see Samsung take this route, too.
Samsung is already experimenting with different opportunities for its wearables and phones to work together in new ways. For example, it recently announced a software update for the Galaxy Buds 2 Pro that will enable the buds to capture 360-degree audio when recording video with a Galaxy phone. It also expanded the Camera Controller app for the Galaxy Watch 4 and 5 to include zooming support. Hopefully we'll see more of this with the Galaxy Watch 6. 
We'll know more about Samsung's future plans for its mobile device after its next Unpacked event on Feb. 1. But if Samsung's 2023 launch cycle is anything like last year's, we can expect to see some of these products and possibly more.