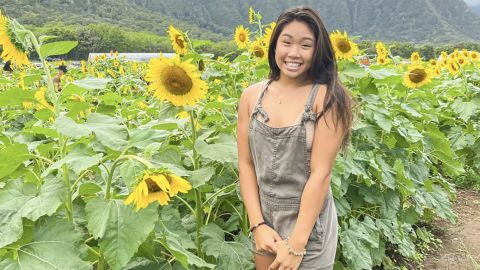 Victoria Lee's death was confirmed by her sister, Angela.
angelaleemma/Instagram

CNN
—
Victoria Lee, one of the brightest new stars in mixed martial arts (MMA), has died at the age of 18, her sister confirmed.
"She has gone too soon and our family has been completely devastated since then," her sister Angela said in an Instagram post Saturday.
"We miss her. More than anything in this world. Our family will never be the same. Life will never be the same."
Lee was born and raised in Hawaii and had started rising through the ranks of the sport.
She won three fights in her short career, most recently in September 2021 against Victoria Souza.
She put fighting on the back burner last year as she focused on graduating from high school.
In her Instagram post, Angela said her sister had died on December 26 but did not say how.
"We miss you so much sis. More than you could ever realize. We're all broken," Angela added.
"Because a piece of you was in each of us and when you left, those pieces were ripped out of us. We will never be the same."
Lee came from a family with a rich history in the sport – her sister and brother, Christian, are both ONE world champions.
'The Prodigy,' as she had become known, had previously told MMA Fighting that her siblings were her biggest inspiration.
The ONE Championship, a promotion that Lee fought in, said it was "devastated" about the news.
"I am heartbroken by Victoria Lee's passing. I first met Victoria when she was 11 years old. I watched her blossom over the years as a martial artist and a human being," ONE Championship Chairman and CEO Chatri Sityodtong said in a Facebook post.
"I always remember thinking how wise, thoughtful, and selfless she was beyond her years.
"Of course, she was an extraordinary martial arts prodigy even back then, but I could see that she was so much more than that."