All eyes will be on Rihanna for her halftime show performance at Super Bowl LVII. As the big game nears, Rihanna dropped a trailer for the show.
On Friday, a short 30-second clip was released. The video starts off showing a silhouette of the singer as she slowly walks forward. Flashes of light shine on Rihanna, as comments from different voices play in the background.
"Dude, Rihanna, we've waited for you," a voice can be heard saying in the clip. "It's been six years since the nine-time Grammy-winner dropped an album," another voice said.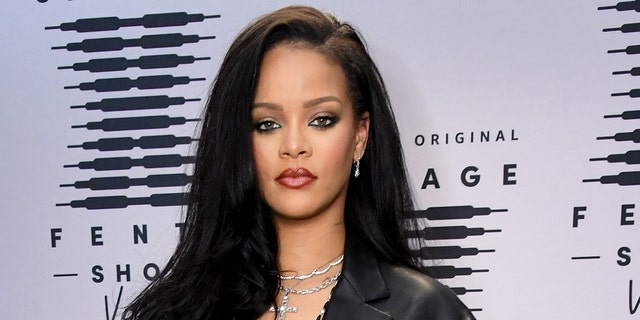 Rihanna dropped a trailer for her Super Bowl halftime show.
(Kevin Mazur)
RIHANNA GIVES BIRTH, WELCOMES FIRST CHILD WITH A$AP ROCKY
All the voices then go quiet, and Rihanna is standing in the frame wearing a bright green furry jacket as she puts her finger up to her lips signaling for silence before her 2016 hit "Needed Me" starts to play.
In September, the Savage X Fenty founder very subtly announced that she would be headlining the halftime show by posting a photo of her hand holding up a football.
"We are thrilled to welcome Rihanna to the Apple Music Super Bowl Halftime Show stage," Seth Dudowsky, NFL head of music, said in a statement per The Hollywood Reporter. "Rihanna is a once-in-a-generation artist who has been a cultural force throughout her career. We look forward to collaborating with Rihanna, Roc Nation and Apple Music to bring fans another historic Halftime Show performance."
DOWNLOAD THE FOX NEWS MOBILE APP TODAY
Shortly after that announcement, Rihanna released her first single in almost seven years, "Lift Me Up" in October. The song was featured in the 2022 movie "Black Panther: Wakanda Forever."
Rihanna will take the stage at the Super Bowl LVII halftime show on Sunday, Feb. 12.