The newly Independent Sen. Kyrsten Sinema will be up for re-election in 2024, and her Arizona seat is drawing the attention of Democrats and Republicans alike. Some GOP leaders and operatives fear that Kari Lake and Blake Masters, losers in their 2022 contests for governor and Senate, respectively, may bungle the party's chance with this prime pick-up once again if they run for Sinema's seat.
Masters, a wealthy businessman turned GOP Senate candidate, challenged incumbent Sen. Mark Kelly, D-Ariz., in one of the most watched races of the 2022 midterm elections. Masters closely aligned himself to former President Trump throughout the race but ultimately came up short in the general, losing to Kelly by 5 percentage points.
Republicans were hoping for a viable GOP candidate to win the contest by a plurality with Sinema and Democratic candidate Rep. Ruben Gallego splitting the ticket, but talk of Masters and Lake considering their own runs is sparking concern.
THESE 4 SENATORS ARE MOST LIKELY TO LOSE THEIR SEATS IN 2024
Kari Lake, right, and Blake Masters raise their arms at a campaign rally on Nov. 5, 2022 in Queen Creek, Arizona. 
(Justin Sullivan)
"Any candidate in '24 that has, as their principal campaign theme, a stolen election, is probably going to have the same issues that some of the '22 candidates had," Sen. John Thune, the Senate GOP's No. 2 leader, told Politico. "I just don't think that's where the American public is. It's a swing state — we need to have a good Republican nominee, obviously. You know, whoever gets in, I hope they focus on the future, not the past."
Lake is also rumored to be considering a potential run for Sinema's seat, but a final determination likely will not come until Lake's election lawsuit is exhausted, according to multiple reports. The MAGA firebrand lost her gubernatorial campaign by less than one point to then-Secretary of State Katie Hobbs.
Already in the 2024 race for Arizona's Senate seat is Gallego, a longtime critic of Sinema's, who announced his campaign earlier this month.
PROGRESSIVE DEM RUBEN GALLEGO TO CHALLENGE KYRSTEN SINEMA FOR HER SENATE SEAT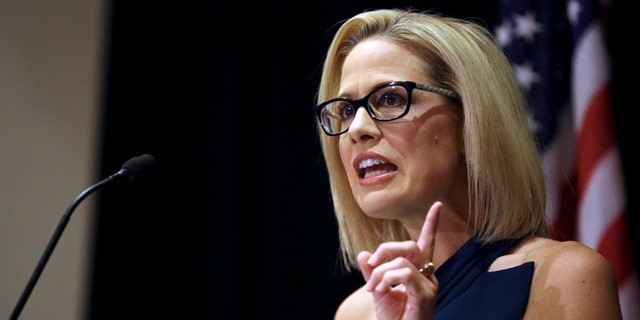 Then-Democratic candidate Kyrsten Sinema speaks to supporters after officially winning the U.S. Senate race at the Omni Montelucia resort in Scottsdale, Arizona, Nov. 12, 2018. 
(REUTERS/Caitlin O'Hara)
Former Gov. Doug Ducey, the two-term Arizona governor, has been floated as a popular, traditional Republican choice for the seat, though Ducey turned down the opportunity to run for Sen. Mark Kelly's seat.
"He's made it pretty clear he's not interested, but he'd be a great option," Thune told Politico.
CLICK HERE TO GET THE FOX NEWS APP
The 2024 Senate map strongly favors Republicans, with multiple Democrats defending seats in GOP stronghold states — West Virginia, Montana and Ohio — to hold on to their 51-49 majority.