EXCLUSIVE – Twenty Republican state attorneys general have warned CVS and Walgreens that their plan to use the mail to distribute abortion pills would violate state and federal laws, and that they could be liable if they proceed.
Missouri AG Andrew Bailey is leading the effort and said his office is doing everything in its power to warn these companies that they will use "every tool at our disposal to uphold the law."
"As Attorney General, it is my responsibility to enforce the laws as written, and that includes enforcing the very laws that protect Missouri's women and unborn children," Bailey said in a statement.
"[M[any people are not aware that federal law expressly prohibits using the mail to send or receive any drug that will 'be used or applied for producing abortion,'" the AGs warned in Wednesday letters sent to the companies.
FDA TO PERMIT SOME RETAIL PHARMACIES TO DISPENSE ABORTION PILLS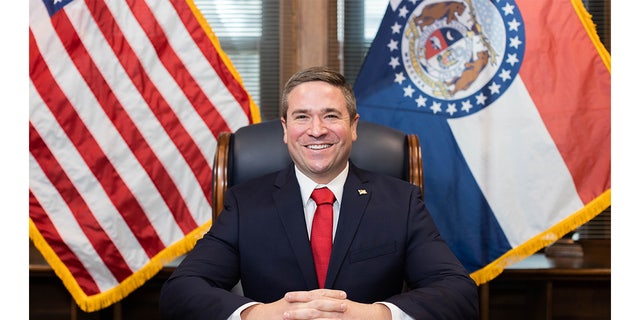 Missouri Attorney General Andrew Bailey
(Missouri Attorney General's Office)
"Although many people are unfamiliar with this statute because it has not been amended in a few decades, the text could not be clearer: 'every article or thing designed, adapted, or intended for producing abortion … shall not be conveyed in the mails.' And anyone who 'knowingly takes any such thing from the mails for the purpose of circulating' is guilty of a federal crime," they wrote.
The retailers first announced their intention after the Biden administration in early January developed a plan, which they announced over a year ago, to change a Food and Drug Administration (FDA) rule in a way that would allow companies like Walgreens and CVS to apply for a certification to distribute a two-step abortion-inducing drug.
Prior to the rule change, mifepristone, the first pill used in the two-part abortion process, could be dispensed only by some mail-order pharmacies or by certified doctors or clinics.
If the FDA grants the certification, the pharmacy will be able to dispense the pill directly to patients upon receiving a prescription from a certified prescriber.
THUNE, LANKFORD PRESSURE DEMS TO PROTECT BABIES WHO SURVIVE BOTCHED ABORTIONS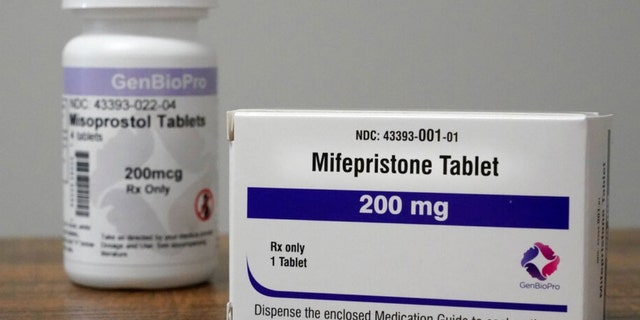 Containers of the medication used to end an early pregnancy sit on a table inside a Planned Parenthood clinic, Oct. 29, 2021, in Fairview Heights, Illinois.
(AP Photo/Jeff Roberson)
However, the attorneys general are warning that this change is an incorrect reading of what the law allows that would not stand up in court.
"We reject the Biden administration's bizarre interpretation, and we expect courts will as well. Courts do not lightly ignore the plain text of statutes. And the Supreme Court has been openly aversive to other attempts by the Biden administration to press antitextual arguments," they wrote.
"A future U.S. Attorney General will almost certainly reject the Biden administration's results-oriented, strained reading. And consequences for accepting the Biden administration's reading could come far sooner," the letters said.
The letters also point out that, like federal law, "the laws of many states also prohibit using the mail to send or receive abortion drugs."
The attorneys general note that abortion pills are "far riskier than surgical abortions," and cite a recent study by the American College of Obstetrics and Gynecologists that says that chemical abortions were 5.96 times as likely to result in a complication as first-trimester aspiration abortions.
PENNSYLVANIA JURY ACQUITS PRO-LIFE ACTIVIST MARK HOUCK ON CHARGES OF OBSTRUCTING ABORTION CLINIC ACCESS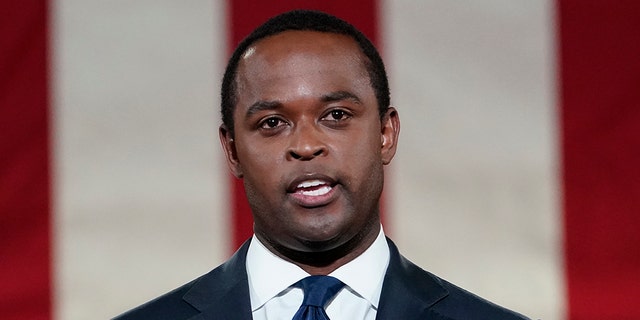 Kentucky Attorney General Daniel Cameron co-signed the Tuesday letters to Walgreens and CVS.
(AP Photo/Susan Walsh)
"Abortion pills carry the added risk that when these heightened complications invariably occur, women suffer those harms at home, away from medical help," the AGs wrote.
"And finally, mail-order abortion pills also invite the horror of an increase in coerced abortions. When abortion drugs are mailed or consumed outside a regulated medical facility, the risk of coercion is much higher — indeed, guaranteed — because there is no oversight. Outside the regulated medical context, a person can obtain an abortion pill quite easily and then coerce a woman into taking it," they said.
CLICK HERE TO GET THE FOX NEWS APP
"We emphasize that it is our responsibility as State Attorneys General to uphold the law and protect the health, safety, and well-being of women and unborn children in our states. Part of that responsibility includes ensuring that companies like yours are fully informed of the law so that harm does not come to our citizens," the AGs wrote.
The letter signed by AGs Steven Marshall of Alabama, Treg Taylor of Alaska, Tim Griffin of Arkansas, Ashley Moody of Florida, Chris Carr of Georgia, Todd Rokita of Indiana, Breanna General of Iowa, Daniel Cameron of Kentucky, Lynn Fitch of Mississippi, Drew Wrigley of North Dakota, David Yost of Ohio, Grenter F. Drummond of Oklahoma, Alan Wilson of South Carolina, Marty Jackley of South Dakota, Ken Paxton of Texas and Sean Reyes of Utah.