Remarks from Florida GOP Rep. Matt Gaetz — one of several Republicans opposed to Kevin McCarthy's bid for speaker of the House — led to an outburst from one of his GOP colleagues as he spoke on the House floor Friday.
"You only earn the position of speaker of the House if you can get the votes. Mr. McCarthy doesn't have the votes today, he will not have the votes tomorrow, and he will not have the votes next week, next month, next year," Gaetz said as he nominated Ohio GOP Rep. Jim Jordan to serve as the next speaker of the House.
'GET IT TOGETHER': THE WILDEST MOMENTS FROM THE HOUSE FLOOR DURING DAYS-LONG SPEAKER BATTLE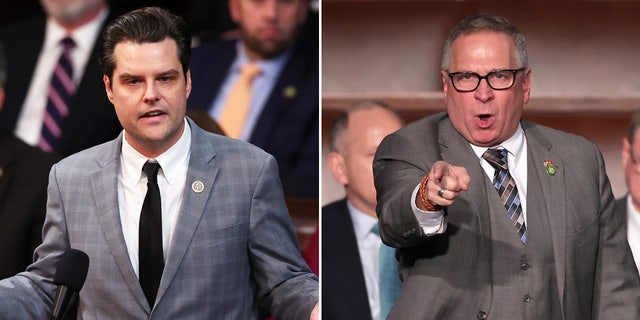 GOP House Reps. Matt Gaetz of Florida and Mike Bost of Illinois.
(Win McNamee via Getty Images)
"And so, one must wonder, madam clerk, is this an exercise in vanity for someone who's done the math, taken the counts, and is putting this institution through something that is absolutely avoidable," he added.
Gaetz's remarks were met with groans from his Republican colleagues who were sitting around him during the nomination process.
In opposition to Gaetz's comments, GOP Rep. Mike Bost of Illinois arose and shouted across the chamber at Gaetz as he pointed his finger.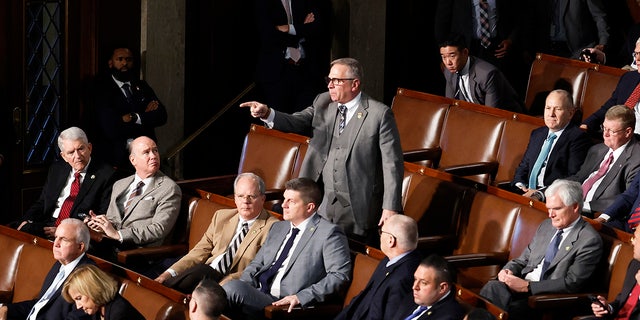 GOP Rep.-elect Rep. Mike Bost of Illinois yells out as Rep.-elect Matt Gaetz, R-Fla., delivers remarks in the House Chamber during the fourth day of elections for Speaker of the House at the U.S. Capitol Building on January 06, 2023 in Washington, DC.
(Chip Somodevilla/Getty Images)
FIVE REPUBLICANS WHO HAVE SAID THEY WILL NOT SUPPORT KEVIN MCCARTHY'S BID FOR SPEAKER
Bost was interrupted by the House clerk, who called the House to order as Bost remained standing and shouting.
While it is unclear exactly what Bost said to Gaetz, several Republicans vacated their seats shortly after the comments were made and headed toward the back of the chamber as Gaetz continued speaking.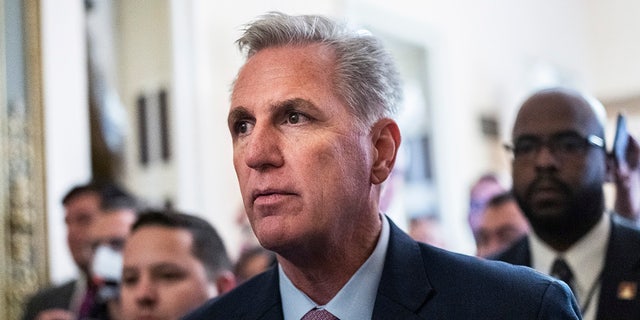 Republican Leader Kevin McCarthy, R-Calif., makes his way to the House floor before a vote for Speaker of House on Friday, January 6, 2023.
(Tom Williams/CQ-Roll Call, Inc via Getty Images)
CLICK HERE TO GET THE FOX NEWS APP
During the 12th vote held for House speaker on Friday, over a dozen Republicans who had previously withheld support for McCarthy — including Rep. Byron Donalds of Florida, Rep. Chip Roy of Texas, and Rep. Dan Bishop of North Carolina — voted for him to become the next speaker.
McCarthy still was not able to grasp the required 218 votes needed to obtain the speakership according to the unofficial tally. A 13th vote by House members could be held on Friday.