It has been three days since the 118th Congress convened for the first time, and the House of Representatives still lacks a speaker as several Republicans have said they will not support the GOP frontrunner.
As of Friday, a total of 20 Republicans continue to vote against GOP Leader Kevin McCarthy of California, preventing him from obtaining the speaker's gavel and kickstarting business in the House.
The House of Representatives held three votes on Tuesday, three votes on Wednesday and five votes on Thursday, but each failed to have a candidate reach the 218-vote threshold to lead the chamber.
Of the 20 Republicans who have refused to put their support behind McCarthy in previous votes, a handful of them — including Florida GOP Rep.-elect Matt Gaetz and Arizona GOP Rep.-elect Andy Biggs — have pledged not to support McCarthy at all. Meanwhile, other holdouts like Texas GOP Rep.-elect Chip Roy are working to negotiate a deal with McCarthy.
HOUSE SPEAKER VOTE: HERE ARE THE 21 REPUBLICANS WHO AREN'T VOTING FOR MCCARTHY
The number of Republicans who have said they would not vote for McCarthy is crucial. While some of the Republicans who previously voted against McCarthy switched their votes in Friday's first round of voting, with the GOP's narrow majority McCarthy can only afford to lose four Republican votes against him. If enough members vote "present," however, it could lower the threshold for McCarthy to clinch the majority of the vote.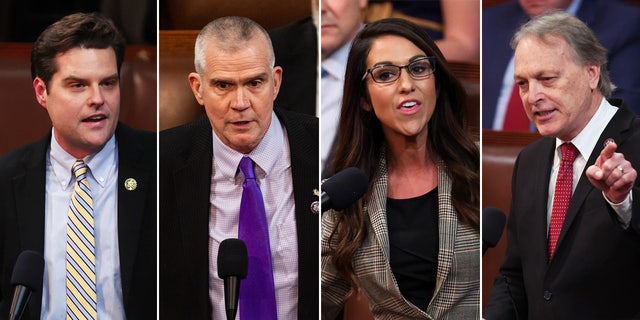 From left to right: GOP Rep.-elects Matt Gaetz of Florida, Matt Rosendale of Montana, Lauren Boebert of Colorado, and Andy Biggs of Arizona.
(Win McNamee, Eric Lee/Bloomberg via Getty Images)
During an appearance on Fox News Channel Thursday night, Gaetz, who has represented Florida's 1st Congressional District since 2017, told host Laura Ingraham that he would not bet on his "vote for Kevin McCarthy under almost any circumstance."
Gaetz's comments align with comments he made earlier this week. On Wednesday, Gaetz referred to McCarthy as a "desperate guy" and insisted that he is willing to vote "all night, all week, all month" against him.
Biggs, in alignment with Gaetz, said Monday that he is not willing to help McCarthy reach the required 218 votes, writing in a tweet, "I do not believe he will ever get to 218 votes, and I refuse to assist him in his effort to get those votes."
"In the end, I must concur with my constituents: it is time to make a change at the top of the House of Representatives. I cannot vote for the gentleman from California, Mr. McCarthy," Biggs wrote in an opinion piece for American Greatness.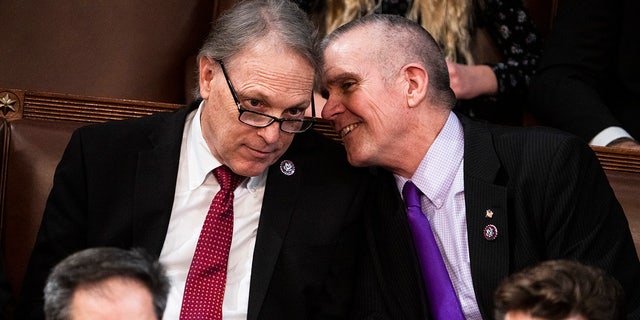 Rep.-elects Andy Biggs, R-Ariz., left, and Matt Rosendale, R-Mont., are seen on the House floor during a vote in which House Republican Leader Kevin McCarthy, R-Calif., did not receive enough votes to become Speaker of the House on Thursday, Jan. 5, 2023.
(Tom Williams/CQ-Roll Call, Inc via Getty Images)
Other dissenters — including Virginia GOP Rep.-elect Bob Good, Colorado GOP Rep.-elect Lauren Boebert, and Montana GOP Rep.-elect Matt Rosendale — have also made similar remarks this week, suggesting that they can not be brought to support McCarthy's bid for speaker.
ANTI-MCCARTHY REPUBLICANS, DEM LEADER JEFFRIES FUNDRAISE OFF OF STALLED HOUSE SPEAKER VOTE
Good, who represents Virginia's 5th Congressional District, said Thursday that he will "never" vote for McCarthy as speaker.
"I'm absolutely a no. You don't ever have to ask me again if I'm a no," Good told reporters outside the Capitol. "Never have to ask me again if I'm a no Kevin McCarthy. I will never vote for Kevin McCarthy."
LIVE UPDATES: THE VOTE FOR HOUSE SPEAKER
Boebert has also stated she will not support McCarthy, saying during an appearance Wednesday on Fox News Channel that she will not do so even if she is the last Republican who opposes his nomination.
"I am not going to support Kevin McCarthy," Boebert, who represents Colorado's 3rd Congressional District, told host Sean Hannity. "If I am the last person standing, which I don't believe I will be, I will not…"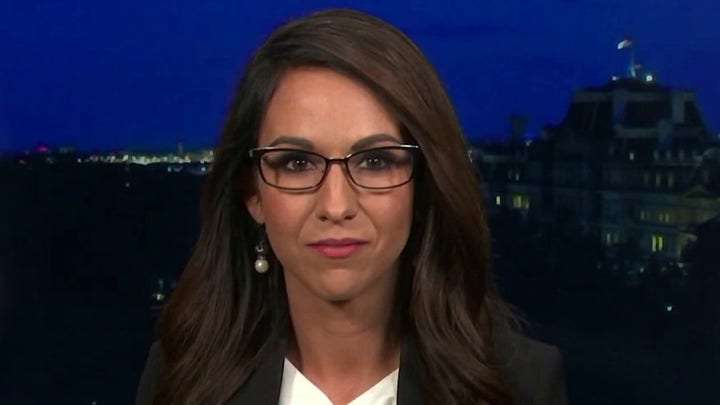 Video
In similar agreement, Rosendale, who represents Montana's 2nd Congressional District, has also ruled out voting for McCarthy.
Rosendale, according to a report from Semafor, has stated he will oppose any nomination for speaker who has been a part of GOP leadership in the House within the last 10 years.
CLICK HERE TO GET THE FOX NEWS APP
As House business remains stalled, Gaetz and Biggs issued emails this week to supporters calling for donations amid their fight to prevent McCarthy from obtaining the speaker's gavel.
McCarthy and House Freedom Caucus lawmakers blocking his bid for speaker of the House have not yet reached an agreement to end the four-day stalemate, but sources familiar tell Fox News that they are making "progress" and that negotiations are in a "good spot."
Fox News' Brooke Singman and Lawrence Richard contributed to this article.