House Minority Leader Kevin McCarthy Friday is on pace to receiver fewer than the 218 votes he needs to become House speaker for the 12th consecutive time this week.
But in a sign he might be turning the tide, he picked up some votes from GOP lawmakers who have voted against him all week. He picked up Reps.-elect Dan Bishop of North Carolina, Josh Brecheen of Oklahoma, Michael Cloud of Texas, Andrew Clyde of Georgia and Byron Donalds of Florida as voting continued.
Those pickups are a sign he could be inching closer to the speaker's gavel as GOP holdouts digest a rules package he offered this week.
McCarthy has offered several changes to the way the House is run that were demanded by hard-line members of the House Freedom Caucus.
Those changes include allowing just one member to make a motion to vote for a new speaker, guaranteed votes on term limits and a balanced budget, and ensuring members of the House Freedom Caucus are allowed to participate in key House committees, including the Rules Committee that sets the terms of debate and voting on legislation.
KEEPING MCCARTHY IN CHECK EASIER WITH NARROW GOP MAJORITY: FREEDOM CAUCUS MEMBER
With just 222 Republicans coming into the House this year, he can only afford to lose four GOP votes, and as voting continued, at least five had voted for another candidate.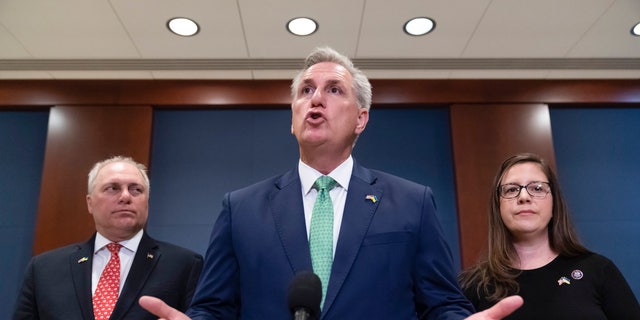 Kevin McCarthy is on pace to fall short again in the 12th vote for speaker, as Republicans continue to search for a deal that would get him 218 votes.
(AP Photo/Alex Brandon)
McCarthy has been holding steady at 201 votes in the last several House votes this week. He fell to 200 votes on Thursday when one of his supporters, Rep.-elect Ken Buck of Colorado, had to return home for a routine medical appointment. A handful of other missing Republicans might lower McCarthy's number further on Friday.
Two McCarthy supporters were not present for the twelfth round ballot. Rep.-elect Wesley Hunt, R-Texas, announced he would miss Friday votes as he is flying home to visit his wife who delivered their child this week. Buck's team confirmed that he would not be present for the Friday noon vote.
But McCarthy's supporters are hopeful that he will soon begin to expand his vote total, as House Republicans examine his proposed rules package for the 118th Congress.
House Republicans held a phone call Friday morning to discuss McCarthy's proposed changes. While several members said the proposal is one that could put McCarthy over the top at some point, it may require several days.
THE VOTE FOR HOUSE SPEAKER: LIVE UPDATES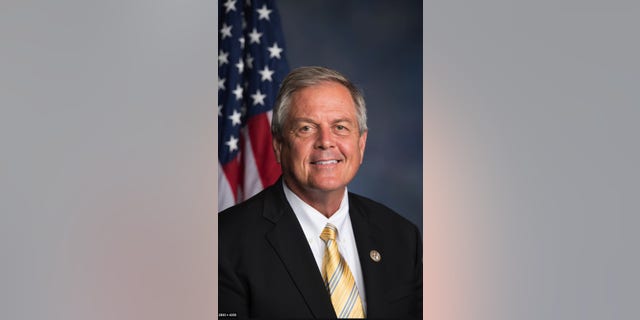 Rep. Ralph Norman, R-S.C., is one of several Republicans who have been voting against Kevin McCarthy.
(Handout)
McCarthy late Thursday said talks may continue through the weekend, which means occasional voting on the House floor could continue as those talks take place, possibly during the weekend.
"We shouldn't leave," McCarthy told Punchbowl News. "Why should we leave if we haven't got our work done?"
One lawmaker who has so far been voting against McCarthy, Rep.-elect Ralph Norman of South Carolina, agreed that work over the weekend would likely be needed. When asked about the possibility of weekend work, Norman said, "probably, yes."
GOP DEAL EMERGES LATE THURSDAY THAT COULD GIVE MCCARTHY A PATH TO THE SPEAKERSHIP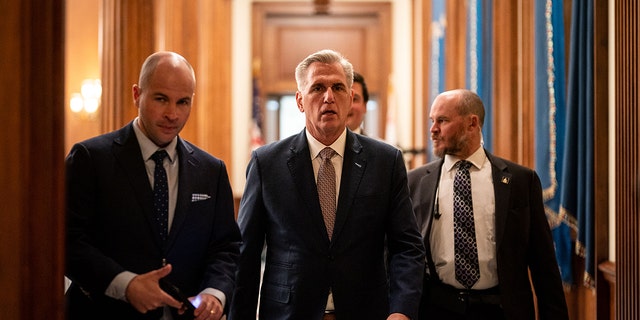 Kevin McCarthy, R-Calif., is hopeful that an emerging deal can get him the votes he needs to be House speaker.
(Kent Nishimura / Los Angeles Times via Getty Images)
Even if the deal does give McCarthy the votes he needs, it's unclear when that support will start to be reflected in votes on the House floor. Some believe the deal might soon deliver McCarthy up to a dozen votes, which would put McCarthy just a handful of votes away from securing 218.
CLICK HERE TO GET THE FOX NEWS APP
At that point, McCarthy and his allies would begin the work of trying to pick off enough "no" votes to win a majority, or possibly to convince some of his remaining opponents to vote "present" on the floor, which would count as a non-vote and lower the minimum number of votes he would need to secure a majority.