Texas Senator Ted Cruz urged Republicans to avoid personal attacks in the ongoing leadership fight in the House, chastising his fellow Texan Rep.-elect Dan Crenshaw for using the word "terrorists" to describe the 20 GOP holdouts who have refused to throw their support behind Kevin McCarthy, R-Calif.
On Friday's episode of the "Verdict with Ted Cruz" podcast, the senator warned that "overheated rhetoric" would not help the party reconcile and unite behind a leader in the House.
"My view is settle down. This will work out and it'll be fine," Cruz said. "That kind of overheated rhetoric, calling people 'terrorists,' is not terribly conducive to anything resembling Republican unity. It's not conducive to having strong leadership for the next two years in the House, engaging in vitriol and personal attacks."
Tensions in the House are running high as a small group of House Freedom Caucus lawmakers have blocked McCarthy from becoming speaker by voting for other candidates. The House has voted 11 times since Tuesday and has yet to elect a speaker, preventing lawmakers from conducting other business. Ahead of a 12th vote Friday, McCarthy has yet to strike a deal with the rogue 20 that would win him enough support to become speaker.
MCCARTHY FAILS TO REACH DEAL WITH OPPONENTS AS SCHEDULED NOON VOTE APPROACHES
Sen. Ted Cruz, R-Texas, speaks during the Leadership Forum at the National Rifle Association Annual Meeting at the George R. Brown Convention Center Friday, May 27, 2022, in Houston.
(AP Photo/Michael Wyke)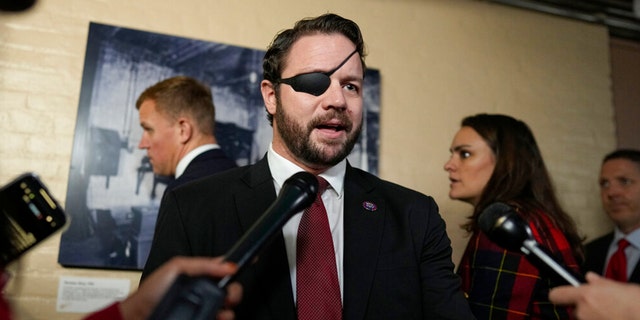 Rep.-elect Dan Crenshaw, R-Texas, speaks to media on Capitol Hill on the opening day of the 118th Congress at the U.S. Capitol in Washington, Tuesday, Jan 3, 2023.
(AP Photo/Carolyn Kaster)
MCCARTHY ALLY SAYS SPEAKER FIGHT 'VERY PERSONAL' FOR GAETZ, BUT THAT HIS ACTIONS 'DAMAGING' AMERICA
The holdouts have various reasons for opposing McCarthy. Some, like Rep. Chip Roy, R-Texas, have made arguments for rule changes that would return the House to regular order on appropriations and spending bills. Others have reportedly demanded important committee assignments, and still others, like Rep. Matt Gaetz, R-Fla., are simply "never Kevin."
The vocal minority's opposition has infuriated the 200 other Republicans backing McCarthy for speaker. On Wednesday, Crenshaw blasted the holdouts, accusing them of looking for a "scalp" and saying the response from the rest of the conference must be "we won't vote for anyone but McCarthy."
CHANCES 'LOW' HOUSE SPEAKER DRAMA ENDS SOON, ZERO VOTES MAY BE SWAYWED AFTER MCCARTHY TALKS: SENIOR GOP SOURCE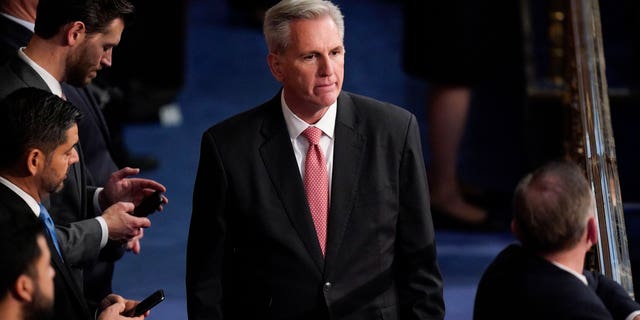 Rep.-elect Kevin McCarthy (R-Calif.) prepares for a ninth round of voting for speaker during a meeting of the 118th Congress, Thursday, Jan. 5, 2023, at the U.S. Capitol in Washington, D.C.
(Jabin Botsford/The Washington Post via Getty Images)
"That's why we're saying it, because we cannot let the terrorists win," Crenshaw told Fox News radio.
CLICK HERE TO GET THE FOX NEWS APP
His use of the word "terrorists" drew criticism from Fox News host Tucker Carlson and others, but Crenshaw defended the term as "a figure of speech."
"Unclutch your pearls. It's a figure of speech. You can't insult, slander, and hold everyone hostage with no way out – and not expect me to punch back," he tweeted Wednesday. "Grow thicker skin."