close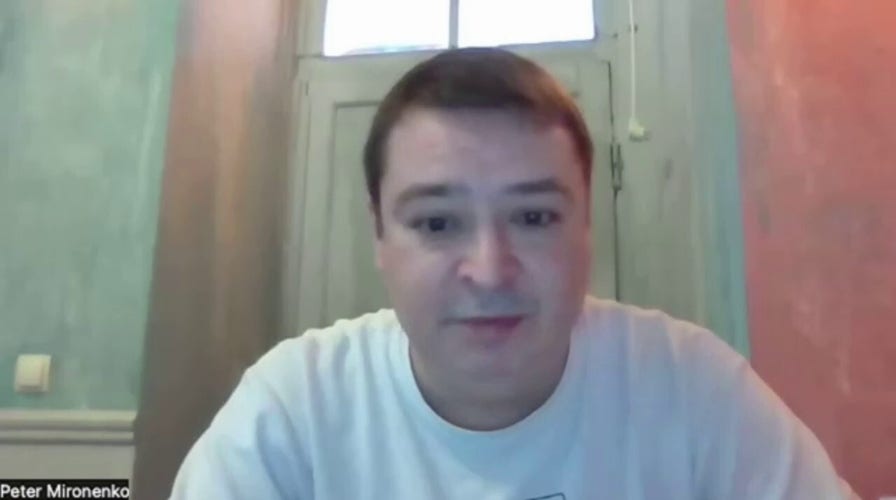 Video
Russia's wartime economy
How has Russia's economy faired under sanctions? Fox News correspondent Amy Kellogg interviewed a Russian expert on how the Kremlin has dealt with the crippling sanctions.
There was hope the unprecedented and severe Western sanctions slapped on Russia after it invaded Ukraine would prompt Moscow to cave to pressure and change course. That hasn't happened yet, and, on the surface and for now, Russia is getting by.
President Vladimir Putin may not have managed to adequately feed or arm his troops, but as we saw in his recent State of the Union address, he has grandiose plans for projects like roads, schools and housing all to be upgraded and expanded in 2023. Such promised largesse is apparently part of the master plan Putin has had since the beginning.
"The regime has tried to do everything — especially in the first few months of the war — so people in the big cities especially wouldn't feel the country is at war," said Peter Mironenko, editor of one of Russia's top independent economic outfits The Bell, adding it is still a crime for Russian journalists to call it war.
"Prices did go higher last year in Russia, surely, but they got higher in Europe too," Mironenko added. He explained that most Russians are not particularly feeling the pinch. Despite expectations Russia's economy would tank last year, growth was only down 3%, and the International Monetary Fund expects modest growth this year.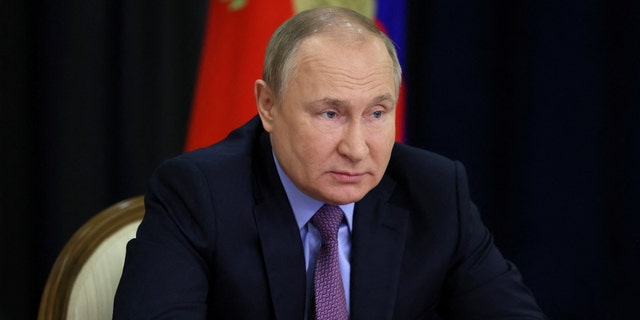 Russian President Vladimir Putin chairs a meeting on the country's transport industry via video link in Sochi, Russia, May 24, 2022.  (Sputnik/Mikhail Metzel/Kremlin via Reuters)
PUTIN ISSUES NUCLEAR WARNING AS RUSSIA'S ASSAULT ON UKRAINE HITS SECOND YEAR
Putin in his speech boasted minimum wages had gone up 20% in 2022 and would go up another 18% this year. Loans will be handed out like candy if his words are true.
For now, it seems, Russia can pay for its war, so far boosted by its oil revenues. Energy prices rose in 2022. Russia raked in over $200 billion for it last year. Through various schemes, however, a significant amount of petrol revenue is landing in the private sector. A mere detail, Mironenko says. He said the state is already shaking companies down for some of their profits to help with the bottom line. And those companies are in no position to decline.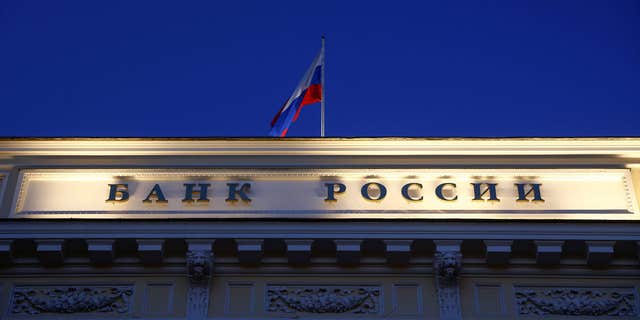 The Bank of Russia  (REUTERS/Maxim Shemetov)
Russia's deficit is growing in recent months — "whopping" was the word Mironenko used in our conversation. But its reserves remain large to the tune of at least $120 billion and public debt is low, he says.
But there are two sides to every kopek, and there are cracks in the edifice. Putin claims Russia's relative economic success during trying circumstances is not down to printing money, but Mironenko says the treasury effectively is doing that while cleverly keeping it from flowing too quickly into the economy to further drive prices up.
Russian President Vladimir Putin talks to Chinese President Xi Jinping during a meeting on the sidelines of the Shanghai Cooperation Organisation (SCO) summit in Samarkand, Uzbekistan Sept. 15, 2022.   (Alexandr Demyanchuk, Sputnik, Kremlin Pool Photo via AP)
The Russian president also made a big deal about record unemployment, which Mironenko points out is actually a problem when you consider it has a lot to do with the massive brain drain caused by the war. Conservatively, 500,000 to 700,000 Russians have left since February 2022. Some suggest it's more like a million.
"The recent emigration was of highly educated and professional people, and it will create enormous problems for the labor market," Mironenko says. "It is very tight. There was also a loss of manpower due to mobilization. So, employers are having real trouble finding people."
SENIOR RUSSIAN OFFICIAL THREATENS POLISH BORDERS AS MOSCOW MOUNTS AGGRESSION AGAINST OTHER EUROPEAN NATIONS
Mironenko says that there are supply chain problems and cites massive delays recently in the issuing of biometric passports because there is just one factory in Russia that produces the chips they require. Before the war, Russia could outsource some of the production, but no more. Imported consumer goods, however, are still finding their way in.
Sanctions, it seems, will take a bit more time to have a real and visible impact on Russia.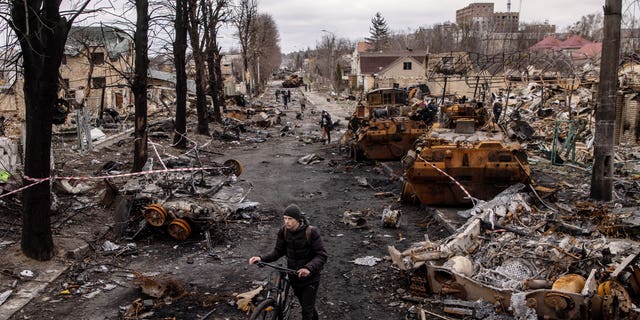 A man pushes his bike through debris and destroyed Russian military vehicles on a street April 6, 2022, in Bucha, Ukraine.  (Chris McGrath/Getty Images)
CLICK HERE TO GET THE FOX NEWS APP
"They didn't destroy the Russian economy at once but have put it on a path of long and slow stagnation," Mironenko said. "We have this figure of minus 3% growth in 2022, but the GDP was expected to rise by 3%.
"So, we are actually talking about a difference of 6% and not minus 3. And if you have ten years of economic growth or decline like this when the world economy is rising by 3 or 4% a year, this would put Russia into a bad state. But it won't be quick."
Amy Kellogg currently serves as a correspondent based in Milan. She joined FOX News Channel (FNC) in 1999 as a Moscow-based correspondent. Follow her on Twitter: @amykelloggfox