close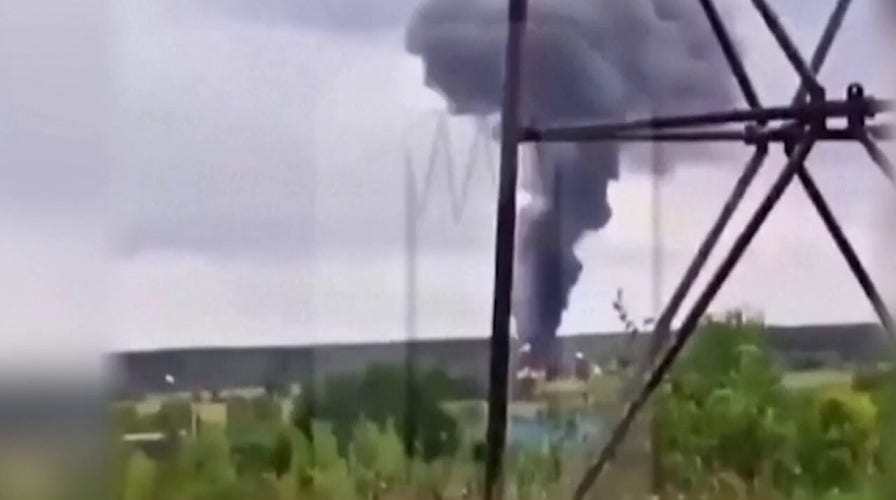 Video
U.S. officials do not believe Prigozhin's plane was taken down by a surface-to-air missile
Fox News chief national security correspondent Jennifer Griffin has the latest after Wagner mercenary leader Yevgeny Prigozhin's plane crashed inside Russia, on 'Special Report.'
Belarusian President Alexander Lukashenko claimed he had warned Wagner chief Yevgeny Prigozhin to watch his back following his brief mutiny against the Russian military that ultimately led to his apparent demise this week.
"I told him: 'Yevgeny, do you understand that you will doom your people and will perish yourself?'," Lukashenko told Prigozhin, according to Belarusian state news agency BELTA.
Outlets have variously reported Prigozhin's response to this warning as "To hell with it – I will die," "I will die then, damn it!" and "To hell with it, let me be killed!"
"I told him: 'Yevgeny, I will send you a rope and a piece of soap right now'," Lukashenko continued, to which he claimed Prigozhin said, "No, no, no. I don't want it this way. I will die a hero."
WHO IS YEVGENY PRIGOZHIN?
The comment about rope and soap is an apparent Russian idiom that refers to preparing a noose for hanging – or that Prigozhin should just hang himself now, an expert told Fox News Digital.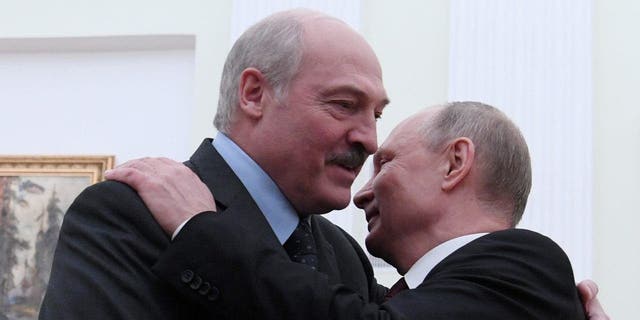 Russian President Vladimir Putin (R) embraces his Belarussian counterpart Alexander Lukashenko during a meeting in Moscow, Russia December 29, 2018. Kirill Kudryavtsev/Pool via REUTERS (Kirill Kudryavtsev/Pool via REUTERS)
Lukashenko claimed he later told Prigozhin and Dmitry Utkin, another Wagner leader, to "watch out" when they visited him. BELTA did not specify when the second conversation may have occurred.
Prigozhin agreed to leave Russia for Belarus following his mutiny in June, during which he marched his mercenary forces towards Moscow and stopped some 150 miles from the city to discuss terms of a surrender with Lukashenko, who negotiated on behalf of Russian President Vladimir Putin.
KREMLIN DENIES TAKING DOWN PLANE ALLEGEDLY CARRYING WAGNER WARLORD WHO CROSSED PUTIN: 'ABSOLUTE LIE'
But the mercenary warlord continued to move around in Russia even after agreeing to live out his time in exile. He met his apparent end when his plane crashed following an explosion, in which Russia has denied any involvement.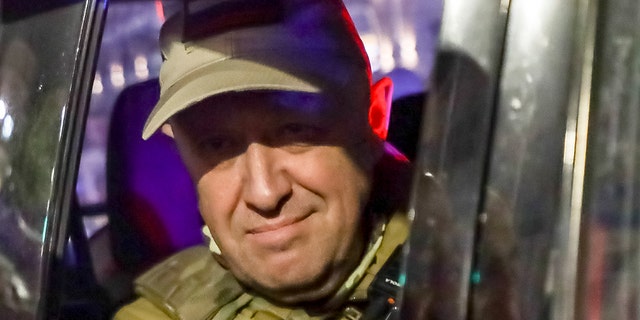 Yevgeny Prigozhin, the owner of the Wagner Group military company, looks from a military vehicle leaving an area of the HQ of the Southern Military District in a street in Rostov-on-Don, Russia, on June 24, 2023. (AP Photo, File)
The plane departed Moscow for the city of St. Petersburg, where Prigozhin had a residence, which he had visited just days after his "exile" to Belarus started.
The Pentagon on Thursday said that its "initial assessment" determined that "it's likely Prigozhin was killed," but it could not comment on whether his death was part of a deliberate assassination.
PRIGOZHIN'S SECOND-IN-COMMAND, LOGISTICS CHIEF AMONG PASSENGERS ON CRASHED PLANE, MANIFEST REVEALS
Lukashenko also revealed that Prigozhin never asked for any increased security during his time in Belarus or return to Russia.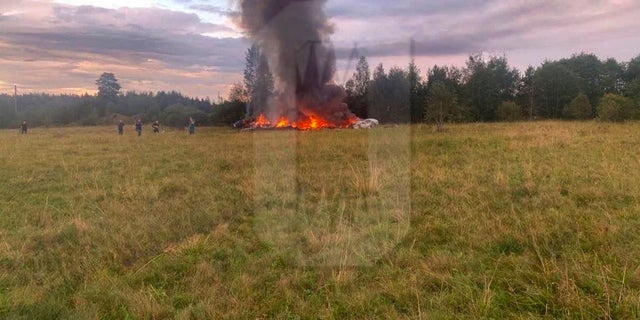 This image released by Ostorozhno Novosti on Wednesday, August 23, 2023, shows the crash site of a private jet near the village of Kuzhenkino, Tver Region. Officials say a private jet has crashed over Russia, killing all 10 people on board. Mercenary chief Yevgeny Prigozhin was on the passenger list, but it wasn't immediately clear if he was on board. (AP)
"I suggested it," Lukashenko explained, saying he made the offer during his private negotiations following the mutiny. "I said: 'If you are afraid of something, I will talk to President Putin, and we will extract you to Belarus. We guarantee full security to you in Belarus.'"
"Credit where credit is due, Yevgeny Prigozhin has never asked me to separately pay attention to security matters," he stressed.
Lukashenko offered the anecdote as an explanation for how he failed to fulfill his security promises to Prigozhin, adding that it is unfair to expect him to "ensure Prigozhin's safety in Africa" or while he was in Russia.
CLICK HERE TO GET THE FOX NEWS APP
"This is why I am not the guy you should be asking to answer these questions," he insisted. "Moreover, we've never had this conversation. About ensuring security in someone else's territory."
Rebekah Koffler, president of Doctrine & Strategy Consulting and a former Defense Intelligence Agency officer, argued that Lukashenko is likely trying to "whitewash" his conversations and better protect himself from criticism, saying, "There was no deal that Lukashenko could make to ensure Prigozhin's safety" or "go against Putin."
Peter Aitken is a Fox News Digital reporter with a focus on national and global news.