close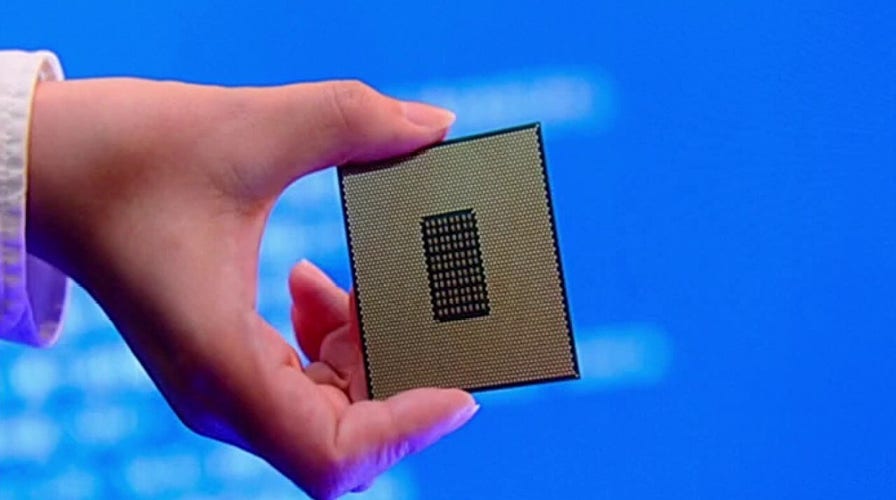 Video
Global chips market: What is the impact of China threats on manufacturing?
Fox News host Bret Baier has more on U.S. and its allies efforts to increase semiconductor manufacturing on 'Special Report.'
The United Kingdom has pledged to spend 100 million pounds (or $125.8 million) on buying and developing computer chips necessary for artificial intelligence (AI) systems in a move that seeks to cement Britain as a global leader in the sector, but experts worry it is not enough to match the competitive market.
"The U.K. has a valuable perspective on AI development – sitting between the U.S. free-for-all position and the EU regulatory approach – that makes it the perfect venue for the first international AI global safety conference," Alan Mendoza, co-founder and executive director of the Henry Jackson Society, told Fox News Digital.
British Prime Minister Rishi Sunak plans to build thousands of high-powered artificial intelligence chips, building on a deal struck between the U.K. and U.S. during his state visit in June when he and President Biden signed the "Atlantic Declaration."
The White House touted the agreement as something that would ensure that the "unique alliance is adapted, reinforced and reimagined for the challenges of this moment," including the "handful of critical and emerging technologies" such as AI that are "forming the backbone of new industries and shaping our national security landscape."
WHAT IS ARTIFICIAL INTELLIGENCE (AI)?
One of the key points noted in the agreement focuses on "accelerating cooperation on AI," including support for Britain's Global Summit on AI Safety and greater cooperation on critical minerals needed to build computer chips needed for AI tech and platforms.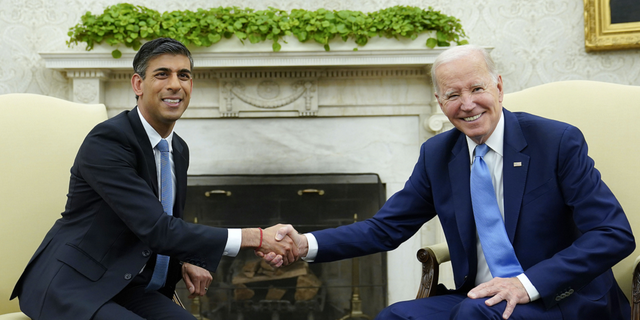 President Biden and British Prime Minister Rishi Sunak shake hands in the Oval Office of the White House on June 8, 2023. (AP/Susan Walsh)
The first step of the effort reportedly will see the U.K. Research and Innovation group purchase 5,000 graphics processing units (GPU) from hardware maker Nvidia. A government review found fewer than 1,000 high-end Nvidia chips available to researchers during the initial AI boom that occurred earlier this year.
An official briefed on Britain's plans to create a national AI resource using taxpayer money claimed the money will likely not be enough to compete with the likes of similar projects in the U.S. and China. The U.K. accounted for .5% of global revenue from semiconductor sales in 2020 but with 7% of the demand over the coming years, with officials planning to meet that demand in that time.
6 ARRESTED FOR LOAN FRAUD SCHEME THAT USED ARTIFICIAL INTELLIGENCE DEEPFAKES
Mendoza similarly bemoaned Britain's lukewarm commitment, insisting that if Sunak seriously intended to compete or even stay ahead of international competition, he would "do well to remember the old adage: Go big or go home."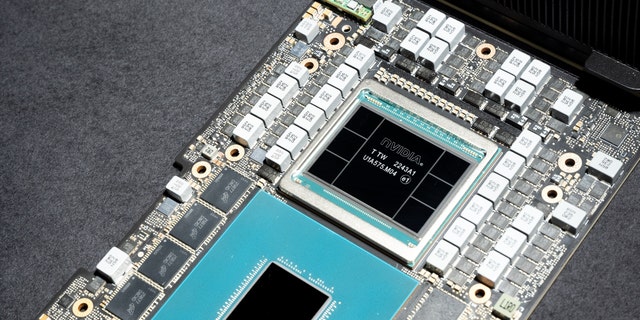 A Nvidia GH200 Grace Superchip arranged at the company's headquarters in Santa Clara, California, on June 5, 2023. (Marlena Sloss/Bloomberg via Getty Images)
"Spending just 100 million pounds for chip development at a time when rivals are spending multiples on a regular basis does not suggest that the U.K. intends to secure AI superpower basis," Mendoza stressed.
Civil servants have started pushing Britain's Chancellor of the Exchequer Jeremy Hunt to allocate further funds toward the effort over the coming months, The Telegraph reported. Officials noted that the money Sunak has most recently earmarked for AI chip acquisition and development is separate from the 100 million pound task force that will conduct safety research into AI systems.
PROFESSIONALS SEE 'TRANSFORMATIVE' IMPACT FROM AI IN NEXT 5 YEARS
A government spokesperson told The Guardian that officials remain "committed to supporting a thriving environment for compute in the U.K. which maintains our position as a global leader across science, innovation and technology."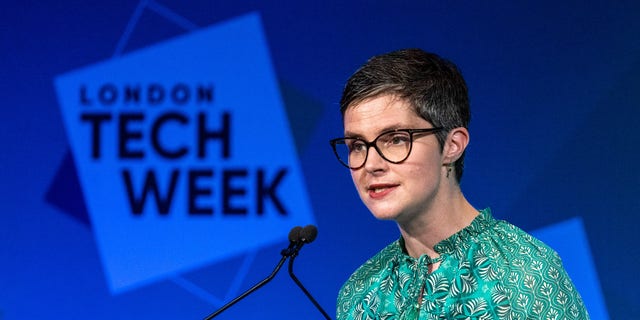 Chloe Smith, acting U.K. science, innovation and technology secretary, speaks at the London Tech Week conference on June 14, 2023. (Carlos Jasso/Bloomberg via Getty Images)
"The additional money being delivered through UKRI (U.K. Research and Innovation) will complement the separate £100m investment to establish the Foundation Model Taskforce. Announcements on the AI Research Resource will follow in due course," the spokesperson added.
CLICK HERE TO GET THE FOX NEWS APP
The gold-rush effort to buy up chips and improve the capability to develop AI platforms has increased pressure on nations unwilling to do business with every supplier, such as those in China: The U.S. has banned investment in Chinese semiconductors and chips, and China declared U.S. chips from Micron a security risk.
Reuters contributed to this report.
Peter Aitken is a Fox News Digital reporter with a focus on national and global news.