Progressive Rep. Ro Khanna, D-California, said Sunday that he agrees with Supreme Court Justice Neil Gorsuch's ruling on Title 42 ahead of President Biden's first ever visit to the U.S.-Mexico border.
"Fox News Sunday" host Shannon Bream noted that while the Biden administration has written both for and against Title 42, the Supreme Court is set to hear a case regarding the COVID-19 era policy meant to stall the flow of asylum seekers to prevent the flow of infectious disease.
In a recent dissent, Gorsuch wrote against the policy, saying, "The current border crisis is not a COVID crisis. And courts should not be in the business of perpetuating administrative edicts designed for one emergency only because elected officials have failed to address a different emergency."
So how can the current administration justify using policies that it absolutely ripped the last administration apart for using?" Bream asked Khanna on Sunday.
BORDER PATROL UNION RIPS BIDEN BORDER VISIT, SAYS EL PASO CLEANED UP 'JUST IN TIME'
"I agree with Justice Gorsuch, I don't think we should be making the excuse that people are denied asylum because of COVID policy," Khanna said in an appearance on "Fox News Sunday." "I mean, that may have been the case a year and a half ago, and certainly not the case now."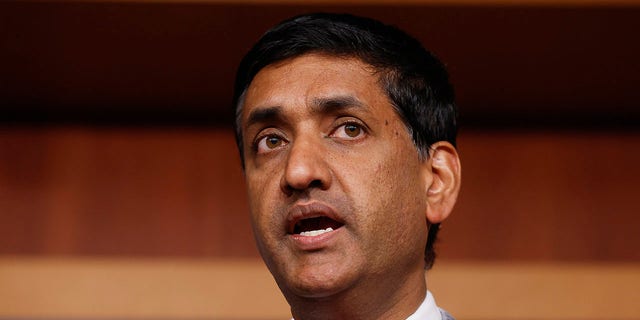 This file image shows Rep. Ro Khanna, D-Calif., speaks during a news conference at the U.S. Capitol on October 12, 2022, in Washington, DC. 
(Chip Somodevilla/Getty Images)
"I think every person who has a legitimate asylum claim should be able to make that claim, but we should make sure that's legitimate," Khanna added. "It's not just economic reasons, and that is why it's not just Congress that needs to act to strengthen the border, to have more border enforcement, but also to have more people who can process these claims. The president is saying let's try to get as many people doing these claims online."
Last week, President Biden expanded some expulsions under Title 42 while opening a legal path for some migrants. He announced that Cubans, Nicaraguans, Haitians will be expelled to Mexico if they enter the U.S. illegally — an expansion of a policy that began with Venezuelans last year.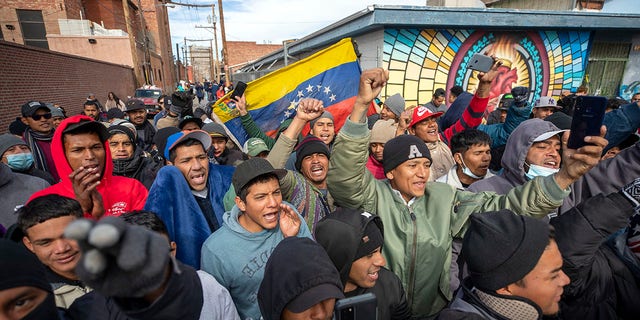 Migrants, mostly from Venezuela, chant slogans as an activists' march in their support arrives to downtown El Paso, Texas, Saturday, Jan. 7, 2023. Several hundred marched through the streets of El Paso a day before President Joe Biden's first, politically-thorny visit to the southern border. 
(AP Photo/Andres Leighton)
The new rules will also include offering humanitarian parole for up to 30,000 people a month from those four countries if they apply online and find a financial sponsor. The president's new policy expands on an existing effort to stop Venezuelans attempting to enter the U.S., which began in October.
In another exchange Sunday, Khanna cited Bream's writing about her Christian faith, tying it to the illegal immigration debate surrounding the flow of migrants across the southern border.
"You've written, very powerfully, about Jesus and Joseph and Mary and their journey where they escaped King Herod from prosecution, and you have compared that to Ukrainian refugees and the obligation to mothers fleeing when their kids' lives are at stake," Khanna said. "I think we as a nation need to have an obligation to people who are refugees to file for asylum and we also need a secure border."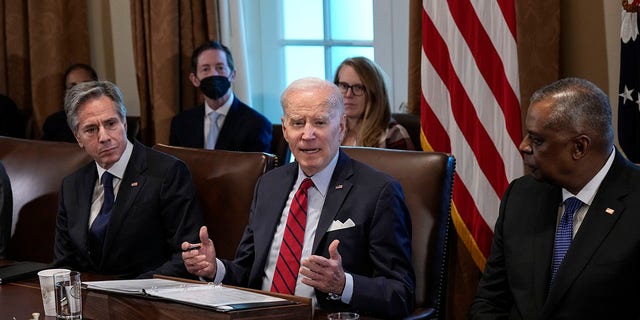 Flanked by Secretary of State Antony Blinken and Secretary of Defense Lloyd Austin, President Joe Biden speaks during a cabinet meeting in the Cabinet Room of the White House January 5, 2023, in Washington, DC. 
(Drew Angerer/Getty Images)
Bream, in response, said she believes American is made up of a "compassionate people" who are built on immigration, but noted real concerns of "whether it's compassionate to encourage people – even if it is indirectly – to come here when the highest number of people died at the border trying to pass in the last fiscal year than we've ever seen." The "Fox News Sunday" host also pointed to how women and children are raped and trafficked while trying to cross the border illegally, creating a situation that is "not safe or compassionate for people."
CLICK HERE TO GET THE FOX NEWS APP
Biden arrived in El Paso Sunday afternoon before he's scheduled to travel on to Mexico City to meet with North American leaders on Monday and Tuesday.
His new restrictions represent a major change to immigration rules that will stand even if the U.S. Supreme Court ends a Trump-era public health law known as Title 42 that allows U.S. authorities to turn away asylum-seekers. El Paso has swiftly become the busiest of the Border Patrol's nine sectors along the U.S. border with Mexico, occupying the top slots in October and November.
The Associated Press contributed to this report.