Democratic Colorado Gov. Jared Polis will stop sending migrants to New York City, Chicago and other major Democrat-run cities after mayors expressed outrage at the plan in recent weeks.
Polis had agreed to work with local authorities in Denver to help send migrants to their final destinations. While Colorado is not a border state, it has seen a major influx of migrants seeking passage to elsewhere in the country. Mayors Eric Adams of New York City and Lori Lightfoot of Chicago called on Polis to end his assistance last week as their cities also struggle with a surge in migrants.
"People fleeing violence and oppression in search of a better life for themselves and their families deserve our respect not political games and we are grateful we have been able to assist migrants to reach their final destination," Polis had said of the program. "We refuse to keep people against their will if they desire to travel elsewhere."
Adams and Lightfoot wrote to Polis in a joint letter, urging him to halt his bussing program after it sent just a few hundred migrants.
BIDEN ANNOUNCES BORDER VISIT; NEW MEASURES AS PRESSURE GROWS OVER MIGRANT SURGE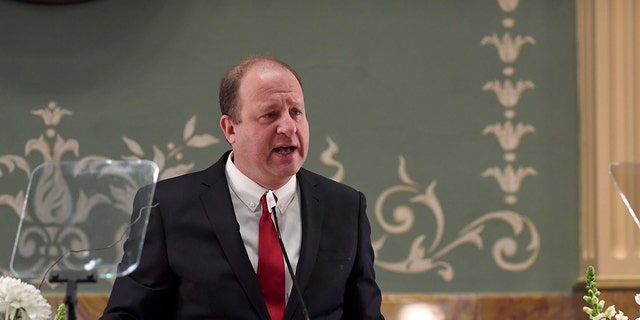 Gov. Jared Polis delivers his state of the state address at the Colorado State Capitol Building. (AAron Ontiveroz/MediaNews Group/The Denver Post via Getty Images)
(Photo by AAron Ontiveroz/MediaNews Group/The Denver Post via Getty Images)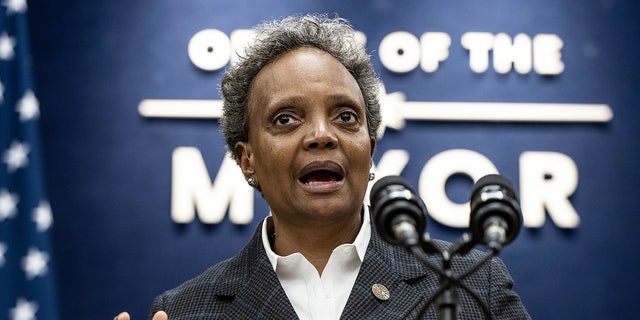 Lori Lightfoot, mayor of Chicago, speaks during a news conference in Chicago, Illinois. (Christopher Dilts/Bloomberg via Getty Images)
(Christopher Dilts/Bloomberg via Getty Images)
"We have seen your statements in the media that you are simply accommodating the wishes of migrants to come to cities like New York City and Chicago," the pair wrote. "However, you are sending migrants and families to New York City and Chicago that do not have any ties, family members or community networks to welcome them."
Adams was outraged at Polis' bussing program during a press conference appearance last week, comparing it to similar programs that Texas Gov. Greg Abbott and Florida Gov. Ron DeSantis used to flood his city with some 30,000 migrants last year.
MAYORKAS SAYS MASSIVE MIGRANT NUMBERS 'STRAINING OUR SYSTEM,' CALLS FOR CONGRESS TO ACT
"One time we had to deal with Republican governors sending migrants to New York. Now we're dealing with Democratic governors sending migrants to New York," Adams said Wednesday.
"What's callous is how we have been ignored as a city. And now I have to make tough decisions on the resources of New York … it is time for the federal government to step up," he added.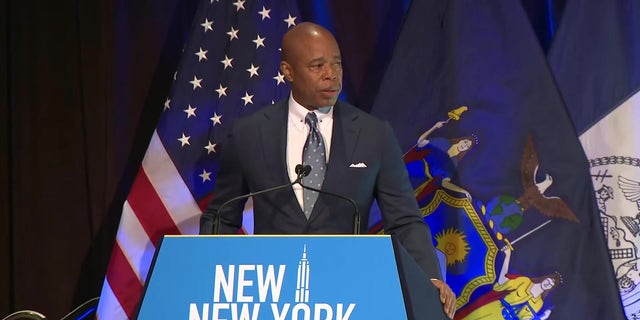 Mayor Eric Adams defended high income earners staying in NYC
(Screenshot/YouTube)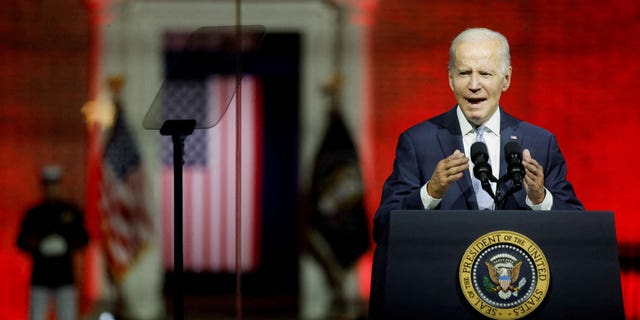 U.S. President Joe Biden delivers remarks in front of Independence Hall at Independence National Historical Park, Philadelphia, U.S., September 1, 2022.
(REUTERS/Jonathan Ernst TPX IMAGES OF THE DAY/File Photo)
Adams' plea for federal assistance comes as President Biden makes his first trip to the U.S.-Mexico border Sunday. The White House also unveiled a handful of policies aimed at stemming the flow at the border last week. They include expanding a humanitarian parole program for Venezuelan nationals to include Haitians, Cubans and Nicaraguans, as well as increasing refugee resettlements.
CLICK HERE TO GET THE FOX NEWS APP
Biden acknowledged the changes aren't up to the task, however.
"These actions alone that I'm going to announce today aren't going to fix our entire immigration system but they can help us a good deal in managing what is a difficult challenge," he said Thursday.