Rep. Dan Crenshaw, R-Texas, softened his tone Sunday toward the Republican holdouts who temporarily blocked Kevin McCarthy's speakership bid, saying that while he doesn't actually believe his Republican colleagues are "terrorists," he thinks the way they went about stalling the House vote was "pointless."
"There was no reason for us to keep voting, keep voting, keep allowing these speeches that just degraded and diminished and insulted Kevin McCarthy," Crenshaw said on CNN's "State of the Union." "We didn't have to keep doing that. We could have just adjourned for the whole week and just kept negotiating."
"That's where the heartburn is and that's what I want people to know," he said. "This deal was easy. That wasn't the hard part, right? There's not as much disagreement as everyone thinks on how that rules package went by and what some of the new changes needed to be. The only thing I'll disagree with this group on is, is that it could have been done earlier."
"So that's what justifies the animosity that occurred all week, and it seemed very, very pointless," he added.
TED CRUZ CHASTISES DAN CRENSHAW FOR 'OVERHEATED RHETORIC' IN HOUSE SPEAKER FIGHT: 'SETTLE DOWN'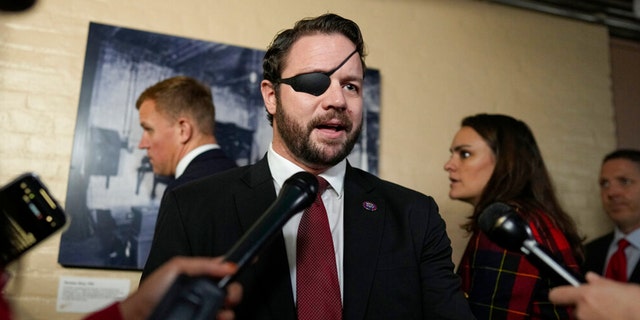 Rep. Dan Crenshaw, R-Texas, speaks to media on Capitol Hill on the opening day of the 118th Congress at the U.S. Capitol in Washington, Tuesday, Jan 3, 2023.
(AP Photo/Carolyn Kaster)
Crenshaw came under fire from fellow Republicans on day two of the lengthy speaker vote last week after he blasted the 21 holdouts, accusing them of looking for a "scalp" and likening them to "terrorists."
"That's why we're saying it, because we cannot let the terrorists win," Crenshaw told Fox News Radio.
His use of the word "terrorists" drew criticism from Sen. Ted Cruz, R-Texas, and Fox News host Tucker Carlson and others, but Crenshaw defended the term as "a figure of speech."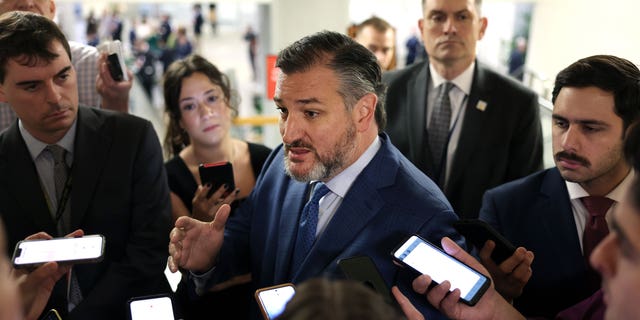 U.S. Sen. Ted Cruz (R-TX) speaks to reporters on his way to the Senate weekly policy luncheons, at the U.S. Capitol on December 6, 2022 in Washington, DC. 
(Kevin Dietsch/Getty Images)
"Unclutch your pearls. It's a figure of speech. You can't insult, slander and hold everyone hostage with no way out – and not expect me to punch back," he tweeted Wednesday. "Grow thicker skin."
Crenshaw echoed the same sentiment on Sunday but offered an apology to any of the holdouts who may have taken him literally.
REPUBLICANS' BATTLE OVER HOUSE SPEAKERSHIP HAS BEEN 'COMING TO A HEAD FOR A LONG TIME' REP. SCALISE
"Look, things get heated and things get said. Obviously, the people who took offense by that, it's pretty obvious that it's meant as a turn of phrase," he said.
"I was a little taken aback by the sensitivity of it," he continued. "To the extent that I have colleagues that were offended by it, I sincerely apologize to them. I don't want them to think I actually believe they're terrorists."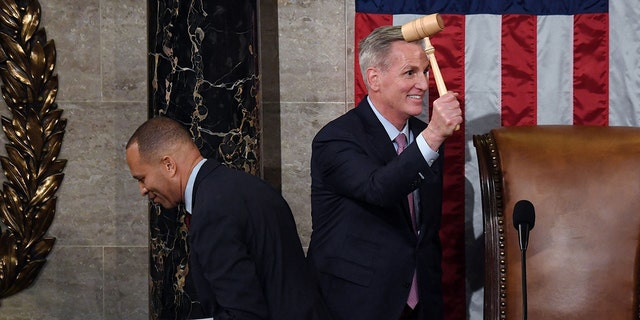 Minority Leader Hakeem Jeffries leaves after handing the gavel to newly elected Speaker of the US House of Representatives Kevin McCarthy after he was elected on the 15th ballot at the US Capitol in Washington, DC, on January 7, 2023.
(OLIVIER DOULIERY/AFP via Getty Images)
CLICK HERE TO GET THE FOX NEWS APP
McCarthy won the speakership position on Saturday in a record 15th round of voting, receiving 216 votes, a bare majority that was lower than the normal 218 votes needed because six of his remaining GOP detractors relented to vote "present."
The GOP rules package McCarthy sent to members included the central concession that would allow any five Republican representatives to force a vote of no confidence in the speaker. Previous House rules, put in place by previous Speaker Nancy Pelosi, required a member of the House leadership from the majority party to initiate a vote to remove the current speaker.
Fox News' Kelly Laco contributed to this report.