Rep. Dean Phillips, D-Minn., summed up the Speaker's election on the House floor just before midnight Friday night.
"I rise to say, 'Wow,'" proclaimed Phillips, extracting gales of laughter and applause from bipartisan members of a punch-drunk House.
Who could blame Phillips.
House Speaker Kevin McCarthy, R-Calif., had just failed to become Speaker of the House on the 14th ballot and after four days of voting. McCarthy shockingly fell one vote shy.
DEALMAKER OR HOSTAGE? WHAT AMERICA CAN EXPECT FROM SPEAKER KEVIN MCCARTHY
Stupefied by defeat, Republicans moved to adjourn the House until midday Monday. A roll call vote began, requiring a simple majority to put the House out of session. Then McCarthy marched up the aisle to confront one of the lawmakers standing between him and the Speakership: Rep. Matt Gaetz, R-Fla. Minutes later, Republicans reversed themselves, switching their votes to keep the House in session and prompting yet another, immediate vote on Speaker.
The House ultimately stayed in session. Less than an hour later, McCarthy finally prevailed by the most narrow of margins to become Speaker in the wee hours of Saturday morning.
Wow.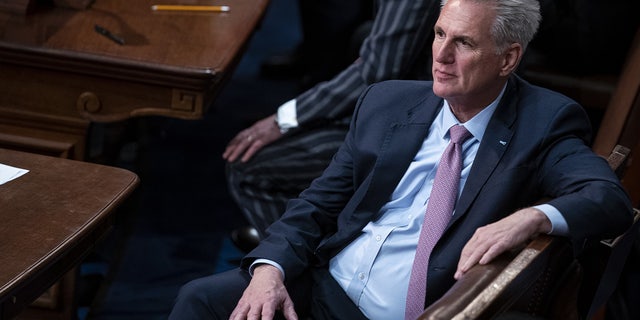 Kevin McCarthy, a Republican from California, during a meeting of the 118th Congress in the House Chamber at the US Capitol in Washington, DC, US, on Friday, Jan. 6, 2023. 
(Kent Nishimura / Los Angeles Times via Getty Images)
It had been two years to the day – January 6, 2021 – since so much tension permeated the House chamber. But the Speaker's election wasn't a violent incursion which threatened to upend democracy. This was a democratic process where the House was compelled to vote and vote and vote again – but just couldn't establish a winning Speaker.
McCarthy's late-night/early morning rally culminated in the longest Speaker's election since 1859. The fifth longest in House history. McCarthy improbably won on the 15th ballot after narrowly missing on the 14th tally. It's possible that had the House adjourned, some Republicans would have asked McCarthy to stand down and looked to find someone else to fill the void.
REPUBLICANS ENTER CONGRESS WITH RECORD NUMBER OF WOMEN AFTER PUTTING UP DIVERSE SLATE OF GOP CANDIDATES
We have written before that leadership elections are "particle politics." Those who survive leadership tilts do so based on subatomic, political quarks. Infinitesimal events. Roll call votes. Fates. And Kevin McCarthy finally became Speaker of the House – only because he lost a 14th ballot moments before.
Wow.
The GOP infighting over the Speakership began to wear down Republicans loyal to McCarthy.
"We squandered a majority in 2016," said Rep. John James, R-Mich., on Fox.
ANDY BIGGS, WHO OPPOSED HOUSE SPEAKER KEVIN MCCARTHY, SHARES 'FEW POSITIVES' OF DRAMATIC PROCESS
James's admonition followed days of roll call votes where mutinous Republicans threatened to hobble their new majority through internecine, parliamentary paralysis.
Two days later on the House floor, James likened the GOP's fortunes to one of the most star-crossed teams in NFL history.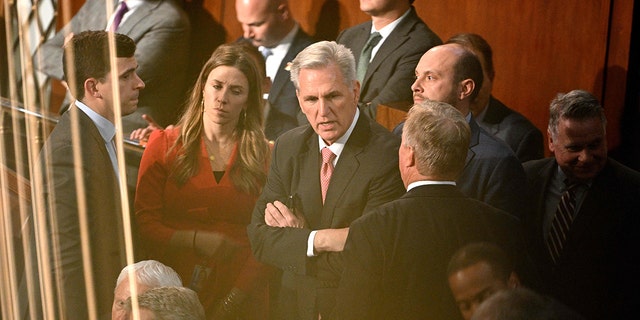 US Representative Kevin McCarthy (R-CA) (C) reacts during a conversation as voting continues for new speaker at the US Capitol in Washington, DC, on January 5, 2023. – The US House of Representatives plunged deeper into crisis Thursday as Republican favorite Kevin McCarthy failed again to win the speakership — entrenching a three-day standoff that has paralyzed the lower chamber of Congress. 
(MANDEL NGAN/AFP via Getty Images)
"I'm a Lions fan. Look, I'm, well acquainted to snatching defeat from the jaws of victory, y'all," said James. "We need to learn how to win. We need to learn how to take a victory."
Republican fissures threatened to deny McCarthy the Speakership all week, thanks to the GOP's narrow, five seat majority. Republicans brawled with one another on a daily basis.
"They keep moving the goalposts," complained Rep. Stephanie Bice, R-Okla., of demands from GOPers who oppose McCarthy.
'IT'S HOW YOU FINISH': SPEAKER MCCARTHY'S YEARS-LONG STRUGGLE TO GRASP THE GAVEL AFTER BATTLING 'NEVER KEVINS'
Gaetz argued that McCarthy couldn't secure the votes for Speaker "over a decade." Gaetz asked "do you think he's going to get them overnight?"
But that's exactly what transpired as Friday nightmorphed into Saturday morning, McCarthy finally got the votes.
These are votes which eluded McCarthy when he tried to succeed former House Speaker John Boehner, R-Ohio, in October, 2015.
For four years, Republicans chastised Democrats for "ramming through" legislation in the dead of night – a charge which wasn't always true.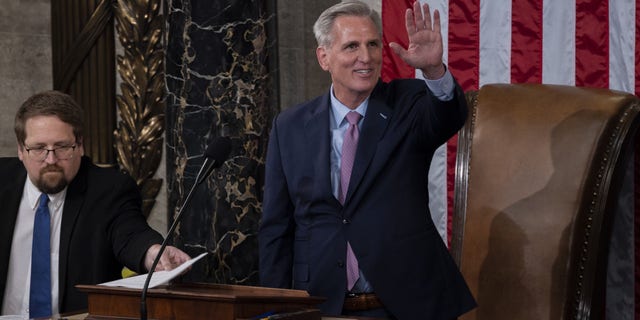 House Speaker Kevin McCarthy, R-Calif., celebrates after taking the oath of office in Washington, D.C., on Jan. 7, 2022.
(Nathan Posner/Anadolu Agency via Getty Images)
But when Republicans finally swore-in their Speaker, they did so just after the witching hour on a Saturday morning.
Perhaps give Republicans credit for not trying to pass their "rules package" to establish the parameters of how they'll operate the House in the middle of the night Friday.
CONSERVATIVES PAN JEFFERIES 'RAMBLING DISASTER OF A SPEECH,' YET GETS HIGH PRAISE FROM LEFT
Republicans carped for years that lawmakers need a full "72 hours" to consider legislation before voting. Granted, the "rules package" isn't "legislation." But an update to the measure hit Capitol Hill in boxes around 8 pm Friday night. The House was then scheduled to vote on the plan around 3 am et Saturday. The House GOP brass pulled the rules package after the Speaker's tumult. It's unclear if Republicans have the votes to adopt the plan. But, it may have been a bit rich for the GOP to advance the plan in the dead of night after excoriating Democrats.
But the good news is that there is now a House Speaker. McCarthy then swore-in all 434 members of the House.
ROGERS CONFRONTING GAETZ ON HOUSE FLOOR 'COMPLETELY OUT OF LINE,' GREENE SAYS: 'LOST HIS TEMPER'
It's debatable whether this skirmish curbed the muscle of the Speakership.
"We haven't been in this position since 1859," I noted to McCarthy amid a crush of press in the middle of Statuary Hall. "Doesn't that inherently mean that you would be a weaker Speaker?"
"No. You would only be a weaker Speaker if I was afraid of it," replied McCarthy.
And after all, this is what the GOP dissidents were going for anyway: decentralization of power. More power for members and an enfeebled Speakership.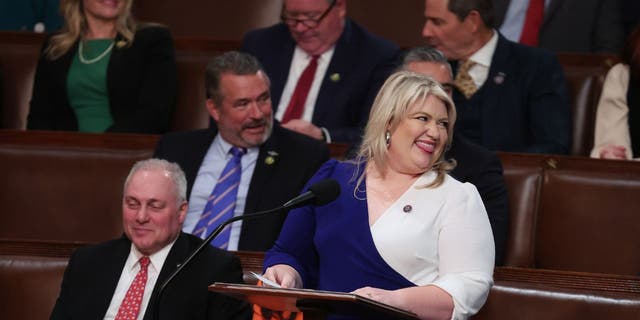 U.S. Rep.-elect Kat Cammack (R-FL) speaks alongside Rep.-elect Steve Scalise (R-LA) in the House Chamber during the second day of elections for Speaker of the House at the U.S. Capitol Building on January 04, 2023 in Washington, DC. The House of Representatives is meeting to vote for the next Speaker after House Republican Leader Kevin McCarthy (R-CA) failed to earn more than 218 votes on three separate Tuesday ballots, the first time in 100 years that the Speaker was not elected on the first ballot. 
(Win McNamee/Getty Images)
Dean Phillips may have had his "wow" moment. But Rep. Kat Cammack, R-Fla., had a Bill Murray moment.
"Well, it's Groundhog Day. Again," said Cammack when nominating McCarthy during the multitude of voting rounds.
What is past is prologue.
Republicans hold a 222-212 majority. They can only lose four votes and still pass their bills for the rest of the 118thCongress. Republicans intend to abolish proxy voting introduced for the pandemic. There's three to five members absent on any routine day which ends with a "Y."
Rep. David Trone, D-Md., missed one roll call vote because he had surgery. Trone then surfaced later in the day in the House chamber with an arm in a sling and walking with a cane. Otherwise, Democrats had all 212 of their members present on the floor on every single vote for Speaker.
MCCARTHY THANKS TRUMP AFTER HOUSE SPEAKER VOTE: 'HE WAS WITH ME FROM THE BEGINNING'
The Democrats' discipline was impressive. Of course, that's unsustainable throughout an entire Congress. But Democrats can make McCarthy's Speakership unmitigated hell just by showing up. Republicans have an attendance problem if only a few of their members aren't present.
Rep. Roger Williams, R-Tex., remained in Washington despite needing to return home because of a serious health issue involving his wife. Rep. Wesley Hunt, R-Tex., is a new father – and the baby wound up in the ICU. Hunt had to duck out. Rep. Ken Buck, R-Colo., missed a couple of Speaker's votes because of a medical problem of his own. The GOP is going to have people out all the time.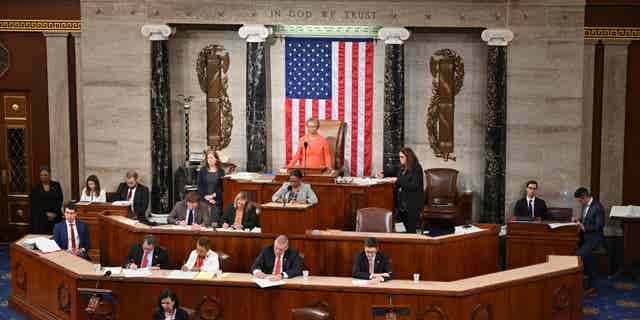 House Clerk Cheryl Johnson presides as voting continues for new speaker at the US Capitol in Washington, DC, on January 5, 2023. – The US House of Representatives plunged deeper into crisis Thursday as Republican favorite Kevin McCarthy failed again to win the speakership — entrenching a three-day standoff that has paralyzed the lower chamber of Congress. 
(MANDEL NGAN/AFP via Getty Images)
Counting votes was never the strong suit of McCarthy when he served as the GOP's Whip. McCarthy already underestimated how many Republicans would oppose him before finally narrowing the gap and winning.
The Speaker's vote – and perhaps dozens of other major votes over the next two years – could seem like Groundhog Day. Who's here? Who's not? Who's on board? Who's opposed?
Former House Speaker Nancy Pelosi, D-Calif., could manage a majority like this. Democrats had the same numbers last Congress and barely missed a step. Pelosi's vote counting skills are masterful. Only a few Republicans thought McCarthy would lose the 14th ballot when the House came back to session for the Speaker's election late Friday night.
KEVIN MCCARTHY DELIVERS FIRST REMARKS AFTER WINNING HOUSE SPEAKER: 'OUR NATION IS WORTH FIGHTING FOR'
An ebullient, perpetually smiling McCarthy offered up the same refrain when reporters asked McCarthy about his stumbles in the Speaker's election.
"It's now how you start. It's how you finish," said McCarthy on multiple occasions.
That's something to watch considering the GOP's narrow majority.
CLICK HERE TO GET THE FOX NEWS APP
And if Republicans manage to hold it together….
Wow.