FIRST ON FOX — Republican Patricia Krentcil says she is running for U.S. Senate to make life easier for working moms and those struggling with high medical bills.
"Families are devastated," the 55-year-old single mother of five, star of the reality TV series "Tan to 10," told Fox News Digital in an exclusive interview. "I would pass a law for everybody to be able to have insurance, Medicare, Medicaid — that you can't be rejected."
Krentcil, a resident of Boca Raton, filed to run for U.S. Senate in Florida last week, challenging incumbent Sen. Rick Scott, R-Fla., in the Republican primary. She is far from a typical GOP candidate, with heterodox views on everything from health care to immigration to gun rights. But she tells Fox News she holds those views honestly and argues Florida needs a senator who will be radically transparent with voters and unafraid of telling them where she stands.
"Being a media star, being 'Tan Mom' and just being slapped in the face left and right was a horrible situation," says Krentcil, whose claim to fame was a viral arrest in 2012, when she took her then-5-year-old daughter to a New Jersey tanning salon. "My family went through a devastating time for over a year. We couldn't leave our house. We were ridiculed, banned. Shunned."
'TAN MOM' PATRICIA KRENTCIL IS RUNNING FOR THE US SENATE IN FLORIDA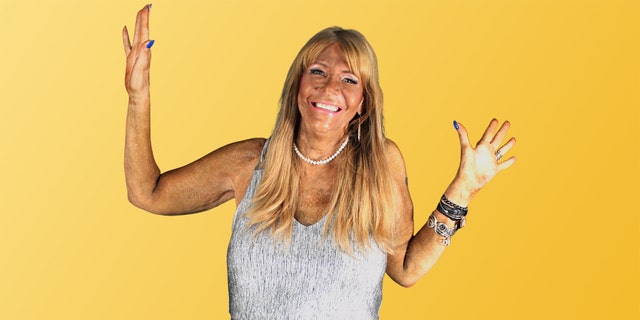 "Tan to 10" star Patricia Krentcil, a single mother of five, is running for U.S. Senate in Florida on a pro-LGBTQ+ platform that emphasizes support for working moms.  (Corey Moore)
But Krentcil believes being in the spotlight, even a negative one, has its benefits. "Everyone does know me, and I am using that for a great position to make a difference for everybody," she says.
Krentcil would make a difference as Florida's next senator by supporting a "Tax Cut for Moms."
"Moms can't even afford groceries today. I mean, you go to the market, and you can get for $250, maybe two bags of groceries," Krentcil says. "Single moms especially need work. I'm a single mom now and all of the stress and the burdens — moms need a shot out there."
She proposes to expand the child tax credit so working parents won't fall behind on medical bills. The issue is personal for Krentcil, who lost her husband during the COVID-19 pandemic. He was diagnosed with cancer and battled the disease for three years before succumbing to COVID-19 while hospitalized.
"It cost a fortune," she said, recounting how her family's out-of-pocket expenses piled up while her husband was in and out of the hospital. "It was just horrible."
'TAN MOM' SAYS 'WHOLE BODY DIED' DURING RECENT HEALTH SCARE
Krentcil is challenging Florida Sen. Rick Scott (pictured) for the Republican nomination for U.S. Senate.  (Anna Moneymaker/Getty Images)
The idea to run for Senate came to Krentcil after her extreme makeover show, "Tan to 10," raised money for Sunshine Cathedral, an LGBTQ+ affirming church based in Fort Lauderdale. Krentcil says the "huge response" she received encouraged her to be a public voice for the LGBTQ+ community.
"I'm just standing behind them to make a difference," she tells Fox News Digital, breaking drastically from Florida conservatives like Gov. Ron DeSantis and Senator Scott, who have supported legislation that would restrict LGBTQ+ content from being taught in K-3 grades.
Krentcil opposes such efforts, saying they marginalize LGBTQ+ Americans in the same way she was marginalized after her run-in with the law. She accused Scott and other Florida Republicans of lacking "compassion." Scott's campaign did not immediately respond to a request for comment.
"I'm a very honest person," Krentcil says. She's running "to show people that they have the choice of compassion, to vote the way they want to vote, to be their own person, not be afraid, not be judged when they go out in public."
'TAN MOM' PATRICIA KRENTCIL SAYS SHE STILL TANS TWICE A WEEK AFTER TABLOID FAME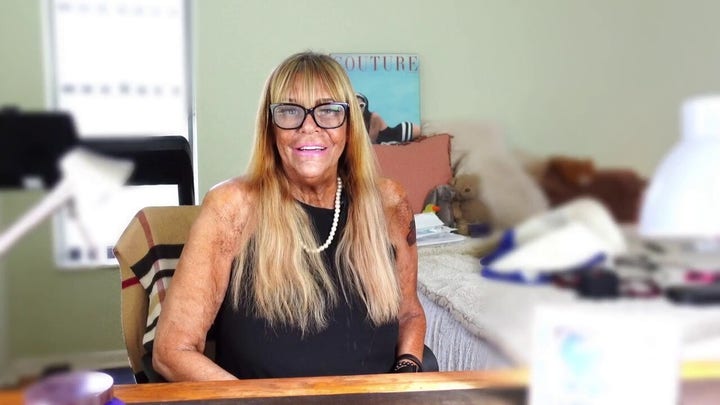 Video
LGBTQ+ issues aren't the only area she departs from other Republicans. Krentcil says she supports former President Donald Trump but doesn't want to build a wall on the southern border with Mexico. She's against guns and thinks only police officers should own them. She believes women should have a right to elective abortions, but only for the first six months of pregnancy. And confronted with Social Security Medicare and Medicaid going bankrupt, Krentcil would raise taxes on the rich to keep those programs solvent.
Many voters would read that platform and easily believe Krentcil is running as a Democrat, but she insists she is a committed Republican voter and Trump supporter.
"I'm running as a Republican because I've always been a Republican," she says. "Some people might say I have a Democratic view, but I've always been a Republican my whole life."
Krentcil's challenge to Scott comes as the former Florida governor seeks a second term in the U.S. Senate. Scott is sitting on a $2.9 million war chest heading into the Republican primary, where he also faces former U.S. Army National Guardsman Keith Gross.
RICK SCOTT TAPS 2016 TRUMP RIVALS FOR HIS SENATE CAMPAIGN FINANCE COMMITTEE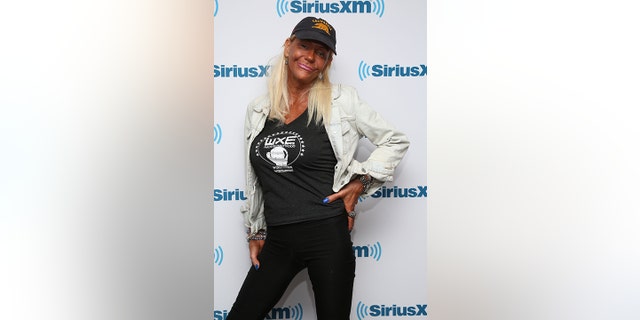 Patricia "Tan Mom" Krentcil visits the SiriusXM Studios on April 25, 2014 in New York City.  (Taylor Hill/Getty Images)
Florida's U.S. Senate race was highly competitive in 2018, with Scott narrowly defeating Democratic nominee Bill Nelson, who had represented Florida in the U.S. Senate since 2001, by a mere 10,000 votes. More than 8.1 million votes were cast.
While Scott is easily the favorite to win the GOP primary, Krentcil hopes to gain traction by providing voters an unprecedented look into how her campaign will operate. Krentcil tells Fox News Digital she is working with major media outlets to document her campaign in the same way "Tan to 10" was shot, transforming her run for U.S. Senate into something like a reality TV series.
"Our plan is to take people inside the war room, be a fly on the wall of our campaign meetings and calls," Krentcil told Fox News Digital in an email follow-up after the interview. "We want to document my meeting with families across the Sunshine State and beyond, hearing their issues and feelings in real-time. We're already shooting B-roll and behind the scenes, so whatever documentary form this lives in, people will have a record of it."
CLICK HERE TO GET THE FOX NEWS APP
"What better use could there possibly be for reality TV?" she added. "Hearing people's real stories, and our campaign being completely transparent."
The Republican primary in Florida will take place on August 20, 2024.
Fox News' Lawrence Richard and Sarah Taylor contributed to this report.