Hawaii Sen. Brian Schatz is imploring tourists who have plans to vacation in unscathed parts of Hawaii to not cancel trips following the devastating wildfires that killed at least 114 people and left hundreds more missing earlier this month.
The Aloha State's senior Democratic senator stated Thursday on X, the social media platform formerly called Twitter, that resorts in South Maui are depending on visitors to avoid "mass layoffs compounding our challenges" in restoring West Maui, which was decimated by raging wildfires.
"Maui update. South Maui resorts (Lahaina is West Maui) NEED visitors. Furloughs and layoffs starting because people think the whole island is closed. It is not. If you are planning a trip to Wailea or Kihei, don't cancel. If you want to come to Hawaii pls consider South Maui," Schatz posted on X.
Schatz added that hotels and resorts in the surrounding areas have now housed "virtually everyone" whose homes were destroyed, and can now accept tourists.
MAUI HOME LEFT UNTOUCHED BY WILDFIRES WHILE LAHAINA NEIGHBORHOOD DESTROYED
Sen. Brian Schatz, D-Hawaii, speaks to the press, alongside Sens. Patty Murray, D-Wash.; Patrick Leahy, D-Vt.; and Senate Minority Leader Sen. Chuck Schumer, D-N.Y., in Washington, D.C., on March 3, 2020. (Sarah Silbiger/Getty Images)
"I'm not saying the situation on the ground for victims is good, we have a long way to go. But south Maui depends on visitors and we don't want mass layoffs compounding our challenges," he said.
Schatz joined President Biden earlier this week in his visit to survey the damage from the fires.
In a letter sent Thursday to Health and Human Services Secretary Xavier Becerra ahead of his visit to Maui, Schatz and the Hawaii congressional delegation asked for more federal assistance.
"As you visit Maui, we ask you to take further actions to support the survivors, and ensure sustained access to health care and social services. While we continue to work with federal, state, and local stakeholders to identify specific needs, we see immediate opportunity for federal assistance," the delegation wrote in their letter to Becerra.
Maui County on Thursday released the names of 388 people still missing more than two weeks after the deadliest U.S. wildfire in more than a century.
The FBI compiled the list of names. The number of confirmed dead after fires on Maui that destroyed the historic seaside community of Lahaina stands at 115, a number the county said is expected to rise.
HAWAII GOV AGREES CLIMATE CHANGE 'AMPLIFIED THE COST OF HUMAN ERROR' ON MAUI FIRES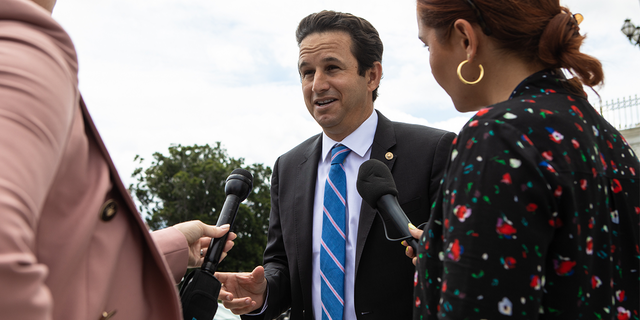 Sen. Brian Schatz, D-Hawaii, speaks to reporters outside the U.S. Capitol in Washington, D.C., on Aug. 6, 2022.
"We also know that once those names come out, it can and will cause pain for folks whose loved ones are listed," Police Chief John Pelletier said in a statement. "This is not an easy thing to do, but we want to make sure that we are doing everything we can to make this investigation as complete and thorough as possible."
MAUI COMPANY SAYS REQUEST FOR WATER TO FIGHT WILDFIRE DELAYED SEVERAL HOURS WHILE STATE CONSULTED WITH FARMERS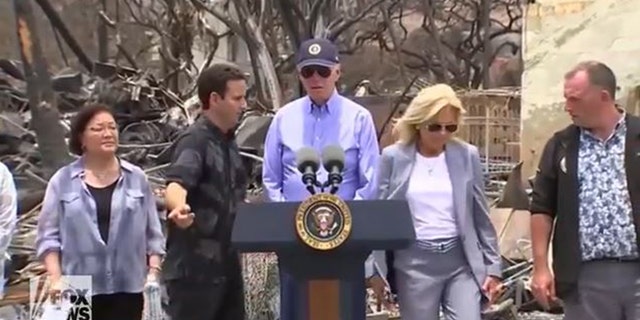 Democratic Hawaii Sen. Brian Schatz offered President Biden a sip of water, but the president appeared not to respond before awkwardly walking away. (Fox News)
Names on the list were deemed validated if officials had a person's first and last name and a verified contact for the person who reported them missing, officials said.
CLICK HERE TO GET THE FOX NEWS APP
An additional 1,732 people who had been reported missing have been found safe as of Thursday afternoon, officials said.
The Associated Press contributed to this report.