Companies and other employers that today are allowed a moral exemption to offering contraceptive services in their health insurance plans may soon be forced to provide those services under a proposed rule from the Biden administration that pro-life experts criticized as unfair and possibly illegal.
The Department of Health and Human Services on Monday announced a plan to repeal a Trump-era rule that exempted employers from the Obamacare requirement to offer health insurance plans that include contraception if they have a moral objection to that requirement. Employers with religious convictions against contraception would still be allowed to avoid offering contraception coverage under the Biden rule.
Religious liberty groups describe the proposed rule as an administrative attempt by Democrats to force employers into providing contraceptive services after their effort in the courts failed, most notably in the Supreme Court case Little Sisters of the Poor Saints Peter and Paul Home v. Pennsylvania. Matt Bowman, a senior counsel at the Alliance Defending Freedom, said that Supreme Court case showed it was permissable to exempt companies with a moral objection to contraception, and said the Biden administration is now trying to do through executive power what it could not do through the courts.
"Their proposal is to say that it is illegitimate to have moral views in opposition to the Biden administration and then to use taxpayer dollars to bail out political allies," Bowman told Fox News Digital. "It's a desperate grab and a financial bailout of Planned Parenthood."
GUN RIGHTS GROUPS VOW TO FIGHT BACK AS ATF PISTOL BRACE RULE TAKES EFFECT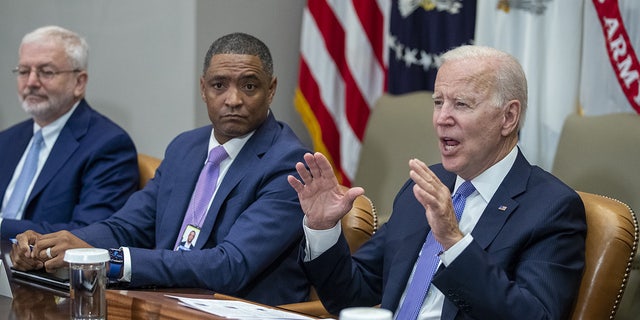 The Biden administration announced its plan Monday to repeal a Trump-era rule that allowed healthcare providers to obtain a moral exemption to contraception services.
(Shawn Thew/EPA/Bloomberg via Getty Images)
The Alliance Defending Freedom successfully defeated challenges in 2020 to the Trump administration rule on moral exemptions in its case representing the March for Life, which is not a religious group but opposes contraception services that have the potential to terminate a pregnancy. Bowman suggested that victory could be used to justify arguments that the Biden administration's rule may be struck down, because it unfairly allows a religious exemption but not a moral one.
"The Biden administration is building this on a house of cards," Bowman told Fox News Digital. "They don't have the legal authority to enforce this mandate."
HHS Secretary Xavier Becerra said the contraception rule comes at a time when women's health is in jeopardy.
"Now more than ever, access to and coverage of birth control is critical as the Biden-Harris Administration works to help ensure women everywhere can get the contraception they need, when they need it, and – thanks to the ACA [Affordable Care Act or Obamacare] – with no out-of-pocket cost," Becerra said.
BIDEN SLAMMED AFTER ANNOUNCING OFFICIAL END TO COVID-19 EMERGENCY: 'TRYING TO AVOID EMBARRASSMENT'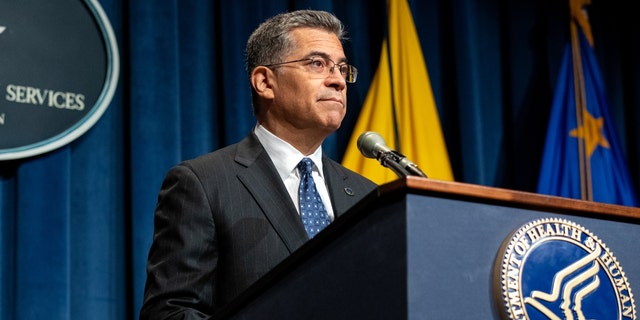 HHS Secretary Xavier Becerra said the contraception rule comes at a time when women's health is in jeopardy.
(Photographer: Amanda Andrade-Rhoades/Bloomberg via Getty Images)
Melanie Israel, a policy analyst in the Richard and Helen DeVos Center for Life, Religion, and Family at the Heritage Foundation, said the Biden administration is using the overturn of Roe in Dobbs v. Jackson Women's Health Organization to justify its actions.
"We've seen a coordinated effort to resist the Dobbs decision," Israel told Fox News Digital. "The Biden administration is coming back now and saying even though these moral exemptions were ruled as being procedurally sound at the Supreme Court, they are still going to take them away."
HHS officials estimate more than 100 employers and roughly 125,000 workers would be affected by the proposed rules that end moral exemptions.
BIDEN TOUTS ELECTRIC VEHICLE TAX CREDITS WITH PICTURE OF HIM IN LUXURY HUMMER THAT DOESN'T EVEN QUALIFY
Religious liberty experts said the Biden administration rule on contraception exemptions goes against legal precedent.
(Fox News)
Terry Schilling, the president of the American Principles Project, said it is unclear how far the Biden administration would be able to use its proposed rule against organizations who oppose contraception on moral grounds as opposed to religious grounds.
"How will Washington bureaucrats make that distinction?" Terry told Fox News Digital. "It is frightening to consider how this rhetorical loophole could and likely will be abused."
CLICK HERE TO GET THE FOX NEWS APP
Rep. Dan Bishop, R-NC, said the Biden administration has no right to force organizations into covering services they morally oppose.
"The Biden administration is playing with fire," Bishop told Fox News Digital. "This should be simple: no individual or organization should be forced to violate their constitutionally protected freedom of conscience. This is a clear message from the administration to Americans of faith and all those who dare object to a woke, progressive agenda that they will be up against the full force of the federal government."